Turkey rages after video by Kurdish group in Sweden calls Erdogan 'dictator'
Comments
By Euronews with AP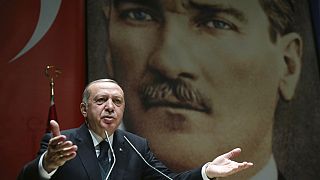 Copyright

Murat Cetinmuhurdar/AP

-
Turkey on Thursday denounced an incendiary video produced by a Kurdish group in Sweden, showing President Recep Tayyip Erdogan being hanged and calling him a "dictator".
Sweden's ambassador to Turkey was summoned by the Ministry of Foreign Affairs, a diplomatic source told AFP. 
The incident comes amid a long-running diplomatic tussle between Turkey and Sweden, as well as Finland, over their NATO membership.  
Ankara has blocked Stockholm's entry into the western military alliance since May, accusing it of harbouring members of the PKK, a Kurdish militia that has waged a decades-long violent struggle for independence against the Turkish state. 
Turkey considers the PKK a terrorist group.
The video shows the execution of Italian dictator Benito Mussolini in 1945, then a mannequin which could vaguely represent Erdogan hanging from the end of a rope.
"History has shown that this is how dictators end up", reads the video, which was published on Twitter by the Committee of Rojava (the name of the Kurdish territories in northern Syria). 
"It's time for Erdogan to resign before he ends up hanged in Taksim", referring to the main square in the Turkish capital, Istanbul. 
Turkey's Ministry of Foreign Affairs described the video as "a clear violation of Sweden's promises under the memorandum of understanding [signed between the countries in June]. "We demand that this type of terrorist action is no longer allowed." 
Ankara said the authors of the video should be "identified and found... [so] that the necessary measures [can] be taken," it added. 
Kurdish activists and rights groups have warned against Sweden agreeing to Turkey's political demands, including extraditing Kurds and critics of the Turkish president.
"When you show an autocratic regime that you're willing to change your laws and infringe upon the rights of your people on their behalf, that regime will keep asking for more," tweeted Meghan Bodette, Director of Research at the Kurdish Peace Organisation, on Sunday. 
"This is the only possible outcome when you make concessions to leaders like Erdogan," she added. 
According to Fahrettin Altun, a spokesman for the Turkish president, "that the PKK defies the Swedish authorities in the heart of Stockholm proves that they have not taken the necessary measures against terrorism, contrary to what they assured recently" 
"Sweden must keep its promises," he insisted in a series of messages on Twitter.
At present, Altun warned that "it would be futile to expect Turkey to make concessions", noting that his country had been "a member of NATO for 70 years".
Under NATO rules, all members must agree before a new one can be admitted. 
Writing on Twitter, Swedish Foreign Minister Tobias Billstrom condemned the video, though this did not appear to satisfy Turkey.  
Stockholm supports "an open debate on political choices", but "strongly repudiates threats and hatred against political representatives", he wrote. 
Since applying to join NATO in May, Sweden has tried to meet Turkey's demands. 
As soon as he became Prime Minister, Ulf Kristersson went to Ankara, followed by his foreign minister, and Sweden toughened its anti-terrorism laws.
In early December, Sweden deported a PKK member to Turkey. But the Turkish government continues to demand more.
Last weekend,  Kristersson said Turkey has demands Sweden could not -- and did not -- want to meet.