More protests erupt across Brazil after Bolsonaro supporters storm Congress
Comments
By Euronews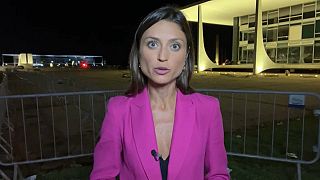 Brazil's President Luiz Inácio Lula da Silva has returned to Brasilia to restore order after supporters of ex-leader Jair Bolsonaro attempted a political uprising. 
Protesters swarmed into Congress, the Supreme Court and the presidential palace on Sunday. Many said they wanted the Brazilian army to restore the far-right Bolsonaro to power and oust the newly-inaugurated leftist president Luiz Inácio Lula da Silva.
Euronews' International Correspondent Anelise Borges was in the capital after police regained control of the situation, and President Lula delivered a short statement condemning what he described as "acts of terror".
"What we saw on Monday were more protests erupting in other parts of the country, including in Sao Paolo, Brazil's largest city, and in Rio de Janeiro following the dismantling of those sit-in protests," she said.
"Signalling, of course, that things will be very difficult for authorities here going forward because this is, of course, a profoundly divided country."
Watch Anelise's report in the video above.