Dutch regulator grants Russian TV Rain broadcasting licence
Comments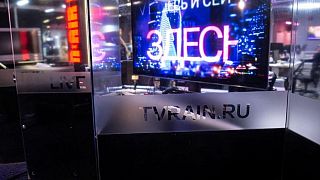 Copyright

Thomson Reuters 2023

-
Russian independent television station TV Rain has been issued a five-year broadcasting permit by the Dutch Media Authority, according to a statement on the regulator's website.
It follows the decision of Latvia to cancel the channel's licence in early December after the company was branded a threat to national security. 
The liberal-leaning TV Rain, which is known as Dozhd in Russian, shifted to broadcasting from Latvia and other countries in July, after being forced to shut its Moscow studio following Russia's invasion of Ukraine.
The channel stopped broadcasting in Latvia, Estonia and Lithuania on December 8.
The Dutch permit, dated December 22, will "provide a commercial television broadcasting service as a commercial media institution," the regulator said. 
It was not clear when the statement was published. 
According to Latvian-based website Meduza, the first reports of the news in the Dutch media appeared on Monday.
Latvian public broadcaster LSM noted that the license is expected to allow TV Rain to broadcast its content on cable networks in all EU countries, including Latvia.
TV Rain came under scrutiny by Latvian electronic media authorities (NEPLP) for its coverage of the war in Ukraine.
In one instance a presenter appeared sympathetic to the plight of Russian troops and left the impression that aid needed to be collected for them.
On 2 December, NEPLP issued Dozhd a EUR 10,000 fine for two violations: mapping Crimea as part of Russia and calling the Russian army "our army."
The station itself also dismissed the accusations as "unfair" and "absurd."
Speaking in September, Dozhd editor, Tikhon Dzyadko, said that "those who control the information, they control the situation". 
"Our goal is to make it so, as much as possible, people have the real information about what is happening, and not this propaganda spread by Russian TV stations."
"Moscow tries to block what it considers dissident news sites online and has restricted access to top social media sites".
Fortunately "it's possible to get information from Russia through the internet, social media. The digital Iron Curtain is not strong enough," he said. 
Independent reporting
The international media organizations, such as Reporters Without Borders (RSF), criticised revoking TV Rain's license.
It said TV Rain was one of the few sources of independent Russian-language reporting by Russian journalists.
The channel, which has long been critical of President Vladimir Putin, suspended operations in Russia in early March after authorities blocked its broadcasts, which contained critical coverage of the conflict in Ukraine.
Moscow also introduced prison terms for spreading "fake news" about the Russian military and the war.
"It became impossible to work there. Because even for calling a war "war", we could face up to 15 years in jail," Dzyadko said.