At least 14 dead in attack on Mexican prison next to US border
Comments
By Euronews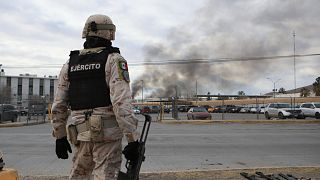 At least 14 people died, including 10 guards, after an attack on a Mexican prison close to the US border.
On New Year's Day, six vans carrying armed men pulled up to the prison in Ciudad Juarez as families waited outside to visit loved ones. The men then opened fire on guards and entered the facility.
Some inmates inside the prison started fires and confronted the guards during the attack. At least 24 inmates escaped in the resulting chaos.
According to the initial investigation, the attack was designed to facilitate their escape.
"They came with a target, they entered with long weapons and went into the kitchen, but there are many dead people in there," said Maribel, a relative of an inmate. 
"And many family members stayed here to spend New Year's Eve... They shot in there and killed many guards."
In a statement, the Chihuahua State Attorney General's Office announced that the situation is now "under control".
The shooting sparked panic among residents outside the prison, and the mayor's office asked people to stay away from the area.
Local police, with the help of the army, arrested four people after the attack. But the prosecutor's office did not specify if they were escaped prisoners or assailants.
The state prison has been the scene of several brawls and riots, including one that left 20 people dead in 2009. In August, a riot inside the prison spread to the streets of Juarez, killing 11 people.
The facility also houses members of the Sinaloa and Juárez cartels who have been battling for control of the region for over a decade.