France strikes: Transport hit amid nationwide walkout over pay and cost of living
Comments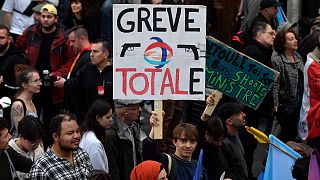 -
Over 100,000 transport workers, school teachers and medical staff marched across French cities on Tuesday after trade unions called for a mass walkout over pay, presenting President Emmanuel Macron with one of his stiffest challenges since his reelection in May.
Meanwhile, just one in two trains were running Tuesday in the southern region rail network, causing delays during morning rush hour. There were also reports of disruptions on high-speed trains in the north, as well as on the Eurostar and the inter-city trains linking France with Spain.
However, the strikes did not have as great of an impact as expected. Long-distance TGV trains were only marginally affected.
Trade union leaders hoped workers would be energised by the government's decision to force some of them to go back to work at petrol depots to try and get the fuel flowing again, a move some say has put the right to strike in jeopardy.
Employees in both public and private sectors were called on to stop work in an extension of the industrial action that has disrupted France's major refineries and supplies to petrol stations.
The CGT's secretary general, Philippe Martinez, said, "our demands are more than ever on the agenda, the question of salaries. We see that this is the No. 1 priority of the French."
"Inflation affects all workers in Europe," Martinez added.
"We can see that the profits of big companies are exploding and that employees are being told their pay cannot be increased, that there is no money. So this anger is widespread in Europe".
Anxious to resolve the difficulties of fuel supply for the French "as quickly as possible", Macron convened a meeting at the Elysée Palace on Monday afternoon.
"The president of the Republic called for the spirit of responsibility of all and highlighted the unbearable consequences for those who suffer daily from this hell," said one anonymous source.
As disruption to public transport kicked in, commuters were seen arriving early at stations on Tuesday to try to get to work, while worse traffic jams than usual were reported around Paris.
This comes as thousands of people took to the streets of Paris on Sunday to protest against soaring prices.
PR Borne believes 'a minority is blocking the country'
Tensions continue to rise over high inflation and fears over the cost of living, although official figures for August show France's inflation rate at 6.6% was the lowest in the European Union.
Amid a tense political context, the French government is set to pass the 2023 budget bill using special constitutional powers that would allow it to bypass a vote in parliament.
French President Emmanuel Macron's government is losing patience with strikers, who are backed by his political rivals on the left.
Prime Minister Elizabeth Borne, speaking Tuesday at the National Assembly, said "negotiations led to the signature of agreements", with majority unions both at TotalEnergies and ExxonMobil's French branch Esso, where workers ended their strike last week.
"Therefore, it is not acceptable that a minority continues to block the country," she said.
Borne said about 25% of France's gas stations are experiencing temporary shortages.
She noted a "clear improvement" in the situation in northern France, where 18.5% of gas stations are disrupted, down from 55% last week. She said the situation had also improved in the Paris region over the past 24 hours.
The CGT union has called for continued walkouts into a fourth week at TotalEnergies, despite the oil company reaching a deal including a 7% increase and a bonus on Friday with other unions. The CGT is demanding a 10% pay rise, citing inflation and huge profits made by the firm.
Strikes have already spilt over into other parts of the energy sector, including at nuclear giant EDF, where maintenance work crucial for Europe's power supply will be delayed.
A representative of the FNME-CGT union on Monday told Reuters strikes were affecting work at 10 French nuclear power plants, with further maintenance delays at 13 reactors and French power production reduced by a total of 2.2 gigawatts.