Major train strikes in France aimed at "blocking country"
Comments
By Rory Armstrong with AFP, AP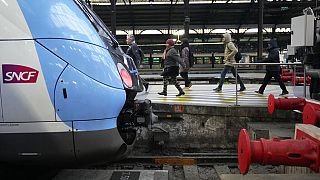 -
Copyright

Michel Euler/Copyright 2023 The AP. All rights reserved.
This Tuesday, transport services join an undetermined strike that will see services severely reduced at local, regional and international levels. These will affect France's rail, bus and aviation services, with reduced services, except at peak working hours, and blockades to major cities expected. 
March 7 will mark the sixth day of industrial action since January over government plans to reform pension rights in France and increase the retirement age from 62 to 64, which saw more than a million people take to the streets and this time, unions are hoping, will bring the country to a standstill.
Unlike previous strikes, major confederations of French trade unions – including the CFDT and CGT – have announced ''grèves reconductibles'', meaning workers will vote at the end of each strike day on whether to continue industrial action. With no fixed end date, unions hope rolling walkouts have the potential to disrupt daily life and threaten the economy so severely that it forces the government into submission.
In the transport sector, national rail company SNCF and Parisian public transport RATP are both expecting major ongoing strikes, with transport authorities warning of "major disruption" in Paris.
International journeys on trains and flights will also be impacted, with the French civil aviation authority recommending that airports in major cities across France reduce flight traffic by up to 30%. Delays and cancellations are expected.   
Schools and power plants to close
Apart from transport, the education and industrial sector are also expected to join the strike. 
On Friday energy production in France was reduced in multiple nuclear power stations bringing down the overall electricity supply. In the midst of a cost of living and energy crisis, union representatives said production would fall even lower as strikes continue, in order to negatively impact the French economy.
In education, the seven major teaching unions have called for the "total closure" of schools on March 7. High school and university students are expected to join protests alongside staff from Tuesday, with a peak of activity on March 9 with a dedicated "Youth Mobilisation" day.
For gas and electricity workers, walkouts will continue "at the minimum until the 7th, and at the maximum until we win", said the secretary-general of union confederation CGT Energie, Sébastien Ménesplier.  
Impact on women
Protest actions focused on women and the retirement reform's impact on working mothers are expected Wednesday to coincide with International Women's Day.
Asked about the strikes on Saturday as he completed a tour of African countries, Macron said he had "nothing new to say" on the topic.