Free iodine tablets at the ready in Poland amid Ukraine nuclear fears
Comments
By Magdalena Chodownik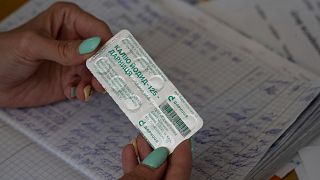 Poles have begun buying iodine tablets privately amid fears the war in neighbouring Ukraine could spark a nuclear accident. 
Attacks around the Zaporizhzhia nuclear power plant -- occupied by Russian forces -- have raised fears of a disaster.
The International Atomic Energy Agency has for weeks been calling for a safety zone to be established around the plant.
In September, Warsaw established distribution points for free iodine tablets throughout the country.
They were sent to schools, city halls and fire stations.
"This is preparation in the event of a nuclear power plant accident," said Błażej Poboży, undersecretary of state in Poland's Ministry of the Interior and Administration.
"Tablets containing the so-called 'stable iodine' are intended to block the thyroid gland from possible exposure and from absorbing bad, radioactive iodine, which is released after a possible disaster at a nuclear power plant. 
"At the moment, there is no real threat of radioactive contamination, but we want to be prepared even for the impossible variants."
While the free tablets have not been distributed to Poles yet, some people are choosing to buy them privately, reports Magdalena Chodownik.
Watch more in the video player, above.