Ukraine war: Zaporizhzhia power plant goes offline, fuel price caps and Swiss Sberbank sell-off
Comments
By Euronews with AP, AFP, Reuters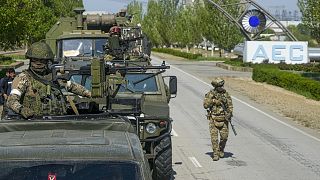 -
1. Zaporizhzhia nuclear power plant went offline, Russian-appointed authorities claim
Europe's largest nuclear plant has stopped supplying Ukrainian-held territories with electricity as a team of inspectors from the UN nuclear watchdog continued their mission at the site on Saturday.
The Moscow-appointed city administration in the Russia-occupied Enerhodar, where the Zaporizhzhia plant is located, blamed an alleged Ukrainian shelling attack on Saturday morning, which they said had destroyed a key power line.
"The provision of electricity to the territories controlled by Ukraine has been suspended due to technical difficulties," the municipal administration said in a post on its official Telegram channel. It was not clear whether electricity from the plant was still reaching Russian-held areas.
Over the past weeks, Ukraine and Russia have traded blame over shelling at and near the plant while also accusing each other of attempts to derail the visit from UN experts, who arrived at the plant Thursday. The International Atomic Energy Agency's mission is meant to help secure the site.
Ukraine said on Friday it had struck a Russian base in Energodar, the city where the Zaporizhzhia nuclear power plant, which is occupied by Russian troops, is located. 
"In the localities of Kherson and Energodar, precise strikes by our troops destroyed three enemy artillery systems, as well as an ammunition depot," killing many Russian soldiers, the Ukrainian army said in a statement. 
The Ukrainian army also claimed that the Russian forces had evacuated "all their military equipment from the site of the plant" before the arrival of the IAEA mission, several of whose members have remained at the plant.
The Zaporizhzhia power plant, the largest in Europe, fell to Russian troops in March, shortly after Moscow launched its invasion of Ukraine, and its site was targeted by several bombardments raising fears of a nuclear disaster.
Both Kyiv and Moscow reject responsibility for those strikes. 
Read more here:
2. Gazprom claims it can't fix a leak in Nord Stream 1, its Western service partner disagrees
Russia has scrapped a Saturday deadline to resume flows via a major gas supply route to Germany, deepening Europe's difficulties in securing winter fuel, after saying it had found faults in the Nord Stream 1 pipeline during maintenance.
Nord Stream 1, which runs under the Baltic Sea, had been due to resume operating at 0100 GMT on Saturday after a three-day halt for maintenance.
But Gazprom, the state-controlled firm with a monopoly on Russian gas exports via pipeline, said on Friday it could not safely restart deliveries until it had fixed an oil leak found in a vital turbine. It did not give a new time frame.
However, Siemens Energy, which normally services Nord Stream 1 turbines, said such a leak should not stop the pipeline from operating. It also said the Portovaya compressor station, where the leak was discovered, has other turbines for Nord Stream to keep operating.
"Such leaks do not normally affect the operation of a turbine and can be sealed on site. It is a routine procedure within the scope of maintenance work," the company said.
Moscow has blamed sanctions imposed by the West after Russia invaded Ukraine for hampering routine operations and maintenance of Nord Stream 1. Brussels says this is a pretext, and Russia is using gas as an economic weapon to retaliate.
"This is part of Russia's psychological war against us," tweeted Michael Roth, chair of the German parliamentary foreign affairs committee.
Read more here:
3. Group of Seven discuss Russian oil and gas price caps amid energy crisis concerns
Finance ministers from the Group of Seven industrial powers on Friday pledged to impose a cap on the price of Russian oil in a bid to limit the Kremlin's revenues and ability to fund its war in Ukraine, while also curtailing the war's impact on energy prices and inflation.
The ministers said they would impose the cap by barring insurance or shipping companies from helping Russia sell oil at prices above the set limit.
The decision follows discussions at the group's summit earlier this year and aims at solving one of the vexing problems with sanctions against Russia: Global oil prices have risen on fears of restricted supply, which has only fattened the Kremlin's take.
Russian Deputy Prime Minister Alexander Novak has said Russia will refuse to sell oil to countries or companies that observe the cap.
Meanwhile the EU's top executive said Friday that the bloc's electricity market "is no longer operating" amid the Ukraine war, and proposed a price cap on Russian pipeline gas.
European Commission President Ursula von der Leyen blamed Russian President Vladimir Putin's war against Ukraine for the energy crisis and the dramatic rise in gas and electricity prices.
She said Europe's priority is to save energy because reserves are scarce, although the 27-nation bloc has already reached its goal of filling gas storage to 80% of capacity ahead of the winter months. The target date was 1 November. 
Read more here:
4. Russia's Sberbank to sell off sanctions-hit Swiss subsidiary
The Swiss financial markets watchdog said Friday that Sberbank, one of Russia's largest banks, is selling its Swiss subsidiary, which had come under pressure because of international sanctions on Russian interests over the invasion of Ukraine.
Sberbank (Switzerland) AG, which focuses on trade finance in commodities, was already facing liquidity problems after the first round of Western sanctions hit Russian interests earlier this year. 
Then, last month, Switzerland's executive branch froze the bank's assets and banned it from providing any funds, resources or technical services following a new round of sanctions.
FINMA, the Swiss markets authority, said in a statement Friday that it had lifted "protective measures" — mainly to protect clients — on Sberbank so that it can be sold to Groupe M3, a diversified company that has holdings mainly in the real estate, hospitality and health care sectors.
"FINMA is following the transaction closely and has temporarily lifted its protective measures at Sberbank (Switzerland) AG so that the transaction can be carried out," it said in a statement. "This is also done with the consent of the authorities responsible for sanctions."
FINMA said the "resized" bank will now operate under a new name, TradeXBank. Groupe M3 confirmed the sale in a statement. Terms of the sale were not disclosed. 
The bank has allegedly generated between 3-4 billion Swiss francs (€3-4bn) in revenue annually before the sanctions, but Groupe M3 had been forced to hand over 1.5bn francs worth of assets under management to customers who sought them back as part of the purchase.
5. Kremlin adds rock star and Navalny ally to 'foreign agent' list, among others
Russian authorities on Friday designated a beloved rock musician, a key ally of jailed opposition leader Alexey Navalny and four other people as "foreign agents," alleging they engaged in unspecified political activities while receiving funding from Ukraine.
Among the new names added to the online "foreign agent" register maintained by Russia's justice ministry were Andrey Makarevich, the founder of cult Soviet and Russian band Mashina Vremeni, and Ivan Zhdanov, the former head of Navalny's Anti-Corruption Foundation. Also added were a Russian political scientist, a high-profile businessman and philanthropist, and two journalists.
Russian law allows organizations and individuals deemed to be involved in political activity that receive funding from abroad to be declared foreign agents. The term carries a strong pejorative sense and implies additional government scrutiny.
Pro-Kremlin Russian politicians previously pilloried Makarevich for "supporting Kyiv's anti-Russian policy" in 2014, after he played a concert for refugees in an eastern Ukrainian town retaken by government forces from Moscow-backed separatists.
Another Russian rock legend, Yuri Shevchuk, was fined 50,000 rubles (€818.4) last month after a Russian court found him guilty of "discrediting" the Russian army over his speaking out against Moscow's invasion of Ukraine at one of his performances.
Zhdanov and other Navalny allies have faced multiple criminal cases over the past three years, including over their alleged involvement in an "extremist group," as the Kremlin widened its multi-pronged crackdown on its most ardent foe and his team.
The Anti-Corruption Foundation has repeatedly maintained that the charges are politically motivated and tied to its investigations into official graft as well as the group's campaigning for anti-Kremlin electoral candidates.
6. NATO show of force as B-52s fly over Stockholm
American B-52 bombers symbolically flew over Stockholm at low altitude on Friday, as part of the intensification of joint exercises organised after Sweden applied to join NATO. 
Accompanied by Swedish Air Force Gripen fighters, two US Air Force B-52s flew over the Nordic capital around 12:15 pm local time.
While exercises with the American strategic bombers have taken place recently, this was the first time that an overflight of this type has been organised, a spokesperson for the Swedish military said. 
Since the announcement of Sweden and Finland's candidacy for NATO in May, after Russia's invasion of Ukraine, the United States and other Western powers have multiplied exercises as a sign of military partnership in recent months. 
A large American amphibious assault ship, the USS Kearsarge, dropped anchor in early June in Stockholm harbour before maritime exercises offshore.