Death toll from Texas school shooting now stands at 19 children and two adults
Comments
By Euronews with AP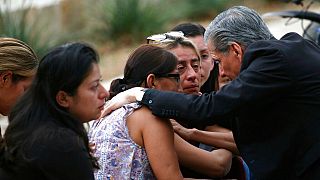 -
Copyright

AP Photo/Dario Lopez-Mills
An 18-year-old gunman opened fire on a classroom at a Texas elementary school in Tuesday, killing at least 19 children and two teachers in the deadliest school shooting in nearly a decade. 
It marks the latest scarring moment in a country with a long history of school massacres due to the lack of gun control. The assault at Robb Elementary School in Uvalde was the worst since a gunman killed 20 children and six adults at Sandy Hook Elementary in Newtown, Connecticut, in December 2012.
Outside the town civic centre, where families were told to await news about their loved ones, the silence was broken repeatedly by screams and wailing. "No! Please, no!" one man yelled as he embraced another man.
"My heart is broken today," said Hal Harrell, the school district superintendent. "We're a small community, and we're going to need your prayers to get through this."
Killer 'bought assault rifles on his 18th birthday'
The attack began at about 11:30 am local time, when the gunman crashed his car outside the school and ran into the building, according to Travis Considine, a spokesman for the Texas Department of Public Safety.
A resident who heard the crash called 911, and two local police officers exchanged gunfire with the shooter. A Border Patrol agent working nearby then rushed into the school without waiting for backup and shot and killed the gunman.
Many of the wounded were rushed to Uvalde Memorial Hospital, where both devastated victims' relatives and medical staff members in scrubs could be seen weeping as they walked out of the complex.
Officials did not immediately reveal a motive, but they identified the assailant as Salvador Ramos, a resident of the community about 135 kilometres west of San Antonio. 
Ramos had hinted on social media that the attack could be coming and suggested children should "watch out", according to state senator Roland Gutierrez. 
Before heading to the school, Ramos also shot his grandmother with two military-style rifles he had purchased on his birthday. "That was the first thing he did on his 18th birthday," Gutierrez said. 
Lawmakers beg for gun reform as Sandy Hook parents relive atrocity
The attack came just 10 days after a deadly, racist rampage at a supermarket in Buffalo, New York that added to a years-long series of mass killings at churches, schools and stores.
It also came at a time when the prospects for any reform of the US' gun regulations seemed as dim, if not dimmer, than in the aftermath of the Sandy Hook massacre almost 10 years ago.
President Joe Biden appeared ready for a fight, however, calling for new gun restrictions in an address to the nation hours after the attack.
"As a nation, we have to ask, when in God's name are we going to stand up to the gun lobby? When in God's name are we going to do what has to be done?" Biden asked. "Why are we willing to live with this carnage?"
Yesterday's events in Uvalde marked the 14th mass school shooting in the US in two decades. But there have been a total of 119 incidents where a firearm was used in a school since 2018 alone.
In February 2018 a 20-year-old walked into Marjory Stoneman Douglas High School in Florida and shot dead 14 young people and three staff members, injuring many others. Not three months later near Houston, a 17-year-old opened fire on staff and students at Santa Fe High School, killing 10.
The US Congress has been unable to pass substantial gun control legislation since the collapse of a bipartisan Senate effort in the aftermath of the Sandy Hook atrocity, mostly due to the country's powerful gun lobby.
So far this year 27 school shootings have been recorded across the country, suggesting the record 34 incidents last year could soon be broken.
Parents whose lives were shattered by previous incidents in US schools have extended their condolences and support to the newly bereaved on Tuesday.
"My son never came home from Sandy Hook," wrote Nicole Hockley in an op-ed for USA Today. "My heart bleeds for Texas as I relive Dylan's murder."
Senator and Democrat Chris Murphy took to the Senate floor on Tuesday and demanded that lawmakers make meaningful change. "I'm here on this floor to beg — to literally get down on my hands and knees — to beg my colleagues, find a path forward here," he said.
"By doing something, we at least stop sending this quiet message of endorsement to these killers whose brains are breaking, who see the highest levels of government doing nothing, shooting after shooting."
What about outside the United States?
According to the Small Arms Survey, there were 857 million firearms in civilian hands globally in 2017. More than half of that stockpile was owned by US civilians, with Europe's share amounting to just over 11 percent.
Gun control laws are much stricter in European Union member states than in the US. Despite this, four mass school shootings have taken place in the EU since 2000, according to a December 2021 report by the Flemish Peace Institute.
Two of them took place in Germany, with 16 people killed in Erfurt in April 2002 and 15 murdered in Winnenden in March 2009. The other two occurred in Finland; 10 people were killed in Jokela in November 2007, and a further eight in Kauhajoki in September 2008.
In each of those cases, the report noted, all the perpetrators either possessed the firearm legally under a sporting licence, or a family member did.
Many other incidents involving firearms have taken place in schools across the EU in recent years. A German teacher in Estonia died after being shot with a revolver by a 15-year-old in 2014. At least four people were injured in Grasse, France, in 2017 when a student attacked his school with several weapons. Two people were also injured in Poland in May 2019 when an ex-student threw explosives and fired shots on the grounds of his former school.
Tens of other school attacks have taken place involving weapons like swords and knives. "In some cases, the perpetrator was actively attempting to acquire a firearm," the Flemish Peace Institute added.
Outside the EU, there was a school shooting at the Kerch Polytechnic College in Crimea, where 20 people were killed in October 2018, and in Tatarstan, Russia, where nine people at a high school lost their lives in May 2021.