Ukraine war: Russian diplomat resigns, says he's never been so ashamed of his country
Comments
By Euronews with AP, AFP, Reuters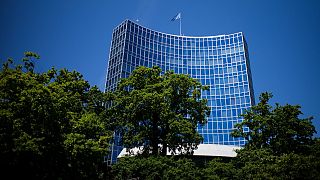 -
Copyright

AP Photo/Markus Schreiber, File
A veteran Russian diplomat in Geneva resigned on Monday over the war in Ukraine.
"For twenty years of my diplomatic career I have seen different turns of our foreign policy, but never have I been so ashamed of my country as on Feb. 24 of this year," he wrote, alluding to the date of Russia's invasion.
Meanwhile, in a virtual address to the World Economic Forum in Davos on Monday, Ukrainian President Volodymyr Zelenskyy pushed for "maximum sanctions" against Russia, including a full oil embargo, for all Russian banks to be barred from global systems, and for Russia to be cut off from international trade completely. 
See a summary of latest developments in the blog below and watch Euronews TV coverage in the video player above.
05.23.2022
07:20
Monday's key points:
A Russian diplomat resigned saying he's never been so ashamed of his country.

Russian soldier sentenced to life in prison for killing unarmed civilian.

Zelenskyy has called for 'maximum sanctions' against Russia during Davos speech.

Biden says Russia must pay 'long-term price' for invasion of Ukraine.

Ukrainian fighters captured from Mariupol steelworks to face 'international tribunal', says head of separatist region.

Children hiding in basement in Ukraine told Euronews they just don't want to be bombed.

YouTube has removed 70,000 videos and 9,000 channels for violating content guidelines related to Ukraine.

The global refugee population topped 100m for the first time on record, according to the UNHCR.

The global economy faces perhaps its biggest test since World War II, said the IMF chief.

Sacrificing any Ukrainian territory would be 'huge blow' to West, said Polish president.
05.23.2022
23:01
Soldier fears Ukraine forces not ready for Russian onslaught
So far, Ukrainian forces have managed to hold back many Russian attacks on the eastern front. But Ukrainian authorities say they believe Russian manpower and firepower are being deployed from other regions and are now hitting Ukrainian lines with constant shelling.
Some fear the Ukrainian troops on the frontline aren't necessarily prepared for the brutality of war. 
Euronews' international correspondent Anelise Borges reports from Ukraine's eastern city of Dnipro:
An injured military trainer tells Euronews that some soldiers "have no idea of what war is all about" as Russia intensifies its eastern assault.
05.23.2022
22:08
Civilians being killed in Donetsk assault — UN
Spokesman Stephane Dujarric said Monday that U.N. staff on the ground remain concerned about the impact on civilians by the reported fierce fighting in eastern Luhansk, Donetsk and Kharkiv regions.
He said people are being killed or injured. Homes, civilian infrastructure and residential buildings have been damaged or destroyed.
In the government-controlled part of Luhansk, local authorities informed the U.N. that a bridge leading to the administrative center of the region – Sievierodonetsk – was destroyed on May 21. He said that left the partially encircled city reachable by only one road.
While some people managed to leave Sievierodonetsk over the weekend, Dujarric said local authorities estimate that thousands of civilians remain in the war-affected city and require urgent support.
U.N. humanitarian staff also said that shelling and airstrikes were reported in other areas of Ukraine, including in northern, central and southern parts, claiming civilian lives and damaging civilian infrastructure.
(AP)
05.23.2022
21:48
20 nations commit new security aid — Pentagon chief
U.S. Defense Secretary Lloyd Austin said that some 20 countries had announced new security assistance packages for Ukraine during a virtual meeting with allies on Monday that was aimed at coordinating arms for Kyiv.
The countries that announced new packages included Italy, Denmark, Greece, Norway and Poland, Austin told reporters following a meeting of the Ukraine Defense Contact Group. Denmark would provide a harpoon launcher and missiles to defend Ukraine's coast, Austin said.
"Everyone here understands the stakes of this war," Austin said.
The top U.S. military officer, General Mark Milley, told the same press conference that the U.S. was still "a ways away" from any reintroduction of U.S. forces into Ukraine.
(Reuters)
05.23.2022
21:07
Navalny welcomes diplomat's resignation
A spokesperson for the jailed critic of the Kremlin has welcomed the resignation of Russian diplomat Boris Bondarev.
Kyra Yarmysh said on Twitter that the adviser to Russia's UN mission had written that "the modern Russian Foreign Ministry has nothing to do with diplomacy, but only with inciting war, lies and hatred.
"It seems that there was one honest person in the entire Ministry of Foreign Affairs."
05.23.2022
20:39
Captured Azovstal fighters to face 'tribunal'
The head of the Russia-backed separatist region in eastern Ukraine says that Ukrainian fighters from the Azovstal steel mill in Mariupol who were captured by Russian forces are being held in the self-proclaimed Donetsk People's Republic and will face "international tribunal" there.
"The plan is to arrange the international tribunal on the territory of the republic as well," Denis Pushilin was quoted by the Interfax news agency as saying. Pushilin added that "at the moment the charter for the tribunal is being worked out."
Pushilin said earlier that 2,439 people from Azovstal were in custody, including some foreign citizens, though he did not provide details.
Family members of the steel mill fighters, who came from a variety of military and law enforcement units, have pleaded for them to be given rights as prisoners of war and eventually returned to Ukraine.
(AP)
05.23.2022
19:37
Another 48 Russian soldiers to face war crimes trials in Ukraine

Ukraine's prosecutor general, Iryna Venediktova, said on Monday afternoon there are currently about 13,000 cases of alleged Russian war crimes being investigated, of which 48 will definitely get to court.
It comes after the sentencing of Sgt. Vadim Shyshimarin earlier today: the first Russian to be tried for war crimes since the conflict began.
Speaking at the World Economic Forum (WEF) in Davos, Venediktova added: "All evidence indicates that the Russian military and political elite has unconditionally reverted to the brutal war tactics of violence.
"Civilian populations and civilian objects – including hospitals, educational facilities, and residential buildings – are internationally targeted in a widespread and systematic manner."
Ukrainian officials have a list of about 600 named individuals thought to have engaged in war crimes. Two cases involving three people are already being prosecuted.
Venediktova also said 4,600 civilians were known to have died as a result of the war, including 232 children, though the real number was likely to be higher.
05.23.2022
18:57
Russian diplomat hits out at war in resignation letter
 A veteran Russian diplomat to the UN Office at Geneva says he handed in his resignation before sending out a scathing letter to foreign colleagues inveighing against the "aggressive war unleashed" by Russian President Vladimir Putin in Ukraine.
Boris Bondarev, 41, confirmed his resignation in a letter delivered Monday morning after a diplomatic official passed on his English-language statement to The Associated Press.
"For twenty years of my diplomatic career I have seen different turns of our foreign policy, but never have I been so ashamed of my country as on 24 Feb of this year," he wrote, alluding to the date of Russia's invasion.
The resignation amounts to a rare -- if not unprecedented -- public admission of disgruntlement about Russia's war in Ukraine among the Russian diplomatic corps.
"The aggressive war unleashed by Putin against Ukraine, and in fact against the entire Western world, is not only a crime against the Ukrainian people, but also, perhaps, the most serious crime against the people of Russia, with a bold letter Z crossing out all hopes and prospects for a prosperous and free society in our country," Bondarev wrote, referring to the widespread use of the letter "Z" as a symbol of support for Russia's war in Ukraine.
Reached by phone, Bondarev -- a diplomatic counselor who has focused on Russia's role in the Conference on Disarmament in Geneva after postings in places like Cambodia and Mongolia -- confirmed he handed in his resignation in a letter addressed to Ambassador Gennady Gatilov.
A spokesman for the mission didn't immediately respond to AP requests seeking comment.
(AP)
05.23.2022
18:14
Pro-Russia authorities in captured Ukraine region introduce rouble as official currency
The new pro-Russian authorities in the Ukrainian region of Kherson have introduced the rouble as official currency alongside the Ukrainian hryvnia.
Kherson, which is close to Crimea, was the first major city to be captured by Russian forces early in March.
"The region is becoming a dual currency zone: the rouble will circulate alongside the hryvnia. Companies and entrepreneurs can display prices in both currencies," the pro-Russian civilian and military administration of the region announced on Monday. 
"The exchange rate is two rubles to one hryvnia," it continued, in a statement on its Telegram account.
The administration added that the first branch of a Russian bank would open "very soon" in Kherson, the regional capital, and that "all entrepreneurs wishing to do so" could open an account there.
In late April, a local official said rubles and hryvnias could circulate during a transitional period before a full switch to Russian currency, a possibility that was not mentioned Monday by the pro-Russian regional administration.
Local and Russian officials, however, have raised the possibility that the entire region will eventually be part of Russia.
(AFP)