700,000 soldiers defending Ukraine now, Zelenskyy says, as battles rage in the Donbas
Comments
By Euronews with AP, AFP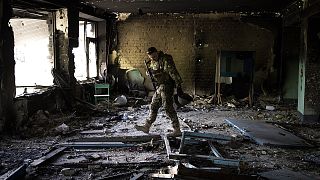 -
Copyright

AP Photo/Bernat Armangue
Some 700,000 Ukrainian soldiers are now actively participating in defending the country, Ukrainian President Volodymyr Zelenskyy said in a televised interview on Saturday. 
In comparison, Russia deployed anywhere between 100,000 to 190,000 troops when it launched its invasion on 24 February, with the exact numbers of currently active units unclear.
Meanwhile, the Moscow forces continued their assault in the east after claiming victory in Mariupol on Friday as the last Ukrainian defenders holed up in Azovstal laid down their arms.
Read more about the day's developments in our live blog below.
05.21.2022
10:03
Saturday's key points:
Russia suspended its gas delivery to Finlandon Saturday morning in response to the country's NATO membership bid.

The Russian military says it has fully taken over the Azovstal steelworks in Mariupol after the last Ukrainian fighters gave themselves up.

Earlier, Moscow said more than 1,900 Ukrainian fighters at the plant had surrendered.

Russian forces stepped up their assaults in eastern Ukraine, with fierce bombardment of Severodonetsk in the Luhansk region, which Moscow says is almost under its control.

Moscow should be made to pay for the destruction of property in Ukraine, President Volodymyr Zelenskyy said in his nightly address on Friday.

The Donbas region has been turned into 'hell', Zelenskyy said earlier.

Russia's parliament has said it will consider allowing Russians over 40 and foreigners over 30 to sign up for the military.

Russia is to set up 12 new military bases in the west of the country in response to Sweden and Finland's NATO bids.

The G7 is pledging $19.8 billion (€18.75 billion) in aid to boost Ukraine's finances and more than $18 billion (€17 billion) in aid for Ukrainian defence efforts.
05.21.2022
20:25
That's it from the live blog for tonight -- join us again on Sunday morning for more updates on Russia's war in Ukraine.
05.21.2022
20:21
Portuguese PM pledges financial aid to Ukraine, asks for 'total block of energy sources from Russia'
Portuguese Prime Minister Antonio Costa has pledged €250 million euros of financial aid to Ukraine.
Costa met President Volodymyr Zelenskyy in Kyiv on Saturday and said he wants to help his EU partners find alternatives to Russian oil and gas.
The prime minister stressed the need to be completely independent of Moscow and "a total block of all energy sources from Russia which is the best way to not continue to finance Russian war efforts".
In the same press conference, Zelenskyy reminded the international community that the Donbas region remains part of Ukraine and that war will not be waged on Russian territory.
"You see, we just can't pay the price of tens or hundreds of thousands of lives, so we ask you to help us. These multiple-launch rocket systems, which stand in some countries at a standstill -- they are the key to our survival" Zelenskyy said.
05.21.2022
20:01
Moscow might exchange Mariupol POWs for Medvedchuk
Member of the Russian delegation in negotiations with Ukraine Leonid Slutsky said that Russia would consider exchanging Ukrainian soldiers who surrendered earlier this week after being holed up in Azovstal for the pro-Kremlin member of parliament Viktor Medvedchuk.
Medvedchuk, who was caught by the Ukrainian security services after he tried to escape the country on 12 April, is currently under arrest pending trial for treason.
05.21.2022
19:33
'Saint Javelin' mural to be painted in Kyiv
The viral "Saint Javelin" meme featuring an Eastern Orthodox-style Virgin Mary cradling a Javelin anti-tank missile -- a one-man design originally intended to boost donations to aid Ukrainians -- will get a mural in the capital, Kyiv Independent reported.
The mural will be the first of a series on Antonova Street, according to former deputy of the Kyiv City Council Andriy Andreev.
"Saint Javelin" has become one of the most popular images illustrating the Ukrainian resistance to the Russian invasion, with Ukrainian President Volodymyr Zelenskyy and Minister of Defence Oleksii Reznikov both sporting the design in recent weeks.
05.21.2022
18:44
Film by Lithuanian director killed in Mariupol premieres at Cannes
Depicting life within Ukraine's besieged southern port city, Mariupolis 2 has shaken the Cannes Film Festival.
The rare documentary which serves as the last testament of the late Mantas Kvedaravičius chronicles Mariupol's survivors seeking refuge amongst the ruins.
The Lithuanian director was killed on 2 April while filming the project. He was arrested by Russian soldiers when he attempted to leave the city and reportedly murdered.
The film was completed by co-director and Kvedaravičius' fiancée Hanna Bilobrova in record time. It was added to the competition as a late entry in celebration of his life before a special screening last Thursday.
05.21.2022
16:21
'Justice ministry oxymoron under Putin', chess champion Kasparov says
Chessmaster and prominent dissident Gary Kasparov was added to the list of "individuals acting as foreign agents", according to the Russian Justice Ministry website -- a designation heavily criticised as a violation of human rights and a means of suppression of civil society actors and journalists.
Kasparov, who was added to the list on Friday together with another prominent critic of President Vladimir Putin's regime, former oil tycoon Mikhail Khodorovsky, responded by saying that the "'Russian Justice Ministry' is an oxymoron under Putin."
"I was representing my country back when Putin was still spying on his colleagues in East Germany," Kasparov said on Twitter.
"Being anti-Putin is, and always will be, pro-Russian," Kasparov concluded.
Both Kasparov and Khodorovsky have been campaigning against Russia's war in Ukraine, while also organising supporting humanitarian relief programmes.
05.21.2022
14:54
UK MoD: Russian forces becoming short on operational drones
Russia is likely experiencing a shortage of reconnaissance drones, which it has used to identify targets to be struck by combat jets or artillery, the UK Ministry of Defence said on Saturday.
This is exacerbated by limitations in its domestic manufacturing capacity resulting from sanctions, the report said.
If Russia continues to lose UAVs at the current rate, Russian army intelligence, surveillance and reconnaissance capabilities will be further degraded, negatively impacting operational effectiveness, the ministry said in a regular bulletin.
05.21.2022
13:54
Moscow claims it destroyed a large weapons shipment in missile strike near Zhytomyr 
A large batch of weapons "received from the United States and Europe" was destroyed in a missile strike against a target in the Zhytomyr region, the Kremlin claimed on Saturday.
The Russian Ministry of Defence released the footage purported to show the launch of the Kalibr missile from the Black Sea, said to have destroyed the stockpile, the state-owned agency Interfax reported.
The claim could not be independently verified.
05.21.2022
12:49
Biden signs multi-billion-dollar aid package for Ukraine
US President Joe Biden has signed into law legislation passed by Congress on Thursday providing a massive $40 billion (€37.8bn) package for Ukraine's war effort against Russia, the White House said on Saturday.
Biden signed the bill during his official trip to South Korea. The bill includes $6bn (€5.68bn) for Ukraine to buy armoured vehicles and strengthen its air defence.