Russia Victory Day: Putin says West 'forced' Ukraine offensive as Moscow hosts huge military parade
Comments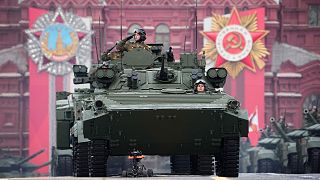 -
Vladimir Putin has sought to cast Russia's military action in Ukraine as a forced response to Western policies, claiming that Moscow's forces are "fighting for the Motherland".
It came as Russia marked Victory Day on Monday with its annual military parade in Moscow, commemorating the Soviet Union's victory over Nazi Germany in World War II.
The address had added significance and was watched the world over, given Russia's war in Ukraine following its invasion in late February. 
In his speech, Putin said the campaign in Ukraine was a timely and necessary move to ward off what he described as "an absolutely unacceptable threat just next to our borders".
The Russian leader's message was in line with a consistent narrative from Moscow and repeated in Kremlin-controlled state media: that Russia is responding to a perceived threat from the West, and particularly NATO.
Critics abroad and Russian dissidents poured scorn on Putin's address, accusing him of turning history on its head by comparing today's action in Ukraine to that of Soviet forces in repelling Hitler.
Watch: Russia marks Victory Day with a military parade
Russia 'repulsed an aggression'
"The danger was rising," Putin said, adding that "Russia has preemptively repulsed an aggression" in what he described as a "forced, timely and the only correct decision by a sovereign, powerful and independent country".
The Russian leader again scolded the West for failing to heed Russian demands for security guarantees and a rollback to NATO's expansion, arguing that it left Moscow no other choice but to launch an action in Ukraine.
"In December last year, we proposed the conclusion of an agreement on security guarantees. Russia called on the West to enter an honest dialogue, in search of reasonable compromise solutions, to take each other's interests into account. It was all in vain."
Washington and NATO offered dialogue but no concessions to Moscow's demands — which one Russia analyst described as "orchestrated blackmail" and a call for the Western military alliance to "commit suicide". 
Putin went on to claim that preparations were underway "for the invasion of our historical lands" such as the Donbas and Crimea, falsely asserted that Kyiv was looking to acquire nuclear weapons, and said NATO had begun "actively taking military control" of neighbouring territories, with military infrastructure "ramped up" and advisers and weapons sent in.
"(The level of) danger was increasing every day. Russia preventively rebuffed the aggressor. It was necessary, timely and ... right. The decision of a sovereign, strong, independent country."
Putin's previous assertions along these lines have been rubbished by Kyiv — which posed no military threat to Moscow — and the West. 
Many of Russia's neighbours have freely chosen or applied to join NATO to counter the threat from Russia, which since Putin came to power has launched wars and conflicts in Chechnya, Georgia, and Ukraine ahead of this year's full invasion of the country. In 2014 Russian-backed separatists seized parts of the east, and Russia annexed Crimea in the south.
"NATO countries were not going to attack Russia. Ukraine did not plan to attack Crimea," Ukrainian senior presidential adviser Mykhailo Podolyak said after Putin's comments.
Comparisons with World War II
Putin claimed that Russian troops were fighting for the country's security in Ukraine and observed a minute of silence to honour the troops who fell in combat. He noted that some of the troops taking part in the parade have previously fought in Ukraine.
He drew parallels between the Red Army's fighting against the Nazi troops and the Russian forces' action in Ukraine.
"I am now addressing our Armed Forces and the Donbas volunteers. You are fighting for the Motherland, for its future, so that no one forgets the lessons of the Second World War. So that there is no place in the world for executioners, punishers and Nazis," Putin said.
The assertion that Russia is acting to rid Ukraine of "Nazis", often repeated by Russian leaders, is ridiculed in the West and in Ukraine, where far-right influence is marginal at best. 
Kyiv has accused Moscow of employing Nazi-style tactics in Ukraine and investigations are underway nationally and internationally into multiple allegations of war crimes and other atrocities committed by Russian forces. Putin himself has been branded a "war criminal" by US President Joe Biden.
Speaking before Moscow's military parade, Ukraine's President Volodymyr Zelenskyy said that Ukraine would not let Russia "own the victory over Nazism" in 1945.
"We are proud of our predecessors who, together with other peoples within the framework of the anti-Hitler coalition, defeated Nazism. We will not let anyone annex this victory, appropriate it," he said.
Victory Day is a source of national pride and identity for Russians as they honour 27 million Soviet citizens who lost their lives in the struggle to defeat Hitler's Germany. But at the weekend G7 leaders condemned Putin's invasion of Ukraine, saying his "actions bring shame on Russia and the historic sacrifices of its people".
Since the invasion of Ukraine in late February, Russian forces have devastated villages, towns and cities. Thousands of civilians as well as soldiers have been killed, and nearly six million Ukrainians have been driven to flee.
No major announcements — or threats — from Putin
Despite fears that Monday's speech by the Russian president could mark the start of another escalation in the fighting in Ukraine, with a potential general mobilisation or a formal declaration of war, the speech passed without any major new announcements.
Significantly, there was no repetition of previous threats to respond with violence to Western interference. Pro-Kremlin commentators have openly talked of nuclear strikes on the West as the war in Ukraine has progressed.
Putin gave no indication of how long the war might continue, and did not mention the battle for Mariupol, where Ukrainian defenders holed up in the ruins of the Azovstal steelworks have pleaded for outside help.
Many commentators had said that the Russian leader would have wanted to declare a significant victory in Ukraine, or at least part of the country. 
But not only did the quick victory that Moscow is thought to have anticipated fail to materialise, Russian forces were forced into a humiliating withdrawal from the Kyiv region and the north.
Despite regrouping in the east and continuing to attack the south, progress on the ground has been only incremental. Meanwhile, the Russian military has suffered more casualties in Ukraine in two and a half months than Soviet forces did in Afghanistan during a decade of Soviet occupation in the 1980s, according to Western estimates.
"They have nothing to celebrate," Linda Thomas-Greenfield, US ambassador to the United Nations, said of the Russians, speaking on CNN. 
"They have not succeeded in defeating the Ukrainians. They have not succeeded in dividing the world or dividing NATO. And they have only succeeded in isolating themselves internationally and becoming a pariah state around the globe."
The Russian leadership is also said to have been surprised by the strength of reaction to the invasion of Ukraine in the West, which has imposed unprecedented sanctions on Russian banks, businesses and Putin's circle.
Putin's critics pour scorn on Victory Day speech
Here are some of the reactions to the Russian leader's military parade address:
British Defence Minister Ben Wallace: "There can be no victory day, only dishonour and surely defeat in Ukraine... He (Putin) must come to terms with how he's lost in the long run, and he's absolutely lost. Russia is not what it was."
Kira Yarmysh, exiled spokesperson for jailed opposition leader Alexei Navalny, in a tweet: "An old man, mad in his self-isolation, stands alone on the podium because no one came to be with him, coughs and says something about the Nazis of NATO. I don't think even the most devoted Putin supporter will believe that this is an image of victory."
Mikhail Khodorkovsky, exiled Kremlin critic and former Russian oligarch, in a tweet: "Today is a holiday that I have been celebrating since childhood. On May 9, 1945, the Nazis who bombed Kyiv at 4 a.m. on June 22, 1941, capitulated. At 4 a.m. on February 24, 2022, under the signs of fascist evil spirits, Kyiv was again bombed. The descendants of some of the victors. Who have become fascists. Forget May 9. This is not your holiday."
Allies of jailed political activist Andrei Pivovarov tweeted from his account: "Putin laid flowers at memorials to the Hero Cities of Kyiv and Odesa. No comment required."
Gennady Gudkov, an exiled former lawmaker and member of the liberal opposition, tweeted: "Putin repeated quotes from the zombie drawer, not daring anything more serious. So the Kremlin no longer has any tricks in store. Now Putin's defeat is a matter of time!"
Michael McFaul, former US ambassador to Russia, tweeted: "On Victory Day, Putin is losing his war in Ukraine. Time for Russian soldiers to go home."
Sergei Nechaev, Russia's ambassador to Germany, at a Victory Day commemoration at Berlin's Brandenburg Gate: "At the time, Ukraine was part of the Soviet Union and the Ukrainian soldiers were also heroes who fought in the Red Army. We don't divide this victory into national entities."
Larisa, a Moscow resident, at the Victory Day parade: "I teach at a community college and our boys support it... Not only teachers but the kids too. They support the military operation."
Olga, participating in St Petersburg's immortal regiment march commemorating Russians who fought in World War Two: "I have a son, who is now finishing his master's, I'm really worried about him. Really. I know many mothers whose sons are now of conscription age. Those mothers do not know what to do with themselves... They're trying to find any way to save their children from going to this war."