Ukraine war: Civilians in Mariupol steel mill 'begging to get saved'
Comments
By Euronews with AP, AFP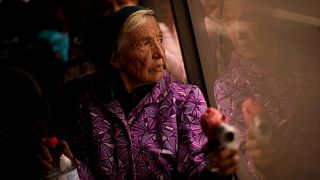 -
Copyright

AP Photo/Francisco Seco
The mayor of Mariupol says trapped civilians are "begging to get saved" from a vast Soviet-era steel complex which is the last holdout of Ukrainian forces in the southern port city. Russia has been hitting the plant, which has underground shelters, with so-called 'bunker buster' bombs. 
Ukraine had hoped to evacuate those civilians on Friday, along with the last remaining fighters, but officials say Russia is preventing wounded Ukrainian soldiers from leaving
Meanwhile a Ukrainian journalist is confirmed to have been killed in a Russian strike on the capital Kyiv which came during the visit of the UN Secretary General on Thursday. Ukraine's President Zelenskyy says the timing of the attack put a middle finger up to the United Nations. 
Read about Friday's events as they unfolded in our blog below:
04.29.2022
06:18
The mayor of Mariupol says civilians are "begging to get saved" from a steel mill in the city where they've been trapped for weeks amid ongoing Russian bombardment. 

Ukraine had hoped to evacuate civilians from Mariupol steel facility on Friday. However, Russia is preventing wounded Ukrainian fighters from being evacuated from Mariupol because it wants to capture them, according to the local governor.

Russia's Foreign Minister Sergei Lavrov said in a TV interview on Friday night that Russia didn't need the UN to help broker any humanitarian corridors in Ukraine. 

Some 5.4 million refugees have now fled Ukraine, according to the UNHCR -- including almost 57,000 who fled their country in the last 24 hours. 

Russian airstrikes on Kyiv on Thursday night were meant to humiliate the UN, Ukrainian President Volodymyr Zelenskyy said. The city's mayor Vitali Klitschko said Vladimir Putin was 'showing his middle finger'.

A journalist who lived in one of the buildings died in the missile attacks, which came shortly after Zelenskyy held a news conference with the UN Secretary-General. António Guterres said Ukraine has become "an epicentre of unbearable heartache and pain."

Human Rights Watch is warning Poland it needs to do more to safeguard Ukrainian women and children refugees from trafficking and sexual exploitation. 

The UK is sending war crimes experts to Ukraine to assist in gathering evidence and prosecuting war crimes.
04.29.2022
22:58
That's our live blog coming to a close for Friday. 
We're back on Saturday morning with more live coverage of events in Ukraine. 
04.29.2022
22:54
Sergei Lavrov dismisses need for UN help with humanitarian evacuations
Russian Foreign Minister Sergey Lavrov appears to have dismissed the need for the United Nations to help secure humanitarian corridors out of Ukraine's besieged cities, striking a tough line a day after the UN chief toured war-wracked Kyiv with that very aim.
As an interviewer at Saudi-owned Al-Arabiya TV tried to ask Lavrov about UN Secretary-General Antonio Guterres' proposals for humanitarian assistance and evacuation of civilians, Lavrov cut him off.
"There is no need. I know, I know," an irritated Lavrov said. "There is no need for anybody to provide help to open humanitarian corridors. There is only one problem … humanitarian corridors are being ignored by Ukrainian ultra-nationals," he said.
"We appreciate the interest of the secretary-general to be helpful," he added. "(We have) explained … what is the mechanism for them to monitor how the humanitarian corridors are announced."
During the hourlong interview, Lavrov also accused the West of sabotaging Russia's peace talks with Ukraine. He claimed that thorny negotiations in Istanbul last month had been progressing on issues of Russian territorial claims and security guarantees until Ukrainian diplomats backtracked at the behest of the West.
"We are stuck because of their desire to play games all the time," Lavrov said. "Because of the instructions they get Washington, from London, from some other capitals, not to accelerate the negotiations."
When asked about the risks of war spilling into neighboring Moldova after a series of explosions rattled a breakaway border region within the country, Lavrov struck an ominous tone.
"Moldova should worry about their own future," he said. "Because they're being pulled into NATO."
(AP)
04.29.2022
21:45
Poland restoring gas supplies halted by Russian firm
Poland's state gas giant said on Friday that it was gradually restoring the flow of natural gas to municipalities that lost it after a Russian company halted supplies when Warsaw slapped it with sanctions over Russia's invasion of Ukraine. 
The supply cut was a separate development from Russia's decision earlier this week to stop gas deliveries to Poland.
PGNiG said the Russian firm, Novatek Green Energy, complied with the demand to make its pipelines available to Polish companies that are now starting to convey their gas to the 10 affected areas. They include the popular Baltic Sea resort of Leba, which was anxious about a lack of gas ahead of Poland's long May Day weekend, which usually brings many tourists there.
PGNiG said the handing over of Novatek's infrastructure and the necessary documents took place "without problems and in good atmosphere."
All affected locations should have gas on Friday, it said.
Earlier Friday, government spokesman Piotr Mueller warned that Novatek could face legal action under the country's crisis management laws if the company didn't immediately comply.
A subsidiary of a group controlled by OAO Novatek, Russia's second-largest natural gas producer, Novatek was put earlier this week on Poland's list of sanctions against 50 Russian and Belarusian businesses. The sanctions are intended to curb the outflow of money from Poland to Russia's war coffers. They come on top of European Union measures in response to Russia's invasion of Ukraine.
(AP)
04.29.2022
20:52
Stockholm renames Russian embassy park to honour Ukrainians
Part of a park in the Swedish capital city where the Russian embassy is located is being renamed 'Place of Free Ukraine' in solidarity with the Ukrainian people. 
Stockholm's Mayor Anna Konig Jerlmyr made the announcement on Friday morning, and said the decision was taken because of Russia's invasion of Ukraine. 
"It will be a lasting symbol over the City of Stockholm's solidarity with the Ukrainian people and an important signal against the actions of the Russian regime," Konig Jerlmyr wrote on Facebook. 
Sweden's decision to rename the park follows name changes of locations by several other countries to show support for Ukraine.
The Latvian capital of Riga had renamed the street where Russia's embassy is located Independent Ukraine Street, while Vilnius, in neighbouring Lithuania, named its Russian embassy street Heroes of Ukraine Street.
(Reuters)
04.29.2022
20:19
Romanian websites hit by cyber attacks from pro-Russia hackers
Several Romanian websites including the government's official site and the Ministry of Defence website, were hit by cyber attacks on Friday.
Authorities say the attacks were claimed by a pro-Russian group.
A series of 'Distributed Denial of Service' (DDoS) attacks -- which happen when there's a coordinate effort to send multiple requests to a website to overload it -- "targeted sites belonging to public institutions and private entities" Romania's National Cybersecurity Agency said in a statement. 
The attacks were claimed on Telegram by a cybercrime group called 'Killnet' which used Romania's support for Ukraine to justify their actions. 
The targeted sites, which also include those of the border police and the railways, were unavailable for several tens of minutes.
The cybercriminals "exploited vulnerabilities" of the websites in question, by "taking control of equipment operating outside Romania", explained the Romanian Intelligence Service (SRI).
Attacks from the same group have targeted institutional sites in the United States, Estonia, Poland, the Czech Republic and NATO in recent weeks, according to the same source.
The United States and four other Western countries forming the so-called "Five Eyes" alliance warned last week that their intelligence services had information that Russia was preparing to launch massive cyberattacks against the allies of Ukraine.
(AFP)
04.29.2022
20:02
Pentagon: Russia's Donbas offensive has 'fallen behind schedule'
The Russian offensive in the Donbas, is progressing "slowly and unevenly" due to resistance from the Ukrainian military, and has fallen behind schedule, a senior Pentagon official said on Friday.
"We think they've fallen behind what they hoped to achieve in Donbas," the senior official told reporters on condition of anonymity.
The official said the Russians haven't yet been able to complete a pincer movement to surround and cut off Ukrainian forces on the front line around the separatist areas of Donetsk and Lugansk.
"They're not moving very fast," he said. "A few kilometers a day is the maximum they can do because they are pushed back" by the Ukrainian army.
Even though the fighting has started, "we believe it continues to create the conditions for a sustained, larger and longer offensive," the senior US Department of Defense official added.
He explained that the Russian forces "do not want to make the same mistakes as in Kyiv", where columns of tanks had been pinned down by Ukrainian forces armed with shoulder-mounted missile launchers and logistical support had been held from a distance.
"The artillery fire and airstrikes they are launching at Ukrainian forces are not having the desired effect, as the Ukrainians continue to resist," he noted. "That's why we believe their progress has been slow and uneven over the past 24 hours."
(AFP)
04.29.2022
18:47
Civilians in Mariupol steel mill compound 'begging to get saved', mayor says
The mayor of the besieged Ukrainian city of Mariupol says those hiding at a massive steel mill are running out of food, water and medicine.
Vadym Boichenko described the situation at the Avozstal steel plant as dire. The steel mill is the last position held by Ukrainian fighters, who also are with civilians.
The Soviet-era facility has vast underground basements able to withstand airstrikes. But the situation has grown more extreme after the Russians dropped a series of so-called "bunker buster" bombs and unguided munitions.
"Locals who manage to leave Mariupol say it is hell, but when they leave this fortress, they say it is worse," Boichenko said, according to a translator. "They are begging to get saved."
He added: "There, it's not a matter of days, it's a matter of hours."
Boichenko said he hoped a cease-fire would allow those inside the steel mill to safely leave. Russia earlier offered a truce that was rejected by Ukrainians, who said Moscow previously broke other agreements.
"We hope there's a slight touch of humanity in the enemy," the mayor said.
04.29.2022
18:33
Human Rights Watch warns Poland about safety of Ukrainian refugees
Poland must "urgently" strengthen its prevention and surveillance measures to protect Ukrainian refugees on its soil, particularly women, victims of trafficking, violence and rape. 
That's the warning from Human Rights Watch, which released a new report on Friday about the situation. 
Read more here:
euronews
Human Rights Watch says women and children are particularly at risk from trafficking.