Kyiv fears a civilian massacre at Borodyanka worse than Bucha
Comments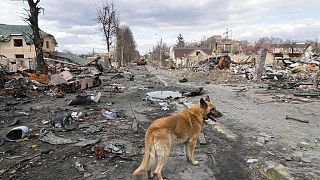 Copyright

Efrem Lukatsky/Copyright 2022 The Associated Press. All rights reserved.

-
Ukraine says it fears civilian massacres worse than the one in Bucha will be discovered as Russian troops retreat from areas around Kyiv. 
The scene in Bucha -- which included the dead bodies of civilians lying in the street -- sparked accusations of genocide.
Russian Foreign Minister Sergey Lavrov rejected the allegations, saying it was a "stage-managed anti-Russian provocation".
Sergii Nykyforov, Ukraine's presidential spokesman, asked by Euronews to respond to Lavrov's claim, said dozens of journalists from across the world had been to Bucha to verify what had happened and that he'd not heard "one single claim it was stage-managed".
Nykyforov says there is now concern that the alleged Russian behaviour in Bucha is systematic and that more atrocities will be uncovered in the coming days in towns and cities further north of Kyiv.
"We are afraid that we will find something similar than that has been uncovered in Bucha," he told Euronews. 
"There are some indications in the town of Borodyanka that the situation might have been even worse. But we still have to discover.
"And I have to remind you that there are many other Ukrainian towns and cities still under Russian occupation and we are very worried it will be a systematic behaviour of Russian troops." 
On Tuesday, Ukrainian prosecutor-general Iryna Venediktova gave weight to Nykyforov's claims.
She told Ukrainian TV that a "similar humanitarian situation" to Bucha exists in other parts of the country where Russian forces recently left, such as the areas around the northern cities of Sumy and Chernihiv.
Ukrainian authorities said the bodies of at least 410 civilians have been found in areas outside the Ukrainian capital, including Bucha, after last week's withdrawal of Russian troops, many with bound hands, close-range gunshot wounds and signs of torture.
She also said the situation in Borodyanka, which is further from Kyiv and was also held by Russian forces until recently, maybe even worse.
Venediktova didn't specify what exactly had happened in Borodyanka but said "the worst situation in terms of the victims" is there.