Malta: Victory for incumbents Labour in parliamentary elections
Comments
By Euronews with AP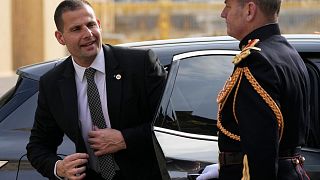 Copyright

AP Photo/Michel Euler, File

-
Maltese Prime Minister Robert Abela has claimed victory on Sunday in his nation's parliamentary election, with his main opponent conceding defeat.  
The final results are not expected until Monday morning but Labour is expected to win an absolute majority as predicted in the polls, according to projections based on preliminary results.
"It is a result that forces us to be more responsible, and that we must translate into greater humility," Roberto Abela told jubilant supporters in the town of Naxxar where the count was held.
His Nationalist Party opponent, Bernard Grech, called on him to concede defeat and said he wanted to work "for those who are not satisfied with the current government".
While turnout usually exceeds 90%, the Electoral Commission said it was expected to be around 85%, the lowest level since Malta, a former British colony that joined the European Union in 2004, gained independence in 1964.
This is the first mandate won at the ballot box for Mr Abela, who was appointed head of government after the resignation of his predecessor Joseph Muscat in early 2020, a prime minister whose term in office was marred by suspicions of corruption. 
It is also the first national election in which Maltese aged between 16 and 18 could also vote.
Government criticised for 'golden passport' scheme
Labour, in power for nine years, has highlighted its handling of the health crisis and its good economic record as a counterbalance to a negative picture of the party associated with the corruption charges revealed by journalist Daphne Caruana Galizia, whose murder in October 2017 shocked the country and the world.
Mr Abela has taken steps to strengthen the rule of law and press freedom, but this is still insufficient for anti-corruption activists and Caruana Galizia's family.
Situated off the coast of Sicily, Malta is the smallest and most densely populated country in the European Union, with about 516,000 inhabitants for 316 square kilometres.
The former British colony, where Catholicism is the state religion and which is expecting a visit from Pope Francis next weekend, has built a thriving economy based mainly on tourism, offshore companies and online gambling, but faces accusations that it is a tax haven.
Malta was placed on a "grey list" of countries under increased scrutiny last year by the Financial Action Task Force (FATF) for exposure to money laundering and terrorist financing, and is regularly criticised for its "golden passport" system granting citizenship to wealthy investors who often never visit.
Under political pressure, Abela suspended the scheme for Russians and Belarussians after the invasion of Ukraine, but the European Parliament this month called for the abolition of all such schemes in the EU.
Environment, economy and pandemic recovery
As in much of southern Europe, high prices have been hurting energy consumers. The Maltese government is subsidizing energy costs to keep prices stable, and both parties in the campaign had pledges to continue the subsidies.
Abela's government was generally seen as having successfully managed the COVID-19 pandemic, with a number of measures to support businesses and workers, keeping unemployment low.
But a move by the government to issue tax refund and stimulus checks to the public halfway through the campaign sparked controversy.
For many voters, economic growth remains the main concern. After a free fall in the economy caused by the health crisis, growth exceeded 9% last year, boosted by government support for individuals and businesses.
Another major issue on the archipelago is the environment. Residents regularly complain about the lack of green spaces following the building boom of recent years.
Modern skyscrapers are springing up between old stone buildings and roads are often clogged with traffic.
Both the Labour Party and the Nationalist Party have promised more efforts to protect green spaces. The green party, the ADPD, has not managed to establish itself in the two-party system that has governed Malta for decades.