Ukraine war: Macron says France, Greece and Turkey to attempt 'humanitarian' Mariupol evacuation
Comments
By Euronews with AFP, AP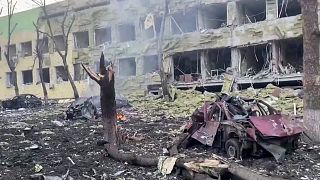 -
Copyright

AFP PHOTO / NATIONAL POLICE OF UKRAINE / HANDOUT
The head of the Russian army has hinted at a shift in strategy, saying the war effort will now focus on eastern Ukraine.
US President Joe Biden has visited eastern Poland to see US troops and the humanitarian response to the influx of Ukrainian refugees.
There's some hope for those in the besieged Ukrainian city of Mariupol after France's president announced an evacuation plan. Earlier authorities said they feared up to 300 people were killed in the Russian theatre bombing on March 16.
See a summary of Friday's developments in our blog below:
03.25.2022
16:00
Friday's key points:
Mariupol: Emmanuel Macron says France, Turkey and Greece will carry out "a humanitarian operation" to evacuate people  from the besieged city "in the next few days". The local authority said on Friday that people are starving.
Russia's army chief has said its main war effort will now focus on the Donbas region of eastern Ukraine, having 'mostly accomplished' first phase objectives. Some see it as a sign that Moscow recognises its early strategy has failed.
US President Joe Biden has travelled to Rzeszow in Poland close to the border with Ukraine as the country hosts more than two million refugees.
About 300 people were killed in the Russian airstrike last week that blasted open a Mariupol theatre, authorities said.
The EU and US struck a major deal to reduce European reliance on Russian natural gas.
President Volodymyr Zelenskyy thanked European Union leaders but said that sanctions and support for Ukraine had come "a little late".
Russia has acknowledged that 1,351 of its troops have died in the past month of the war in Ukraine. NATO's earlier estimate was much higher, at around 7-15,000.
Ukraine has re-occupied towns up to 35 kilometres east of Kyiv, the UK Ministry of Defence says.
Dozens of Ukrainian officials, journalists and activists opposed to Moscow's invasion have been arbitrarily detained by Russian forces or have disappeared, the UN said on Friday, saying some cases amounted to "hostage taking". 
03.25.2022
22:59
Macron: France, Greece and Turkey plan evacuation mission from Mariupol
France, Turkey and Greece will carry out "a humanitarian operation" to evacuate people "in the next few days" from the besieged city of Mariupol, in southern Ukraine, French President Emmanuel Macron announced on Friday.
"We are going in conjunction with Turkey and Greece to launch a humanitarian operation to evacuate all those who wish to leave Mariupol," he said after a European summit in Brussels.
"I will have within 48 to 72 hours a new discussion with the President Vladimir Putin to properly settle the details and secure the terms," ​​said Macron. "I hope to be able to engage as many stakeholders as possible in this operation."
The French president said that his office had communicated on Friday with the mayor of Mariupol, "a city of more than 400,000 inhabitants which today only has 150,000" living "in terrible situations".
More than 2,000 civilians have been killed in Mariupol, the local authority has said. According to Ukrainian President Volodymyr Zelenskyy, some 100,000 people are still stranded in this strategic port on the Azov Sea which is besieged by Russian troops.
(AFP)
03.25.2022
21:33
EU sanctions against Russia 'biting hard', says von der Leyen
European Commission President Ursula von der Leyen and Council President Charles Michel have been speaking at the end of their summit in Brussels.
Von der Leyen said four packages of sanctions imposed by the EU on Russia over its invasion of Ukraine were "biting hard", adding that all efforts should now be on enforcing them and preventing "circumvention and evasion".
EU Council President Charles Michel concurred and said additional measures could be taken.
Von der Leyen thanked Ukraine's neighbouring countries for taking in millions of refugees and pledged a package of €17 billion to help those countries cope with the influx.
Meanwhile the EU is providing €2.5 billion until 2024 to help the regions most affected by food insecurity, von der Leyen said, as the war began to take its toll on food supply in Ukraine and globally.
Ukraine and Russia together account for one third of the world's wheat exports.
US President Joe Biden said earlier during a visit to Poland that the US and Canada would be helping to close the gap left by that impacted production.
03.25.2022
20:53
Doing business with Russia: Big brands find it's not so easy to pull out
Many Western companies have stopped their Russian operations to comply with sanctions, but some very recognisable brands are still doing business there - so what's the deal? 
Read our story here:
03.25.2022
20:29
JK Rowling rebukes Putin over 'cancel culture' comparison
JK Rowling is pushing back after Vladimir Putin dragged her into a rant against Western efforts to "cancel'' Russian culture.
"Critiques of Western cancel culture are possibly not best made by those currently slaughtering civilians for the crime of resistance, or who jail and poison their critics," the Harry Potter author said Friday in a tweet linked to an article about jailed Putin critic Alexei Navalny.
Putin earlier compared recent Western criticism of Russia with efforts to "cancel" Rowling over her views on transgender issues. Rowling has been criticized after saying she supported transgender rights but did not believe in "erasing" the concept of biological sex.
"The notorious cancel culture has become a cancellation of culture. Tchaikovsky, Shostakovich, Rachmaninov are excluded from concert posters, and Russian writers and their books are also banned,'' he said at a videoconference meeting with culture figures.
"The last time such a mass campaign to destroy unwelcome literature was carried out by the Nazis in Germany almost 90 years ago." (AP)
03.25.2022
19:17
Ukraine air force command centre 'hit' by Russian missiles
The command centre of the Ukrainian air forces in Vinnytsia in the centre of the country has been hit by a salvo of Russian cruise missiles, which caused "significant damage", according to the Ukrainian army.
"The Russians fired six cruise missiles. Some were shot down by anti-aircraft defences. The others hit several buildings, causing significant damage," the air force command announced on Telegram.
The statement, accompanied by a photo showing the gutted part of a brick building, added that the consequences of the strike were being evaluated. 
Ukraine's air force and air defences have so far resisted attempts by the Russian military to control the Ukrainian skies, with the Pentagon praising their skill.
Earlier on Friday, the Ukrainian government confirmed that a Russian cruise missile strike had destroyed the Ukrainian army's largest fuel reserve, located near Kyiv.
(AFP)
03.25.2022
19:02
Russia to focus war on eastern Ukraine, says army chief
Russia's defence ministry says its strategy will focus on completely "liberating" eastern Ukraine's Donbas region, following the first phase of its military operation in Ukraine which it says is mostly complete.
The defence ministry said Russian-backed separatists now controlled 93% of Ukraine's Luhansk region and 54% of the Donetsk region - the two areas that jointly make up the Donbas.
"The main objectives of the first stage of the operation have generally been accomplished," Sergei Rudskoi, head of the Russian General Staff's Main Operational Directorate, said.
"The combat potential of the Armed Forces of Ukraine has been considerably reduced, which ... makes it possible to focus our core efforts on achieving the main goal, the liberation of Donbas."
The announcement has been interpreted as a possible move to more limited goals after Putin's forces ran into fierce Ukrainian resistance in the first month of the war. But Defence Ministry spokesman Igor Konashenkov said the "special military operation" would continue "until all objectives are achieved".
Rudskoi also described as a "big mistake" the delivery of arms to Kyiv by Western countries. "It prolongs the conflict, increases the number of victims and will have no influence on the outcome of the operation," he declared.
He said that 1,351 Russian soldiers have died in Ukraine, and 3,825 have been wounded.
(with Reuters and AFP)
03.25.2022
19:00
Pope condemns 'vicious war' against 'defenceless Ukrainian brothers and sisters'
Pope Francis on Friday condemned the "vicious war" against "our defenceless Ukrainian brothers and sisters", during a ceremony dedicated to Ukraine and Russia at the Vatican.
"In these days, (...) bombs are destroying the homes of many of our defenceless Ukrainian brothers and sisters," said the Argentine pontiff during a religious service at St Peter's Basilica.
About 2,000 faithful gathered in S. Peter's Square to follow the ceremony on giant screens, according to the Holy See's press service.
In recent weeks, the Pope - who has spoken with Ukrainian President Volodymyr Zelenskyy but also with the Orthodox Patriarch of Moscow Kirill - has multiplied calls for peace in Ukraine, denouncing a "massacre" in this country where "flow of rivers of tears and blood".
(with AFP)
03.25.2022
18:12
Paris summons Russian ambassador over 'unacceptable' official tweets
The Russian ambassador to Paris was summoned to the French Foreign Ministry on Friday after the publication of cartoons on its Twitter account deemed "unacceptable" by the French government.
"These publications are unacceptable. We made that clear today to the Russian ambassador" Alexey Meshkov, the ministry said.
One of the drawings showed Europeans on their knees licking Uncle Sam's buttocks, bearing the words in English "European solidarity as it is".
The tweets, which appeared on Thursday, have since been removed.
"The Russian ambassador drew the attention of his French vis-а-vis to provocations and instances of vandalism with regards to Russian diplomatic missions," the Russian embassy said, as reported by the TASS news agency.
(with AFP)
What are other developments on the ground in Ukraine?
A military chaplain was killed by Ukrainian "Smertch" rocket fire on a Russian border village not far from the Ukrainian city of Kharkiv in heavy fighting, the Orthodox Church said on Friday.

Ukrainian forces are striking "high-value targets in Russian-occupied areas of Ukraine" including a landing ship, the UK Ministry of Defence has said.

Ukraine's armed forces said in a statement that a large Russian landing ship was destroyed during an attack on the Berdyansk port. Large landing ships "Caesar Kunikov" and "Novocherkassk" were damaged, they added.

Russia claimed on Friday that it had destroyed the Ukrainian army's largest fuel reserve near Kyiv with cruise missiles the day before.

Russia is running out of precision-guided munitions, a senior Pentagon official said, according to Reuters.

Russians and Ukrainians exchanged prisoners on Thursday, according to the Ukrainian deputy prime minister and the Russian human rights delegate.

At least 135 children have died in the war in Ukraine, according to Ukraine's human rights commissioner Lyudmyla Denisova.
What else is happening in the EU and the West?
Ukraine on Friday asked the European Union to close its borders with Russia and Belarus, a country allied with Moscow in the invasion of Ukraine by the Russian army for a month.

Finnish train operator VR will stop its twice-daily service from Helsinki to St Petersburg, closing down the last remaining rail route for Russians who want to travel directly to the EU.
What is the latest that Western leaders saying about the conflict?
US President Joe Biden said he wanted Russia out of the G20, and that a Russian chemical weapons attack in Ukraine would "trigger a response in kind".
UK Prime Minister Boris Johnson told the BBC he wasn't sure that Vladimir Putin wanted peace and said the Russian president was trying to "Grozynyfy" Ukrainian cities, referring to the Chechen city of Grozny.
German Chancellor Olaf Scholz says the world is united in its response to the Russian attack on Ukraine last month and said that sanctions against Russia were proving to be powerful.
What else is Russia saying about the war?
Russia says they have taken in 419,736 Ukrainian refugees since the beginning of the war.
Vladimir Putin compared the West's sanctions against Russian culture to the burning of books in Nazi Germany.
How many refugees have fled Ukraine?
In the month since the war began, more than 3.6 million people have fled the war in Ukraine. Most of them have fled to neighbouring Poland, which has taken in over two million refugees.
Millions of Ukrainians are also internally displaced within the country as heavy fighting and shelling forces people to flee several cities.
More than half of Ukraine's child population is displaced, according to the UN Children's Fund, UNICEF, which called it a "grim milestone".
Ukraine war - latest pictures
Read more about the conflict