Ukraine war: Zelenskyy calls for help from Israel and compares Russian acts to Holocaust
Comments
By Euronews with AP, AFP, Reuters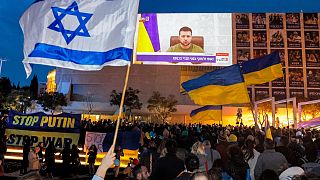 -
Copyright

JACK GUEZ / AFP
The United Nations says 10 million people have fled their homes in Ukraine, many heading abroad, in the three and a half weeks since Russia invaded the country and launched a full-scale war.
In that time, thousands have been killed or wounded as Vladimir Putin's forces target residential areas. Shelling and airstrikes have caused widespread damage to buildings and infrastructure.
Moscow denies targeting civilians.
See our blog below for how Sunday's developments unfolded and watch in the video player above.
03.20.2022
09:21
Sunday's key points:
Ukrainian President Volodymyr Zelenskyy has compared Russia's atrocities in Ukraine to the behaviour of Nazi Germany in World War II, demanding more help from Israel in a speech to the country's parliament. Israel has tried to play the role of mediator in the war.
Earlier on Sunday Zelenskyy accused Russia of committing war crimes in Mariupol, saying in a video address that the siege of the city will go down in history for "terror that will be remembered for centuries to come".
Ukrainian authorities say the Russian military bombed an art school in Mariupol where about 400 people had taken refuge. Local authorities in the besieged and battered southeastern port city say thousands of residents there have been forcibly relocated to Russia. Neither claim has been confirmed.
The UN said on Sunday that 10 million people in Ukraine have now fled their homes since the Russian invasion.
The Russian military said on Sunday morning that it has carried out a new series of strikes on Ukrainian military facilities with long-range hypersonic and cruise missiles. 
President Zelenskyy has moved to suspend the activities of 11 political parties with links to Russia.
03.20.2022
20:00
Zelenskyy calls for stronger stand from Israel in speech to Knesset
Ukraine's president called on Israel to take a stronger stand against Russia as he compared the invasion of his country to atrocities committed by Nazi Germany during World War II.
In a speech delivered Sunday via Zoom to members of Israel's parliament, Volodymyr Zelenskyy accused Russian President Vladimir Putin of trying to carry out a "permanent solution" against Ukraine. That was the term used by Nazi Germany for its genocide of some six million Jews.
Zelenskyy also noted that a Russian missile attack recently struck Babi Yar in Ukraine, where over 30,000 Jews were slaughtered by the Nazis over two days in 1941. The site is now Ukraine's main Holocaust memorial.
"You know what this place means, where the victims of the Holocaust are buried," he said.
Zelenskyy called on Israel to "make a choice" by concretely supporting Ukraine against Russia. "Ukraine made its choice 80 years ago and we have the Righteous who hid Jews, it's time for Israel to make its choice... indifference kills, calculation kills," he said in the speech, which played on his Jewish roots.
"It is possible to mediate between countries, but not between good and evil," he added.
Israel took a cautious stance after the Russian invasion of Ukraine on February 24, claiming privileged ties with the two countries. Prime Minister Naftali Bennett has emerged as a key mediator.
Zelenskyy urged Israel to follow moves by Western countries to impose sanctions on Russia and provide Ukraine weapons.
"Everybody knows that your missile defence systems are the best... and that you can definitely help our people, save the lives of Ukrainians, of Ukrainian Jews," he said.
The Times of Israel reports an angry response among some Israeli lawmakers at Zelenskyy's comparisons with the Holocaust.
"The war is terrible but the comparison to the horrors of the Holocaust and the final solution is outrageous," one minister is quoted as saying.
Zelenskyy said in his speech the comparison was valid, as Moscow was using similar terminology in relation to Ukraine as phrases  embraced by Nazi Germany, which sought a "final solution to the Jewish question". 
03.20.2022
19:50
Mariupol: Russia accused of school shelter airstrike and forced deportations
Moscow is accused of being behind an airstrike on an art school used to shelter hundreds of civilians, and of forcibly sending Mariupol residents to Russia.
Read our story here: 
03.20.2022
19:42
Slovakia confirms arrival of NATO units with Patriot air defence systems
Slovakia's Defence Minister Jaroslav Nad says the first multinational NATO units with the Patriot air defence systems have been moving to his country, adding that the transfers will continue in the next days.
Germany and the Netherlands have agreed to send their troops armed with the Patriots to Slovakia. The troops are some of the 2,100 soldiers from several NATO members, including the United States, who will form a battlegroup on Slovak territory as the alliance boosts its defences in its eastern flank following Russia's invasion of Ukraine.
Nad says the Patriots will be initially deployed at the armed forces base of Sliac in central Slovakia before they will be stationed at various places to protect the largest possible Slovak territory. He thanked Germany and the Netherlands for their "responsible decision" to fundamentally boost Slovakia's defences.
At the same time, Nad said, the Patriots would not replace the Russian-made S-300 air-defence system his country has relied on, calling their deployment "another component to protect Slovakia's airspace".
Nad previously has said his country will be willing to provide its S-300 long-range air defence missile system to Ukraine on condition it has a proper replacement.
Ukrainian President Volodymyr Zelenskyy mentioned the S-300s when he spoke to US lawmakers by video Wednesday, appealing for anti-air systems that would allow Ukraine protect its airspace against Russian warplanes and missiles. NATO members Bulgaria, Slovakia and Greece have the S-300s. (AP)
03.20.2022
16:23
Protesters in Poland block lorries heading for Belarus 
Officials in Poland say that trucks headed for Belarus are backed up for 40 kilometres while they wait to reach the Koroszczyn border point as a group of protesters is blocking the road there. The protesters are calling for a ban on trade with Russia and its ally Belarus.
The protesters, Ukrainians and Poles, have been blocking access to the crossing – on and off – for some two weeks, to pressure Moscow into ending its war on Ukraine.
The latest round of the "NO Trade with Russia!" protest in eastern Poland began early Saturday.
Some 950 trucks were waiting to cross into Belarus early Sunday, according to spokesman for the local tax office, Michal Derus. The waiting time was 32 hours, he said.
The road leading to the border point has been closed and the police were separating the protesters from the trucks and the drivers, road infrastructure authorities said.
The pressure of truck traffic on the Koroszczyn border point increased after Poland's largest crossing into Belarus, in Kuznica, was closed in November, following border guard clashes with Middle East migrants who were trying to illegally cross into Poland.
Poland's Prime Minister Mateusz Morawiecki has called on the European Union to halt all land and sea trade with Russia. (AP)
03.20.2022
13:40
10 million people have fled homes in Ukraine — UN
The claim comes from the UN High Commissioner for Refugees, Filippo Grandi, via Twitter. The figure amounts to almost a quarter of the country's population, now believed to be either displaced inside Ukraine, or to have gone abroad.
The United Nations Refugee Agency (UNHCR) said on Sunday that 3,389,044 Ukrainians had left the country since the beginning of the Russian invasion on February 24. Around 90% of those who fled are women and children. Men between the ages of 18 and 60 can be called up and cannot leave.
As of last Wednesday, UN and related agencies estimated that some 6.48 million people were internally displaced in Ukraine.
Unicef, the United Nations children's agency, said more than 1.5 million children were among those who fled abroad, and warned that the risks of trafficking and exploitation of human beings they face were "real and growing".
03.20.2022
13:30
Pope slams war in Ukraine as 'sacrilege' and 'repugnant'
Pope Francis has denounced Russia's "repugnant war" against Ukraine as "cruel and sacrilegious inhumanity."
In some of his strongest words yet since Russia's invasion on February 24, the pope told thousands of people in St Peter's Square on Sunday that every day brings more atrocities in a "senseless massacre".
"There is no justification for this,'' Francis said, again stopping short of naming Russia as the aggressor. Pontiffs typically have decried wars and their devastating toll on civilians without citing warmongers by name.
Francis also called on "all actors in the international community" to work toward ending the war. "Again this week, missiles, bombs, rained down on the elderly, children and pregnant mothers,'' the pope said. His thoughts, he said, went to the millions who flee. "And I feel great pain for those who don't even have the chance to escape.'' 
The pope said that "above all, defenceless life should get respected and protected, not eliminated." That priority "comes before any strategy,'' Francis said, before leading those in the square in a moment of silent prayer. (AP)
03.20.2022
12:55
New Australian sanctions target Russian aluminium
Australia on Sunday passed new sanctions against Russia by banning exports of alumina and aluminium ores, including bauxite, and vowed to provide more weapons and humanitarian aid to Kyiv. 
The ban on such exports is intended to hurt aluminum production in Russia, which depends on Australia for 20% of its alumina, according to Canberra.
A joint statement from several ministries said that the move will limit Russia's capacity to produce aluminium, which is a critical export for Russia.
The government also said it will donate at least 70,000 tonnes of thermal coal to Ukraine to meet its energy needs. Australian coal producers have come into high demand from Ukraine and other countries such as Poland that have been reliant on Russian supplies.
03.20.2022
11:46
Ukraine 'suspends activity' of Russia-linked political parties
Ukraine's President Volodymyr Zelenskyy has ordered activities of 11 political parties with links to Russia to be suspended.
The largest of them is the Opposition Platform for Life, which has 44 out of 450 seats in the country's parliament. The party is led by Viktor Medvedchuk, who has friendly ties with Russian President Vladimir Putin, who is the godfather of Medvedchuk's daughter.
Also on the list is the Nashi (Ours) party led by Yevheniy Murayev. Before the Russian invasion. the British authorities had warned that Russia wanted to install Murayev as the leader of Ukraine.
Speaking in a video address early Sunday, Zelenskyy said that "given a large-scale war unleashed by the Russian Federation and links between it and some political structures, the activities of a number of political parties is suspended for the period of the martial law." He added that "activities by politicians aimed at discord and collaboration will not succeed."
Zelenskyy's announcement follows the introduction of the martial law that envisages a ban on parties associated with Russia. (AP)
For a summary of Saturday's developments in the war Russia launched by invading Ukraine, click here.