Ukraine war: 20,000 people evacuated from besieged port city Mariupol
Comments
By Euronews with AP, AFP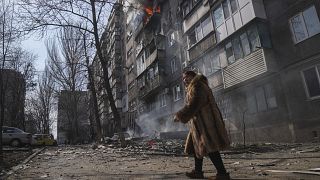 -
Copyright

Evgeniy Maloletka/AP Photo
It's day 20 of Russia's war in Ukraine, which was launched by Vladimir Putin when Russian forces invaded Ukraine on 24 February.
Follow our live updates below or tune into Euronews in the video player above.
03.15.2022
10:07
Latest developments: 
 
20,000 people were evacuated from the besieged port city of Mariupol, a Ukrainian official said.
 

The number of refugees to flee Ukraine has now reached 3 million, says the International Organization for Migration (IOM).
 

Kyiv's mayor has imposed a 35-hour curfew on the city calling it a "dangerous and difficult moment" for the capital, after two people were killed in a Tuesday morning bombing at an apartment building in the city. 
 
The Polish, Czech and Slovenia prime ministers travelled to Ukraine for talks, and to show "unequivocal support" from the EU. 
 
President Zelenskyy has used a new video message to urge Russian troops to surrender, telling them they "have a chance to live" if they stop fighting.
 
Ukrainian and Russian negotiators are set to meet again on Wednesday via videoconference to continue talks to end the conflict.  
 
The Pentagon says nearly all of Russia's military offensives remain stalled and made little progress over the weekend. A senior US defence official said Russian troops were still about 15 kilometres from the centre of Kyiv. 
03.15.2022
22:47
Nearly 15,000 Russians detained for protesting war, US claims
Nearly 15,000 Russians have been detained by Russian authorities for protesting the invasion of Ukraine, the State Department said.

"We support the voices of the people of Russia who are calling for an end to this war, who refuse to let their principled views be silenced, who refuse to let a new Iron Curtain descend again around Russia," said spokesman Ned Price on Tuesday.

A protester interrupted a state-run TV broadcast on Monday evening with a sign that denounced Russian propaganda and the war in Ukraine. She was detained shortly afterwards.
03.15.2022
22:11
'Room for compromise' in Russia-Ukraine negotiations, says Ukrainian presidential advisor
Ukrainian presidential advisor Mykhailo Podolyak wrote on Twitter that there was "room for compromise" in Russia-Ukraine negotiations.

He added however that there are "fundamental contradictions". Talks will continue tomorrow via video link.
03.15.2022
21:59
Polish prime minister posts photo of Czech, Slovenian and Polish leaders in Kyiv
Polish Prime Minister Mateusz Morawiecki posted a photo of himself in Kyiv, Ukraine with Czech PM Petr Fiala, Slovenian PM Janez Jansa, and leader of Poland's ruling political party Jarosław Kaczyński.
"It is here, in war-torn Kyiv, that history is being made. It is here, that freedom fights against the world of tyranny. It is here that the future of us all hangs in the balance," Morawiecki said. 
03.15.2022
21:45
Ukraine: 20,000 people evacuated from besieged port city of Mariupol
Around 20,000 people were evacuated on Tuesday from Mariupol, a major port city in southeastern Ukraine besieged by Russian forces.
 
"Today, around 20,000 people left Mariupol" in 4,000 cars, said Kyrylo Tymoshenko, deputy head of office of the Ukrainian president.
 
In total, around 29,000 people were evacuated from several besieged towns across Ukraine on Tuesday.
 
By early afternoon, the municipality of Mariupol had reported that 2,000 vehicles had left the city and that 2,000 others were waiting to do the same.

(AFP)
03.15.2022
20:12
Joe Biden to join EU leaders for in-person summit
US President Joe Biden will join EU leaders for an in-person summit in Brussels next Thursday, 24 March.

That same day, he will also attend a NATO summit in the Belgian capital.Biden's Europe trip comes as the situation inside Ukraine deteriorates and Western sanctions impose a new raft of sanctions against Russia.

Throughout the conflict, Biden has been in close contact with European allies to ensure a coordinated and united response against Vladimir Putin.

The EU summit was already scheduled to take place on 24 and 25 March to discuss the situation in Ukraine. Biden's in-person visit was first reported by Reuters and later confirmed by a EU official.
03.15.2022
20:01
Russia leaves Council of Europe before possible expulsion
Russia left the Council of Europe on Tuesday, accusing NATO and the European Union of using it as an instrument at the service of "their military-political and economic expansion in the East," the foreign affairs ministry said.

The organisation is a human rights watchdog bringing 47 nations on the continent together including Russia since 1996.

The withdrawal means that Russian citizens will not longer benefit from the European Court of Human Rights, the judicial arm of the Council of Europe.
03.15.2022
19:34
Turkish foreign minister to travel to Moscow
Turkey's foreign minister is travelling to Moscow as part of efforts to secure a cease-fire.
Mevlut Cavusoglu would hold talks in Moscow on Wednesday before travelling to Ukraine for talks on Thursday, Turkey's President Recep Tayyip Erdogan said Tuesday.
Erdogan also said the Polish President Andrzej Duda would be visiting Turkey on Wednesday for talks expected to focus on the crisis.
Last week the Russian and Ukrainian foreign ministers met on the sidelines of a diplomacy forum organised by Turkey, although their talks failed to produce a breakthrough.

(AP)
03.15.2022
18:56
Georgia is 'not in the same situation' as NATO countries, president tells Euronews
"Georgia, having part of the territory occupied, being on the frontline, does not exactly behave exactly as a country that is a member of NATO and is protected in many different ways," Salome Zourabichvili, Georgia's president, told Euronews as she insisted that the country is not appeasing Russia in its policies.

"There is no need for Georgia to be putting some forms of provocation that could be used later on," she added.

But Zourabichvili insisted that there is "solidarity" and "full support" for Ukraine and expressed "her admiration" for Ukrainian resistance in the face of "this terrible aggression".

The invasion of Ukraine has prompted protests in Georgia, which faced a Russian invasion in 2008. There are rising fears that it could be a future target for Putin.

The government sped up an application for EU membership following Russia's invasion of Ukraine.

"I'm very hopeful that there will be a new window of opportunity that will be less bureaucratic, more political," for joining the EU, Zourabichvili told Euronews.

She said that Georgia needed to maintain ties with the European Union and unity within the country.

Watch the full interview here:

 
03.15.2022
17:45
Russia's anti-war TV protester fined 30,000 rubles
A Moscow court on Tuesday ordered Marina Ovsyannikova, who interrupted a state-run TV broadcast to denounce the war in Ukraine, to pay a fine of 30,000 rubles (about €250 at the current rate), AFP reported.

She was convicted of committing an administrative offence but still faces criminal charges that could put her in prison for several years.