Ukraine war: Russia claims to have killed 'foreign mercenaries' in Yavoriv bombing
Comments
By Euronews with AP, AFP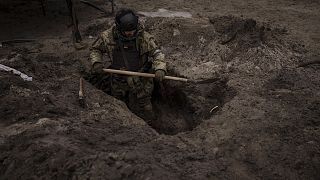 Copyright

AP Photo/Felipe Dana

-
The Russian military said it killed up to 180 "foreign mercenaries" in strikes on Sunday against the Yavoriv military range, a number that could not be independently confirmed.
Russian forces fired more than 30 rockets at the range 30 kilometres northwest of Lviv in western Ukraine, expanding its offensive closer to the border with Poland.
Video journalist Brent Renauld was killed in the Kyiv suburb of Irpin, while another journalist was injured, the Ukrainian authorities confirmed.
Moscow is trying to create new puppet republics in Ukraine similar to the two in Donbas to break his country apart, President Volodymyr Zelenskyy said in his nightly address to the nation Saturday.
In another ceasefire violation, seven Ukrainian civilians, including a child, died when the Russian army shelled a humanitarian convoy of refugees near Kyiv and forced them to turn back, Ukrainian authorities claim.
03.13.2022
09:59
Sunday's main developments:
Russian forces carried a missile attack on the Yavoriv military range near Lviv, expanding the offensive to western Ukraine. Russian defence ministry claims it killed 'up to 180 foreign mercenaries' in the strikes.
Overnight, significant fighting continued in Irpin and Makariv near Kyiv, while Chernihiv came under heavy bombardment. At least one residential building was destroyed in the Russian attack, with one person dead and seven reported injured.
In Luhansk, the cities of Severodonetsk, Rubizhne, Lysychansk and Popasna are under constant fire. In the Donetsk region, Mariupol remains under siege.
The humanitarian crisis worsens as gas, water and electricity shortages continue to affect the residents of many cities, including the besieged southern port of Mariupol.
Ukrainian authorities again accused Russia of violating the ceasefire agreement and opening fire on "humanitarian corridors". Just nine of 14 agreed-upon corridors were open on Saturday, with 13,000 people evacuated on them around the country. 
At least 2.5 million people have fled Ukraine in the two weeks since Russia invaded it, UNHCR said.
Read an overview of the main events on Saturday here. 
03.13.2022
19:46
ICRC: Mariupol endures 'life-and-death nightmare'
The Red Cross is warning of a "worst-case scenario" for hundreds of thousands of civilians in the besieged Ukrainian city of Mariupol unless the parties agree to ensure their safety and access to humanitarian aid.
The head of the International Committee of the Red Cross, Peter Maurer, said in a statement said Sunday that residents of Mariupol "have endured a weeks-long life-and-death nightmare".
The Geneva-based humanitarian agency said hundreds of thousands of people in the city are "facing extreme or total shortages of basic necessities like food, water and medicine".
"Dead bodies, of civilians and combatants, remain trapped under the rubble or lying in the open where they fell," the ICRC added. "Life-changing injuries and chronic, debilitating conditions cannot be treated. The human suffering is simply immense."
The Red Cross called on the parties to agree on the terms of a ceasefire, routes for safe passage, and to ensure the deal was respected. It offered to act as a neutral intermediary in negotiations.
03.13.2022
18:41
Ukrainian energy minister: Power to Chernobyl restored
Ukraine says it has fixed a broken power line to the Chernobyl power plant, the scene of a nuclear meltdown in 1986, which is held by Russian troops.
Energy Minister Herman Halushchenko said that "heroes" from the national power grid company managed to restore the connection. The power is used to run pumps that keep spent nuclear fuel cool to prevent radiation leaks.
Ukraine said Wednesday that power had been cut to the site and that there was enough diesel fuel to run on-site generators for 48 hours. The International Atomic Energy Agency played down concerns, saying it saw little risk of the pools containing the spent fuel overheating even without electricity.
Belarus said Thursday it had set up an emergency power line to Chernobyl from its nearby border.
03.13.2022
18:04
Russian air strikes in Mykolayiv kill at least 11, local authorities say
At least 11 people were killed Sunday in Russian strikes on the southern Ukrainian port city of Mykolayiv, near Odessa, according to Ukrainian authorities.
In the morning, the region's governor, Vitali Kim, had said that "nine people died in Russian shelling" without giving further details.
In the afternoon, Ukrainian emergency services and the governor reported another strike, this time against a school, posting pictures of the destroyed building on Telegram. 
"According to the first assessment, two people are dead and two wounded," the emergency services said.
Mykolayiv, located about 130 km east of Odessa, has been under intense shelling for several days.
03.13.2022
17:54
Serbian national air carrier reduces number of flights to Russia after sharp criticism
AirSerbia will go back to one flight a day to Moscow, the Serbian president said, following criticism that the country's national carrier is busting a European Union-wide ban on flights to Russia and profiting from the war in Ukraine.
Serbia's populist President Aleksandar Vučić said AirSerbia will go back to one flight to Moscow a day following "the witch hunt" against his country.
"And will those who are leading the chase against Serbia in connection with the flights to the capital of Russia be satisfied with that?" Vučić asked during a TV interview last night.
Besides some Turkish carriers, Serbia's airline is the only European company that has kept on flying to Russia since the international flight ban was announced after Vladimir Putin's invasion of Ukraine, drawing criticism of profiteering and going against the EU sanctions.
"Serbia is the only one in Europe with an open sky to Russia," Ukrainian Deputy Foreign Minister Emine Dzheppar tweeted. "Making money on [Ukrainian] blood is unworthy of an EU candidate country."
03.13.2022
17:32
Protests against war in Ukraine draw tens of thousands to streets across Europe
Tens of thousands of people rallied Sunday in cities across Europe to protest against Russia's ongoing war in Ukraine, with small vigils taking place in Russia as well despite a crackdown by authorities against such demonstrations.
German trade unions called a protest in Berlin, where sunny weather boosted the turnout. The march led from the city's Alexanderplatz — a large square named after Russian Tsar Alexander I — to a site near the Brandenburg Gate.
Protests were also staged in Warsaw, London and the German cities of Frankfurt, Hamburg and Stuttgart.
In Russia, where demonstrations against the war in Ukraine have been typically met with heavy police response, rights group OVD-Info said more than 668 people had been detained in 36 cities as of late afternoon Moscow time.
03.13.2022
17:28
Russian defence ministry: 'Up to 180 foreign mercenaries' killed in Yavoriv strikes
The Russian military said it killed "foreign mercenaries" in strikes on Sunday against "the locality of Starychi and the Yavoriv military base" in western Ukraine, near the Polish border. 
"As a result of the strike, up to 180 foreign mercenaries and a large number of foreign weapons were eliminated," Russian defence ministry spokesman Igor Konashenkov said at a briefing, although the figure could not be independently confirmed.
More than 30 Russian cruise missiles targeted the sprawling facility less than 25 kilometres from the closest border point with Poland, according to the governor of Ukraine's western Lviv region. 
The training base near Yavoriv appears to be the westernmost target struck during Russia's 18-day invasion.
The facility, also known as the International Peacekeeping and Security Centre, has long been used to train Ukrainian military personnel, often with instructors from NATO countries.
03.13.2022
15:17
US journalist killed, another injured after Russian troops opened fire on their vehicle
Kyiv Region police said a US video journalist died and another journalist was injured when they were attacked by Russian forces in Ukraine.
The police force said on its official website on Sunday that Russian troops opened fire on the car of Brent Renaud and another journalist in Irpin near the capital.
It said the injured journalist was being taken to a hospital in Kyiv.
A New York Times spokesperson said Renaud, 50, was a "talented filmmaker who had contributed to The New York Times over the years."
It said he was not working for the publication or had an assignment in Kyiv from them at the time of his death.
03.13.2022
14:55
White House adviser: NATO will respond to any Russian attack on its members
White House national security adviser Jake Sullivan says Russia will face a response from NATO should any of its attacks in Ukraine cross borders and hit members of the security alliance.
Russian missiles on Sunday struck a military training base close to Ukraine's western border with NATO member Poland and killed 35 people.
Sullivan told CBS News that President Joe Biden "has been clear repeatedly that the US will work with our allies to defend every inch of NATO territory and that means every inch."
Sullivan says a military attack on NATO territory would cause the invocation of Article 5. That requires other countries in NATO to come to the defence of the attacked nation. "We will bring the full force of the NATO alliance to bear in responding," Sullivan said.
Sullivan says NATO would respond even if a shot by Russia that hit NATO territory was accidental.
03.13.2022
14:51
Aid convoy hours away from Mariupol, Zelenskyy says
Ukraine's president says nearly 125,000 civilians have been evacuated through safe-passage corridors so far, and a convoy with humanitarian aid is headed to the besieged city of Mariupol.
"We have already evacuated almost 125,000 people to the safe territory through humanitarian corridors," Volodymyr Zelenskyy said in a video address released on Sunday.
"The main task today is Mariupol. Our convoy with humanitarian aid is two hours away from Mariupol. Only 80km [left]."
"We're doing everything to counter occupiers who are even blocking Orthodox priests accompanying this aid, food, water and medicine. There are 100 tons of the most necessary things that Ukraine sent to its citizens," Zelenskyy said.