Global death toll surpasses 6 million as COVID-19 pandemic enters third year
Comments
By AP with Euronews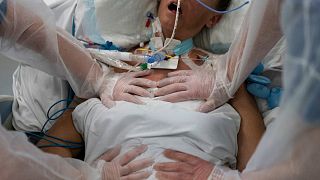 -
Copyright

AP Photo/Daniel Cole, File
The official global death toll from COVID-19 has now eclipsed 6 million people, according to Johns Hopkins University.
The grim milestone is the latest tragic reminder that the pandemic -- now entering its third year -- is far from over.
A number of European countries have lifted all coronavirus restrictions, as more and more governments design protocols to co-exist with the coronavirus.
But around the world, communities are still battling against a number of infections.
Remote Pacific islands, whose isolation had protected them for more than two years, are just now grappling with their first outbreaks and deaths, fueled by the highly contagious omicron variant.
Hong Kong meanwhile is testing its entire population three times this month as COVID-19 deaths soar.
The world has seen more than 445 million confirmed COVID-19 cases, and new weekly cases have been steadily declining in all regions except for the Western Pacific, the World Health Organization (WHO) reported this week.
In its latest report on the pandemic issued on Wednesday, the U.N. health agency said new COVID-19 infections dropped by 5% in the last week, continuing a declining trend that started more than a month ago. Deaths were also down by 8% and have been falling globally for the last two weeks.
The world undoubtedly hit its 6 millionth death some time ago, due to poor record-keeping and testing in many parts of the world, as well as preventable deaths related to the pandemic but not from actual COVID-19 infections.
Edouard Mathieu, head of data for the Our World in Data portal, said that — when countries' excess mortality figures are studied — as many as nearly four times the reported death toll have likely died because of the pandemic.
The United States has the biggest official death toll in the world, but the numbers have been trending downward over the last month.
Belgium began lifting most COVID-19 measures on Monday, including the requirement of a health pass to enter bars, restaurants, theatres and cinemas. Facemasks will also no longer be mandatory except on public transport and in the healthcare sector.
Romania also lifted all COVID restrictions on Wednesday including requiring a digital pass to access institutions and the obligation to wear protective facemasks.
Health Minister Alexandru Rafila said the country had also lifted a nationwide state of alert, two years after the pandemic.
He added that Romanians were still recommended to wear masks indoors and avoid crowds.