Here's how Russia's invasion of Ukraine unfolded on day one
Comments
By Euronews with AP, AFP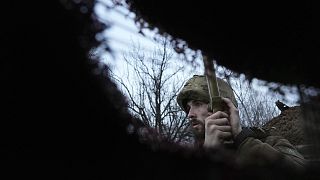 -
Copyright

AP Photo/Evgeniy Maloletka
Russia's full-blown military invasion of Ukraine brought an international outcry on Thursday 24 February with NATO condemning a "brutal act of war" and G7 leaders calling it a "serious threat to international order".
Brussels and Washington moved to impose further sanctions on Moscow, targeting finance and business. "Putin chose this war," said US President Joe Biden, warning that Russia would bear the consequences.
A day of fighting saw clashes and casualties reported around the country including near the capital Kyiv. Ukrainian officials said Russia had taken control of the Chernobyl nuclear plant. Civilians have been seen trying to flee major cities.
The assault ordered by Vladimir Putin began overnight, with Russian forces invading Ukraine by land, air and sea. The Russian leader warned other countries that any attempt to interfere would lead to "consequences you have never seen in history".
World leaders decried the start of a Russian offensive that could cause massive casualties and looks to be designed to topple Ukraine's democratically elected government.
Here's how the first day of Russia's invasion of Ukraine unfolded:
02.24.2022
06:14
The key points to know
Russia' has launched a full military assault on Ukraine, invading from the east, north and south;
Fighting has been reported in many parts of the country including near Kyiv; casualty figures are hard to estimate but dozens of civilians and military personnel are thought to have been killed;
Ukraine says Russia has seized control of the Chernobyl nuclear plant; Moscow says it has destroyed dozens of Ukrainian military facilities;
EU leaders have agreed to impose sanctions against Russia that will have "massive and severe consequences";
President Biden has announced more US sanctions against Russia, designed to hit the country's economy long-term;
The measures do not include targeting Putin personally or exclude Russia from the SWIFT international payments system;
Ukrainian President Volodymyr Zelenskyy has declared martial law and cut diplomatic ties with Moscow, adding that a "new iron curtain" now separates Russia from the "civilised world";
Zelenskyy also stated Moscow designated him as "target number one" as he ordered a total mobilisation by midnight on Friday; 
Vladimir Putin said the "special military operation" was to protect civilians in eastern Ukraine and "de-Nazify" the country; warning that any country attempting to interfere would see "consequences you have never seen in history";
Kyiv came under missile fire early morning on Friday, as Russian troops are reported to be advancing on the Ukrainian capital
02.25.2022
07:53
This live blog is now closed.
02.25.2022
06:03
Russian attacks continue throughout Ukraine
Ukrainian authorities issued a number of reports of further Russian troop deployment and ongoing skirmishes on Friday morning, local media outlets report.
The Ukrainian State Emergency Service has confirmed a landing of Russian troops in the village of Pavlovka, some 200 kilometres east of the capital Kyiv. 
Meanwhile, active fighting continues between the Ukrainian military and the Russian troops in the Kharkiv region, near the border with Russia, head of the regional state administration Oleh Sinegubov stated.
A ballistic rocket attack on the airport in Rivne was confirmed by Mayor Oleksandr Tretiak, but there were no casualties reported. Rivne is located in western Ukraine.
Air raid sirens are being heard in Lviv, a key western Ukrainian city close to the Polish border. Lviv was previously not considered to be amongst the targets of the Russian invasion.
02.25.2022
05:23
Ukrainian army stops Russian armour advancing on Kyiv from Chernobyl
Russian troops advancing on Kyiv from the direction of Chernobyl was stopped near the village of Ivankiv, after the Ukrainian forces blew up a bridge on the Teteriv river on Friday.
The General Staff of the Ukrainian Armed Forces confirmed that the bridge was destroyed to halt the advancing column of Russian armour after a battle broke out near the village that is halfway between the Ukrainian capital and the border with Belarus.
There were no reports of casualties on either side.
Meanwhile, US Defense Secretary Lloyd Austin told lawmakers on a phone call that Russian mechanized forces that entered from Belarus were about 20 miles from Kyiv, according to a person familiar with the call, AP reports.
02.25.2022
04:34
China to evacuate its citizens from Ukraine, embassy confirms
China's Embassy in Ukraine says it is arranging evacuation flights for its citizens.
An embassy statement Friday says conditions in Ukraine have "deteriorated sharply" but makes no mention of the Russian invasion.
The embassy gave no details on where the evacuation flights would be leaving from, nor did it say when the charter flights might happen, saying that scheduling will depend on the "flight safety situation".
It says travellers should be packed and ready to react quickly once flight schedules are announced. Passengers must have a passport from China, Hong Kong or Macau or a "Taiwan compatriot card".
The embassy earlier advised Chinese citizens in Ukraine to stay home and to mark their vehicles with the flag of their country if they planned to travel long distances.
02.25.2022
04:11
US Holocaust Memorial Museum rejects Putin's 'denazification' claims
One of the world's most notable institutions dedicated to Holocaust studies strongly condemned what it said was an "outrageous attack on Ukraine" on Friday.
"In justifying this attack, Vladimir Putin has misrepresented and misappropriated Holocaust history by claiming falsely that democratic Ukraine needs to be 'denazified,'" the USHMM stated.
"Equally groundless and egregious are his claims that Ukrainian authorities are committing "genocide" as a justification for the invasion of Ukraine."
02.25.2022
03:47
Loud explosions in Kyiv
Several explosions were heard in the Ukrainian capital early morning on Friday as Russian forces pressed on with their assault, a number of journalists on the ground and local outlets alike reported.
The Ukrainian Army claimed that it has taken down two incoming rockets mid-flight.
Ukrainian Interior Ministry advisor Anton Gerashchenko claimed that the explosions were caused by ballistic cruise missiles.
"The strikes against Kyiv with cruise and ballistic missiles have resumed. I heard two loud explosions," Gerashchenko wrote in a post on Telegram.
A nine-storey apartment building is reportedly on fire on Koshytsa street, in east Kyiv.
Another two-storey building in the western part of the city caught fire.
Western intelligence sources earlier claimed that a Russian offensive on the Ukrainian capital might take place "in the next few hours".
Kyiv Mayor Vitaly Klitschko said that at least "three [people were] wounded, one in serious condition" from the falling debris after one of the explosions.
02.25.2022
03:36
Macron: Putin was 'duplicitous'
French President Emmanuel Macron said that his Russian counterpart Vladimir Putin was "duplicitous" in their earlier conversations following an EU summit in Brussels.
"Yes, there was duplicity, yes there was a deliberate, conscious choice to launch war when we could still negotiate peace," he said at a press conference after the EU leaders gathered to discuss further sanctions against Moscow.
Macron added that France would add its own sanctions to the bloc's package.
Also, he said that France would speed up its deployment of troops to Romania in response to the Russian invasion of Ukraine.
"France will continue to play its full role in reassuring NATO allies by sending a new contingent to Estonia as part of the reinforced forward presence, ahead of its participation in the Baltic Air Policing from March, and by also accelerating its deployment in Romania," the French president said.
Earlier on Thursday, Macron said it would be helpful to "leave the path open" to dialogue with Moscow to halt its offensive in Ukraine after having a "frank, direct, rapid exchange" with Putin.
02.25.2022
03:04
A number of government-affiliated websites in Russia still down
An account on Twitter purportedly run by the international hacktivist collective Anonymous claimed earlier on Thursday that it launched cyber operations against Russia, taking down the English language website of the state-controlled broadcaster RT.
Several government websites are also inaccessible, including those of the Kremlin and the Russian Ministry of Defence, also purportedly taken down by the hacker group. 
The account claimed it also knocked down Russian internet service providers Com2Com, PTT-Teleport Moscow, RELCOM, and Sovam Teleport.
"We, as a collective want only peace in the world. We want a future for all of humanity. So, while people around the globe smash your internet providers to bits, understand that it's entirely directed at the actions of the Russian government and Putin," the account followed by 6.5 million users tweeted in a statement explaining the hackers' actions.
02.25.2022
02:29
UK MoD update: Russia failed to achieve Day 1 plans
It is "unlikely" that Russia has achieved its planned military objectives on the first day of its invasion of Ukraine, the UK Ministry of Defence stated early on Friday.
"Ukrainian forces have presented fierce resistance across all axes of Russia's advance," the MoD said in a statement, adding that the Ukrainian army has reportedly "halted Russia's advance to Chernihiv," a city on the path to Kyiv.