Portugal election: Socialists re-elected but far-right make gains
Comments
By Euronews with AP, AFP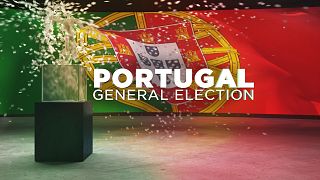 The centre-left Socialist Party won the most votes in Sunday's legislative election in Portugal and is close to securing an absolute majority.
With more than 98% of the votes counted, the Socialists (PS) secured nearly 41.65% of the vote while their centre-right rivals, the Social Democrats (PSD), had managed to get 27.94%.
The far-right Chega (Enough) party made significant gains and was third with 7.15% of the vote.
The snap election was triggered two months ago when lawmakers rejected the minority Socialist government's spending bill and the country's president dissolved parliament.
Opinion polls had suggested that the Socialists and Social Democrats were in a tight race.
Follow the action live in our blog below
01.30.2022
15:37
Here's are the key points
An exit poll estimated the Socialist Party has a slim lead over its main rival, the Social Democrast;
This means the centre-left party will once more likely need the support of other left-wing parties to govern;
The far-right Chega! (Enough!) party is expected to see its support soar to about 6% from just 1.3% back in 2019.
01.31.2022
00:42
Social Democratic leader says result is 'substantially below' expectations
Rui Rio said he will step down as PSD leader if the Socialists secure an absolute parliamentary majority.
"I honestly don't see how I can be useful in this framework," Rio told reporters.
"We didn't reach the goals we wanted by far or close and PS is by far the big winner of the night," he added.

With nearly 99% of the ballots counted, PSD had secured 27.91% of the vote, well below the 41.65% secured by the PS.
01.30.2022
22:54
Spain's Socialist leader Pedro Sanchez welcomes Costa's victory
On Twitter, the Spanish Prime Minister offered his congratulations to his Portuguese counterpart.
"Portugal has once again opted for a social democratic project that combines growth and social justice. Together we will continue to promote in our countries and in Europe a socialist response to the challenges we share," he wrote.
01.30.2022
21:50
Socialists issue call for 'dialogue' with other parties
Foreign Affairs Minister Augusto Santos Silva told public broadcaster RTP that  it seems clear that the Socialist Party will be the winner of this night, but "the dimension of this victory" still needs to be known.
"We will dialogue with everyone but one party and we will assume responsibility for forming a government," he added.
01.30.2022
21:39
Socialists have 10-point lead over nearest rival as 63% of ballots counted
With more than 63.5% of ballots counted, the Socialist party had secured 42.9% of the ballots, well ahead of the Social Democrats' 31.14% share, preliminary results show.
The far-right Chega! party was in third place with 7.5% of the vote.
01.30.2022
21:11
Socialist Party win the most votes, exit poll suggests
A poll by Portugal's Catholic University for public broadcaster RTP estimated that the Socialists collected between 37%-42% of the vote on Sunday, with their main rival, the centre-right Social Democrats taking 30%-35%.
The poll did not take into account the about 1.5 million people, out of an electorate of 10.8 million eligible voters, who live abroad and can vote by mail.
 
01.30.2022
20:15
Parliament probing potential election day hack
A hacking group claimed it had gained access to the Portuguese parliament website and "stolen sensitive information".

The parliament's official website was unavailable in France for a short time on Sunday evening.
A spokesperson has said they were investigating a possible cyberattack but said that "there is currently no evidence" of one.