Ukraine crisis: Russia sanctions package includes Nord Stream 2 gas pipeline, says Germany
Comments
By Euronews with AP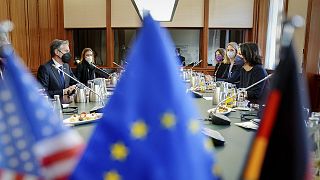 -
Copyright

Kay Nietfeld/Pool via AP
Russia will face "massive consequences" in case of aggression against Ukraine, with a package of sanctions being prepared by the West that includes the controversial Nord Stream 2 gas pipeline, Germany's foreign minister Annalena Baerbock told the Bundestag.
German Chancellor Olaf Scholz had hinted at including Nord Stream 2 in a potential sanctions package, stating Germany would discuss halting the pipeline as part of "severe economic costs" at a press conference with NATO Secretary-General Jens Stoltenberg on 18 January.
This week, Scholz again warned Russia of "serious consequences" to any military aggression against Ukraine. He urgently called for de-escalation in the crisis on Tuesday before a bilateral meeting in Berlin with French President Emmanuel Macron.
Hopes remain that matters can be settled diplomatically, however.
Scholz said everything should be "done now to ensure that the situation develops differently than is sometimes feared", but that clear steps are expected from Russia "that will contribute to a de-escalation of the situation".
Germany in particular has faced calls to help Ukraine more and has been faulted for a perception that it is prioritising its economic ties with Russia over Ukraine's security.
Amid that backdrop, German Defense Minister Christine Lambrecht said Germany will deliver 5,000 military helmets to Ukraine following a request from the country's embassy. She said that it was "a very clear signal that we stand by your side".
Ukraine's ambassador to Germany welcomed the planned delivery of the helmets, but described it as a "purely symbolic gesture". Andriy Melnik told German news agency DPA that "this is only a drop in the ocean".
He added that "Ukraine expects a 180-degree turn from the German government, a real paradigm change".
Germany has said earlier that it won't deliver lethal weapons to Ukraine.
No change in the US stance
US Secretary of State Antony Blinken has said Washington has made no concessions to the main Russian demands over Ukraine and NATO, in a written response delivered to Moscow on Wednesday.
Shortly earlier, Russia said it had received the United States' response to its demands including NATO's withdrawal from eastern Europe, an issue at the heart of the Ukrainian security crisis.
The foreign affairs ministry in Moscow said in a statement that the American ambassador to Russia, John Sullivan, handed in Washington's written reply to its demands concerning security to deputy foreign minister Alexander Grouchko.
Russia has demanded guarantees that NATO will halt its eastward expansion, rule out membership for Ukraine and other former Soviet countries, and roll back its military deployments in Central and Eastern Europe.
But Blinken said Wednesday's answer to Russia makes very clear that the US is standing by its principles. "There is no change, there will be no change," he said.
Speaking at a news conference, the Secretary of State said that the US proposals offered Russia a "serious diplomatic path forward". These included safeguarding the right of nations to choose their own alliances, he added.
"We made clear that there are core principles that we are committed to uphold and defend, including Ukraine's sovereignty and territorial integrity and the right of states to choose their own security arrangements and alliances," Blinken said.
NATO offers dialogue
In December, Moscow set out its security demands in two documents: a proposed treaty with the US, and an agreement with NATO.
NATO said on Wednesday that it had also delivered its response to Moscow, having already described Russian demands as "unacceptable".
Secretary-General Jens Stoltenberg called on Russia to "immediately de-escalate the situation", saying NATO believed in "dialogue and diplomacy", not the threat or use of force. He went on to list several areas where he believed NATO and Moscow could cooperate — by reopening offices and increasing communication.
The alliance, he said, was ready to listen to Russia's concerns on Ukraine and engage in real dialogue on upholding security arrangements in Europe that both sides had already signed up to.
That meant respecting the rights of nations to choose their own security arrangements, as well as Russia refraining from malign activities and withdrawing its forces from Ukraine, Georgia and Moldova where they were deployed without these countries' consent, he added.
Stoltenberg also urged talks on arms control. He insisted that NATO was a "defensive alliance" and did not seek confrontation, and would not compromise on its principles.
Lavrov mulls 'retaliatory measures'
Earlier on Wednesday, before the US and NATO announcements, Russia's foreign minister addressed the State Duma of the Russian Federal Assembly. Sergei Lavrov said he and other top officials would advise President Vladimir Putin on the next steps after receiving written replies from the United States to Moscow's demands.
"If a constructive response does not arrive and the West continues its aggressive course, Moscow will, as the president has said on more than one occasion, take the necessary retaliatory measures," Lavrov said.
Asked by lawmakers if Russia could expand military cooperation with Cuba, Venezuela, and Nicaragua as part of those measures, Lavrov responded that Moscow has close ties with those countries in the Western Hemisphere and is seeking to deepen them.
The Kremlin has repeatedly denied it intends to invade Ukraine, but the US and its NATO allies are worried given that Russia has deployed an estimated 100,000 troops near Ukraine and launched a series of sweeping military manoeuvres.
In an interview with Euronews on Wednesday, Vladimir Chizhov, the long-time Russian ambassador to the European Union, said fears of a Russian invasion of Ukraine were a "bluff" and a "hysterical message" being spread by Western countries.
France welcomes 'good sign' from Russians in talks
French President Emmanuel Macron, who continues to push for dialogue with Russia despite signs pointing to a potential war, is preparing to talk with Vladimir Putin.
Macron's call with Putin on Friday morning has two goals, French government spokesman Gabriel Attal said: "to continue dialogue" and to "push Russia to clarify its position and the aim of (military) manoeuvring".
Macron "is at the heart of efforts towards de-escalation" and will also speak to Ukrainian President Volodymyr Zelenskyy in the coming days, Attal said.
Russian and Ukrainian officials, meeting in Paris on Wednesday with French and German mediators, affirmed their "unconditional respect for the ceasefire" between Ukrainian and pro-Russian separatists in eastern Ukraine. They pledged to meet again in Berlin in two weeks' time.
The discussions "have not been straightforward", said Russian envoy Dmitri Kozak, hoping for "results" in February. Ukrainian negotiator Andriï Iermak proclaimed "the first significant document on which we have succeeded in striking agreement since December 2019".
France heralded "a good sign" of "re-engagement" from the Russians despite "difficult conditions", ahead of the Macron-Putin conversation.
The meeting in Paris was held as part of the so-called 'Normandy format' that has previously been used to restore relations between Ukraine and Russia, following its annexation of Crimea in 2014.
Meanwhile, the German and Dutch foreign ministers met in Berlin. Annalena Baerbock of Germany stressed that the European Union's common goal in the Ukraine crisis "is and remains the defence of Ukraine's sovereignty and territorial integrity".
"Any further aggression by Russia against Ukraine would have serious consequences. Politically, strategically, and equally economically and financially," she said.
"It is very important that we make it clear to Russia, united, that the actors must continue the dialogue, but that we will never accept a violation of Ukrainian sovereignty. Further acts of aggression will have serious consequences," added Baerbock's Dutch counterpart Wopke Hoekstra.
The UK has sent anti-tank weapons to Ukraine, though it has ruled out sending combat troops.
"We're supplying defensive weapons to Ukraine. We're providing economic support, and we are urging Russia to desist from an incursion, and we're making it very clear that if they were to do that, there would be severe economic costs to Russia," said Foreign Secretary Liz Truss.
Ukraine seeks to calm nerves
Ukraine's Foreign Minister Dmytro Kuleba said on Wednesday that while the concentration of Russian troops near Ukraine poses a threat, "their number is now insufficient for a large-scale offensive."
"They are still missing some key military elements and systems to mount a big, full-scale offensive," Kuleba told reporters.
Amid the tensions, the US, Britain, Australia, Germany, and Canada have moved to withdraw some of their diplomats and dependents from Kyiv.
So far Russia's military drills have seen motorised infantry and artillery units in southwestern Russia practise firing live ammunition, warplanes in Kaliningrad on the Baltic Sea perform bombing runs, dozens of warships sail for training exercises in the Black Sea and the Arctic, and Russian fighter jets and paratroopers arrive in Belarus for joint war games.
Meanwhile, NATO said this week it was bolstering its deterrence in the Baltic Sea region and the US ordered 8,500 troops on higher alert for potential deployment to Europe.
Six American fighter planes arrived in Estonia on Wednesday to reinforce NATO's mission in the country. The F-15E planes landed at the Amari base in the northwest of the country to take part in an exercise.
Four Danish planes are due to arrive in Lithuania on Thursday.
Estonia's Prime Minister, Kaja Kallas, has called for a larger American presence in the Baltic countries to deter their Russian neighbour.