COVID-19 in Europe: Record daily cases in Russia, Poland, and Romania
Comments
By Euronews with AP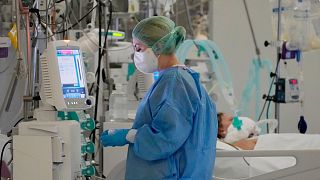 -
Copyright

AP Photo/Czarek Sokolowsk
Several countries in Europe have registered a record number of COVID-19 infections this week — here is our summary of the situation across the continent.
The number of new coronavirus cases globally rose by 20 percent last week to more than 18 million, according to the World Health Organization (WHO).
WHO Director-General Tedros Adhanom Ghebreyesus said on Tuesday that the highly infectious Omicron variant "continues to sweep the world."
"We are concerned about the impact Omicron is having on already exhausted health workers and overburdened health systems," Tedros said.
Some countries have taken steps targeting the unvaccinated, while programmes are also being rolled out to vaccinate young children.
Poland
Poland reported a record-high of 36,665 new infections in 24 hours on Friday, with at least 1,390 cases of the highly contagious Omicron variant.
Officials are expecting the number of cases to reach more than 50,000 a day next week, a number that could begin to challenge the health system.
There were 248 deaths among coronavirus patients reported Friday, a significant drop from almost 800 daily in late December. There have been over 103,000 deaths in Poland since the start of the pandemic.
The vaccination rate is almost 57% in this nation of some 38 million, and some 9 million people have received booster shots.
On Wednesday, Poland's health minister Adam Niedzielski stated that he was in favour of making COVID-19 certificates mandatory for employees.
Russia
Russia reported a record 49,513 COVID-19 cases in 24 hours on Friday, the highest number of daily infections since the beginning of the pandemic.
Capital city Moscow, the epicentre of the epidemic in the country, also reported an absolute record for the second day in a row, with 15,987 new cases.
Russia is just emerging from a particularly deadly wave caused by the Delta variant and cases are now mounting once again due to the Omicron variant.
Russia has logged the highest number of deaths due to COVID-19 in Europe, with 324,060 deaths since the beginning of the pandemic, though that number is likely much higher.
Romania
Romania on Friday hit a new pandemic record of 19,649 COVID-19 infections amid a rapid rise of cases, but hospitalisations and deaths remain significantly lower compared to the previous wave, official data shows.
Daily cases have surged due to the highly transmissible Omicron variant.
Despite the record case number, only 49 deaths were reported, compared with several hundred a day during October and November. Of the 49, 43 were unvaccinated, authorities said.
Bulgaria
Health authorities have stepped up anti-COVID measures in Sofia and other major cities following a recent surge in infections.
Many school students will switch to remote learning, while restaurants and bars will have to operate at half their customer capacity.
All catering and entertainment establishments have to close no later than 10 pm and visitors need valid health certificates to be admitted.
Bulgaria has the lowest COVID-19 vaccination rate in the European Union and reported 8,932 new virus cases and 87 deaths on Friday.
Ireland
Ireland is set to lift most of its COVID-19 restrictions on Saturday as intensive care numbers remain stable despite a surge in infections.
Bars and restaurants will return to normal trading hours, while customers will no longer need to show proof of vaccination to enter.
But some measures — such as facemasks on public transport and in shops — will remain in place.
Ireland had the second-highest incidence rate of COVID-19 in Europe just last week but also has one of the continent's highest uptake of booster vaccines.
"I don't think any of us thought we'd actually be getting to this point as quickly as we are now," Justice Minister Helen McEntee said in a video on Friday.
Belgium
The Belgian government broadcast that it will be adopting a 'corona barometer' from January 28. The colour-coded system will determine what restrictions will need to be put in place based on how many patients have been admitted to hospitals around the country and ICU wards.
Prime Minister Alexander De Croo says, "thanks to this barometer, life can continue to be organised, and organised in the safest way. We can go on with our lives, and it is very clear what the implementation measures are so that we can do it safely".
France
On Thursday, France registered more than 400,000 new COVID-19 infections for the second consecutive day.
But Prime Minister Jean Castex has announced an easing of restrictions, with the number of patients in intensive care units now stabilising.
Facemasks outside and remote working will no longer be compulsory after February 2, while nightclubs will be allowed to reopen on February 16.
The country is also set to introduce a vaccination pass to allow citizens over 16 to access bars, restaurants, other cultural venues, and long-distance public transport.
The pass was approved by France's Constitutional Council on Friday and will come into effect on Monday.
During a press conference on Thursday, Castex said the new pass should make it possible to "lift most of the restrictions".
But the Council did prevent the requirement of health passes at political rallies as long as organisers take "all useful health precautionary measures".
Austria
Austria will become the first European country to introduce a vaccine mandate for adults from 1 February.
The country's parliament approved the decision on Thursday with 137 MPs in favour and 33 against.
All citizens aged over 18 will need to be fully vaccinated — except for pregnant women, those with medical exemptions, and those who have recently recovered from infection within six months.
From March, those who can't produce proof of vaccination will initially be fined up to €600 — a fee which could rise to €3,600.
The vote comes as Austria records a record number of cases, with nearly 30,000 new infections reported on Wednesday. Officials say the mandate is necessary because vaccination rates remain too low.
"All experts believe that we will need high overall immunity in the population next fall as well," health minister Wolfgang Mueckstein said Sunday.
"With this vaccine mandate, we will succeed in achieving these important additional percentage points in the vaccination rate."
Austria has also announced plans for a vaccine lottery to win €500 vouchers to encourage citizens to get inoculated.
"It is important to us that there is both a reward for those who have been vaccinated and an incentive to get vaccinated now," chancellor Karl Nehammer said on Twitter.
Germany
Germany saw a new record number of confirmed cases on Friday, with over 140,000 newly confirmed infections in the past 24 hours.
But Germany's association for intensive care medicine (DIVI) said the number of COVID-19 patients in intensive care units was falling despite the increase in cases.
Health Minister Karl Lauterbach has warned that the country has not yet reached the peak of infections and has recommended that Germany introduce a nationwide vaccine mandate by May.
Almost 73 per cent of the German population have received a full course of vaccines against COVID-19, while nearly 48 per cent have had an additional booster shot.
German police say that are investigating thousands of forged vaccine certificates, according to the DPA news agency.
Those who supply or use fake certificates could face severe penalties, from fines and suspended prison sentences to losing their jobs.
United Kingdom
In the UK, authorities have relaxed measures after government scientists reported that the surge of infections "has now peaked nationally".
Face masks will no longer be mandatory in public places and schools in England, while health passes will no longer be needed for large events.
British Prime Minister Boris Johnson told MPs on Wednesday that hospital admissions and patients in intensive care units in most of England were stabilising or falling.
The government will no longer advise people to work from home, while face masks will be scrapped in classrooms starting Thursday.
Johnson added that more than 90 per cent of those aged over 60 in the UK have now had their booster shot.
Moreover, the UK is debating whether to scrap the requirement for those infected to self-isolate for five full days.
Netherlands
Several Dutch theatres, museums, and cultural venues briefly reopened on Wednesday to protest against the latest anti-COVID measures.
The Netherlands has been in a tough lockdown since mid-December amid a surge in cases. Last week, hairdressers, gyms, and nonessential stores were allowed to reopen under an easing of restrictions but bars, restaurants, and theatres have to remain closed.
But hundreds of Dutch bars and restaurants also opened their doors as a protest against the lockdown they say is crippling their businesses.
Amsterdam's Concertgebouw Orchestra performed on Wednesday while two hairdressers cut hair in the historic venue.
Meanwhile, a barber cut the hair of 10 visitors while 10 more people got a nail treatment at the Van Gogh Museum.
"I understand the cry for help and that artists want to show all the beautiful things they have to offer us, but the opening of society must go step by step," tweeted Culture Minister Gunay Uslu.
The Dutch government has said it will look at possible further easing on 25 January, as hospital admissions decline despite a rise in case numbers.
Denmark
Museums, theatres, cinemas, sports events, and zoos were allowed to reopen on January 16 after being locked down since mid-December. However, restaurants and bars will continue to close at 11pm while the sale of alcohol will stop between 10pm and 5am.
While the BA.2 sub-variant of Omicron has taken hold, health officials say, there does not appear too much cause for concern with the new strain. However, there is a possibility it might be more transmissible.
Hungary
The leader of the main opposition party in Hungary confirmed on Wednesday that he has tested positive for the virus amid a surge in cases nationwide.
Peter Marki-Zay -- who will represent a six-party coalition in April's parliamentary election -- said on Facebook that he had received a positive test after exhibiting mild symptoms.
His announcement came on the same day that Hungary reported the highest number of daily cases since the beginning of the pandemic.
According to the government's official coronavirus website, 14,890 new cases were detected on Wednesday -- nearly double the figure from last week and 2,000 higher than the previous record in November.
Prime Minister Viktor Orban has relied on boosting vaccination rates to defend against the pandemic rather than reimposing measures.
Czech Republic
In the Czech Republic, the government has dropped proposals for a vaccine mandate.
An order released in December by former prime minister Andrej Babiš would force citizens aged over 60 — as well as medical workers, police officers, and firefighters — to be vaccinated.
However, the new coalition government under Petr Fiala has said that the order was unnecessary.
"We've agreed that vaccination against COVID-19 won't be mandatory," Fiala said while stressing that his government still considers the vaccines "the best tool to fight COVID-19."
Despite the record case numbers, the number of COVID-19 patients in Czech hospitals dropped to 1,635 on Tuesday.
Slovakia
Slovakia restricted access to public gatherings on Wednesday in the latest measures to tackle the spread of the Omicron variant.
Citizens will need to have received three doses of a vaccine, two doses plus a negative test, or have recently recovered from infection to attend many events.
The number of people at weddings, parties, and other venues will be limited, the government said on Wednesday. All bars and restaurants will also have to be closed between 10 pm and 5 am.
Slovak authorities have been expecting the Omicron variant to become dominant in January.
Bosnia and Herzegovina
Bosnia and Herzegovina is experiencing the harshest wave of the pandemic so far, with at least 70 per cent of cases due to the rapid spread of the Omicron variant in the country with one of the lowest vaccination rates in Europe, stagnating at 22 per cent.
Determining the number of daily COVID-19 cases has also become a complicated task for the health authorities, with the various levels of government opting for a switch to rapid testing instead of PCRs or a combination of the two due to a lack of resources in some parts of the country.
The main laboratory in the capital Sarajevo has been processing samples with a backlog, and the figure of 2,992 positive cases on Wednesday (19 January) combines several days of PCR results in the reported total.
However, the official number has raised concerns among some experts that the actual infection rate is much higher, considering the low number of tests conducted overall (6,025 samples on the same day) while hospitals across the country are struggling to tend to incoming patients.
Bosnia is second on the continent in cumulative COVID-related deaths, with 4,255 casualties per one million citizens placing it just behind Bulgaria with 4,688.
Serbia
The number of COVID-19 cases in Serbia is still on the rise, with official numbers hitting a five-figure mark for several days in a row.
There were 16,403 cases were registered on Friday, while 2,719 new patients were admitted to COVID wards across the country, official figures state.
The country's health authorities believe that the Omicron variant is dominant at the moment, but that Delta is still circulating, blaming the latter for hospital capacities rapidly becoming overburdened.
Meanwhile, the Serbian government has introduced new quarantine measures on Wednesday, where those testing positive are now allowed to leave their homes after seven days with permission from their GP. The mandatory self-isolation for those who were in close contact with a person positive with COVID has also been reduced to a total of five days.