Airlines cancel more flights after 8,000 were scrapped over Christmas weekend
Comments
By Euronews with AFP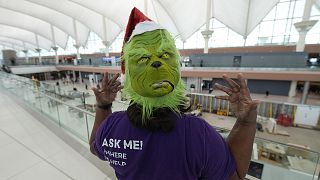 -
Copyright

AP Photo/David Zalubowski
COVID-related flights cancellations continued on Monday.
Airlines across the world cancelled just under 8,000 flights over the three-day Christmas weekend over a shortage of staff due to the spread of the Omicron variant and bad weather.
According to Flightaware.com, which tracks flight departures, delays and cancellations, a further 1,639 flights were cancelled on Monday with just under a third affecting the US alone. A significant number of cancellations also impacted China.
The cancellations caused a major disruption to the return to Christmas travel this year, causing further anxiety and uncertainty after the 2020 holiday season was severely affected by the pandemic.
At Minneapolis−Saint Paul airport in the state of Minnesota travellers voiced their frustrations.
"I booked this trip in February and we had no idea we'd still be dealing with COVID, it's crazy," Tamera Robinson said of her cancelled flight.
Flight delays and cancellations related to staff shortages have been a persistent problem for the American airline industry this year.
After air travel collapsed last year, US airlines encouraged workers to quit.
But this year air travel has mostly recovered and they have left themselves short-staffed.
United Airlines explained in a statement that the spike in Omicron cases "had a direct impact" on their flight crews and the people who run their operations.
"As a result, we've unfortunately had to cancel some flights and are notifying impacted customers in advance of them coming to the airport," the company said.
And other airlines such as Lufthansa are also suffering staff shortages as more and more pilots and cabin crew members report in sick with the virus or are forced to quarantine on arrival in certain countries.
Chinese airlines, particularly China Eastern and Air China, cancelled more than 2,000 flights alone over the three-day weekend, many of them to Xi'an, where 13 million people are currently under lockdown.
Watch the full interview with travel specialist Simon Calder in the video player, above.