Three people found dead after building collapse in southern France
Comments
By AFP with Euronews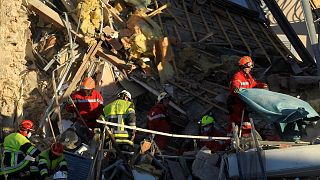 -
Three people have been found dead in the rubble of a collapsed building in southern France, according to emergency services.
The three-story residential block came crashing down overnight on Tuesday in the coastal town of Sanary-sur-Mer near Toulon.
A woman and her baby -- thought to be 18 months old -- were pulled out alive and have been hospitalised. Three other people also suffered minor injuries.
One man was initially declared dead as firefighters continued to search for two missing residents. On Wednesday, French authorities confirmed they had recovered two more bodies.
The blast -- thought to be as a result of a gas problem -- took place around 3:50 am and was heard several kilometres away.
"The causes are not known at the moment," said the local fire brigade and the Var prefecture.
"There was a smell of gas [when we arrived at the scene] but we can't say more because there is a police investigation underway."
The last deadliest building collapse in southeastern France occurred in Marseille in November 2018, when two buildings collapsed in the city centre, killing eight people.