Joe Biden says he told Vladimir Putin 'we need to set basic rules of the road' at Geneva meeting
Comments
By Euronews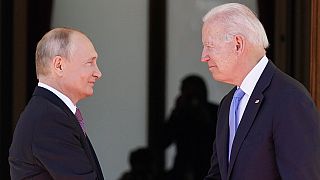 -
Copyright

Patrick Semansky/Copyright 2021 The Associated Press. All rights reserved.
U.S. President Joe Biden has spoken to the media after meeting his Russian counterpart Vladimir Putin in Geneva.
Both leaders have described their four-hour meeting as good. Biden says the tone was "good" and "positive", while Putin called the encounter "constructive". Their first ever meeting follows a particularly difficult period which have seen relations strained over several issues.
Earlier, the two leaders agreed to return previously expelled ambassadors to their posts.
In contrast to the Russian president who gave his news conference indoors, Joe Biden gave his media appearance outside with Lake Geneva as a backdrop.
Biden: Need to set 'basic rules of the road'
The U.S. president justified the meeting by saying there was no substitute for face-to-face talks. He said he told his Russian counterpart that the two sides needed to establish some "basic rules of the road" to abide by, in rebuilding relations.
He began his news conference with a staunch defence of democratic values, saying the U.S. would continue to raise issues of fundamental human rights, and the plight of individuals such as Russian dissident Alexei Navalny.
During his stint in front of the media, Putin said that Kremlin critic Alexei Navalny "wanted to be arrested" and returned to Russia in the full knowledge that he had repeatedly broken Russian law.
Democratic legitimacy, Biden said, came from the people not from the government. The U.S. would continue to stress the importance of a free press and free speech.
The new occupant of the White House described one aim of the meeting as being to agree mutual areas for cooperation, for the people of both countries and global security. There was a need to build a mechanism for achieving strategic stability.
Efforts were underway on arms control measures, to prevent an unintended conflict and build a dialogue. This, Biden said, was all the more important given the emergence of new, dangerous and sophisticated weapons.
On cyberattacks, the U.S. president said he had drawn up a list of 16 entities such as energy and water systems which should be free from attack. Both sides agreed to task experts to work on specific understandings, he added -- but theory must be backed up by practice.
Other areas the leaders discussed, Biden said, included Syria, the possibility of a resurgence of terrorism in Afghanistan, Belarus, and the Americans' "unwavering commitment to the sovereignty and territorial integrity of Ukraine".
When the leaders disagreed, he went on, it was expressed with no "hyperbolic" atmosphere. But he said the U.S. had shown the world it was "back standing with our allies", and ready to take on the world's biggest challenges.
Putin: Navalny 'wanted to be arrested'
Putin was asked about Navalny during his press conference that followed his first meeting with his American counterpart, talks that he initially described as "constructive".
But as the press conference went on, Putin became increasingly riled by questions about the conflict in Ukraine and about Navalny, who was arrested and jailed earlier this year.
Refusing to name the dissident, whose arrest has led to condemnation from both Washington and the E.U., he said: "This person knew full well that he violated the law that existed in Russia. He is a person that is a repeat offender. He deliberately violated this law."
"He ignored the requirement of the law. He knew he was wanted. Nonetheless, he came back to Russia. He wanted to be arrested," Putin said.
He then led into a tirade against the U.S., raising again the shooting of American civilians by police officers and then accusations about "secret CIA jails" that had tortured prisoners across the world.
Putin mentioned the murder of George Floyd and the Black Lives Matter movement, saying that the U.S. had witnessed "pogroms".
He moved on to the Capitol riots that followed President Donald Trump's election loss to Biden in November 2020, when pro-Trump protesters stormed the U.S. Capitol building.
"We've seen lootings and riots. We sympathise with the Americans and we will do whatever we can to stop this happening in Russia.," he said.
He was asked about Biden's comment that he once looked into Putin's eyes and "did not see a soul," and said that he believed that during their talks the two men "spoke with the same language".
Putin said talks with Biden were constructive and there was "no hostility" between them.
"It took place in a constructive spirit," he told journalists, "but both sides expressed the intention to understand each other and to seek common ground."
"This was a productive meeting," he added.
Asked about Russian cyberattacks on the U.S., Putin said that Russia had suffered 45 such attacks in 2020 and a further 35 in 2021. He said that globally most cyberattacks come from the U.S., followed by Canada and the UK. "Cybersecurity is extremely important for the U.S and for Russia," he said.
On Ukraine, Putin said that Moscow supported and would abide by the Minsk accords.
Putin was meeting President Joe Biden for the first time in Geneva, Switzerland.