'We'll continue fighting corruption': Navalny NGO defiant despite ban
Comments
By Euronews with AP, AFP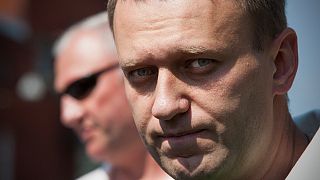 -
Copyright

Alexander Zemlianichenko/AP
An organisation founded by jailed Russian opposition leader Alexei Navalny has vowed to continue its fight against corruption on Thursday after it was outlawed by a Russian court that branded it as "extremist."
"We will continue fighting corruption," said the Anti-Corruption Foundation on Twitter, which also mocked "the public danger" it represented to the Russian judicial system.
A Moscow court on Wednesday night outlawed the organisations founded by Navalny by labelling them extremist, sparking criticism from Western powers.
The EU called the decision "unfounded". It "marks the most serious effort to date by the Russian Government to suppress the independent political opposition and anti-corruption investigations, and to eliminate Mr Navalny's political networks' influence ahead of the State Duma elections in September," said EU foreign affairs chief Josep Borrell in a statement.
The US State Department called the action "particularly disturbing" and said it was part of a pattern of restricting fundamental rights in Russia.
Moscow responded to criticism claiming Navalny was an "agent" of the United States.
"They show such political zeal because it touches those whom they supervised, those whom they supported politically and in other ways," said Russian foreign ministry spokeswoman Maria Zakharova.
'Extremist' label carries prison terms
The ruling from the Moscow City Court will have serious implications for those associated with Navalny's Foundation for Fighting Corruption and from his regional network.
Under the decision, which is effective immediately, associates of Navalny's who had hoped to run for parliamentary seats in the upcoming 19 September election will be barred from seeking office.
With Navalny's organisations branded "extremist", the decision could also mean lengthy prison terms for people who have worked under them.
Those who have donated to the groups as well as those who have shared materials from the organisations could also be at risk of facing prison time.
Navalny was arrested in January after returning to Russia from Germany, where he spent months recovering from a nerve agent poisoning that he accused the Kremlin of orchestrating - a charge Russian officials have denied.
He was handed a 2.5-year prison term for violating the terms of a suspended sentence from a 2014 embezzlement conviction.
Meanwhile, in April, the opposition leader already saw offices in a number of Russian regions shut down after prosecutors issued an injunction to halt their activities pending Wednesday's ruling.
The opposition leader's associates had vowed to continue their work, however.
Lawyers to appeal the ruling
Wednesday's court session ran for more than 12 hours and was held behind closed doors under the justification that classified materials would be discussed.
The judge also rejected a defence appeal that would have allowed Navalny to take part via video link from prison.
Lawyers have said they plan to appeal the ruling.
Putin, who has been in power for more than two decades now, has sought to defend his title with the 2024 presidential election ahead.