Conservative opposition Popular Party wins in Madrid regional elections as Podemos leader quits
Comments
By Euronews with AFP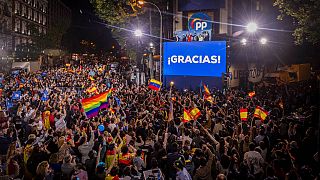 -
Copyright

Bernat Armangue/AP
Residents in Madrid voted overwhelmingly to reelect their regional assembly, conferring the most seats on the right-wing Popular Party .
With 99.9 per cent of the ballots counted on Tuesday night, the Popular Party (PP) had secured 65 seats out of 136 in the regional assembly. This was double the number from the last regional election, though still shy of an outright majority of 69 seats.
Meanwhile the Spanish Socialist Workers' Party (PSOE), which leads the national government, received just 16.85 per cent of the vote, leaving it with a record low 24 seats.
The PP's conservative regional president Isabel Díaz Ayuso (PP) had campaigned under the slogan of "Freedom", championing relaxed COVID-19 measures and criticising the approach of the national government, led by Socialist Pedro Sánchez, to managing the pandemic in Spain.
Ayuso had called the election after the PP's coalition with the liberal Cuidadanos party collapsed two years into its mandate.
Speaking on Tuesday, she said the results backed her policies of keeping bars, restaurants and other businesses open even at the height of the pandemic to keep the economy moving.
She told voters: voters: "We promise you two more years of freedom of governance, bringing down taxes, protecting public, private and special education. To look after our health care system and to look after all the great things that we have constructed amongst us all.
"We are not going to let you down. We are going to govern with respect and above all else, and I repeat again for the thousandth time we go forward with the flag of freedom leading us. Long live Madrid, Long live Spain."
Leftist parties dealt a blow as voters turn out in droves
Despite a recent fresh wave of coronavirus infections, a large number of Madrid residents took part in the vote, with more than 69 per cent of the 5 million eligible voters having cast a vote by by 7 pm: up from 59 per cent in the 2019 regional election.
The PSOE saw its share of the vote decline by 10.5 per cent in two years, with its overall number of seats plummeting from 37 to 24. Regional candidate Ángel Gabilondo had previously claimed the PSOE was 50,000 votes "at most" from ending 26 years of PP local governments.
Speaking on Tuesday, Gabilondo conceded having failed in pushing for a "calm debate". "We will continue working to avoid confrontation and tension," he said. "Madrid does not need it, it needs to be united because we have a very great challenge in the midst of the pandemic."
In a further blow to the Socialists, Pablo Iglesias, the leader of anti-austerity party Podemos, announced he was leaving politics for good.
Iglesias, 42, had left his post as vice-president of the Sánchez government to lead his party in the regional elections. Podemos made only modest gains in Madrid, receiving 10 seats and less than 8 per cent of the vote.
Naming Yolanda Díaz, the Labour Minister who replaced him as deputy prime minister, as his successor, Iglesias said he was "proud of having led a political project that has changed the history of our country... Nobody could have imagined what we have achieved in seven years."
He added: "When you stop being useful, you have to know how to withdraw."
While still short of an outright majority, the PP could turn to the far-right Vox party to join a coalition and play a decisive role in the Spanish capital. Vox gained one additional seat in yesterday's vote, bringing its total in the regional assembly to 13.
Speaking at a press conference Tuesday, Vox leader Santiago Abascal said his party would continue to push back against social distancing regulations in Spain and "any decision that impedes Madrid residents from living freely and recovering their prosperity".
The vote was the first election to take place in Madrid since the beginning of the coronavirus pandemic. Madrid has suffered the worst recorded COVID-19 death toll of the country's 17 regions, with some 15,000 deaths out of a total of 78,000 in all of Spain.
Strict sanitary measures were in place at the polling stations, where voters were given a second mask that they had to put on while casting their vote.