Russia, Myanmar, Iran and COVID on agenda as G7 foreign ministers meet in London
Comments
By Euronews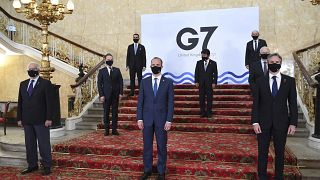 -
Foreign ministers from the G7 countries are meeting in person for the first time in nearly three years on Tuesday to discuss how to address global issues including the COVID-19 pandemic and authoritarian regimes.
On the agenda of the three-day meeting — chaired by the UK and held in London — are climate change, Iran, China, Ukraine, Russia, disinformation and rule of law.
Discussions will start with Myanmar. Britain said in a statement that it will urge the other countries "to take stronger action against the military junta" by expanding targeted sanctions and increasing humanitarian assistance.
Ministers will then turn their attention to the situation in Libya, the ongoing war in Syria, the events unfolding in Ethiopia, the Sahel and Western Balkans.
"The foreign ministers will also discuss Russia's ongoing malign activity including through the build-up of troops on the border with Ukraine, and its imprisonment of opposition figure Alexei Navalny and the situation in Belarus," the UK statement also said.
The G7 is an international organisation that contains some of the world's most advanced economies, including France, Germany, Italy, Japan, the United States, the United Kingdom, and Canada.
'Democratic values and open society'
British Foreign Secretary Dominic Raab and US State Secretary Anthony Blinken highlighted the group's "shared values" during a bilateral meeting on Monday.
"What we are trying to do is to uphold the international rules-based order that our countries have invested so much in over so many decades to the benefit, I would argue not just of our own citizens, but of people around the world," US Secretary of State Antony Blinken said at a press conference on Monday.
Blinken called for G7 countries to defend "democratic values and open society", countering threats posed by Russia and China.
"I do see the increasing demand and need for agile clusters of like-minded countries that share the same values and want to protect the multilateral system and I think you can see that in the guests that we brought into the G7," Raab said.
Representatives from India, Australia, South Korea, South Africa, and the Chair and Secretary-General of the Association of Southeast Asian Nations (ASEAN) will join the meetings, as will the European Union top diplomat, Josep Borrell.
German Foreign Minister Heiko Mass said in a statement before the meeting that it was "high time" they meet in person.
"Unfortunately, the world has not stood still during the last three years. Those who want to reshape the global order to reflect very different values have not waited for us.
"However, we cannot win this competition with commitments alone. Above all, we have to make the better offers," he continued, citing G7 actions regarding the global COVID-19 vaccine rollout and climate change mitigation.