Red Brigades: Ex-members of Italian left-wing terrorism group in court in France
Comments
By Euronews with AP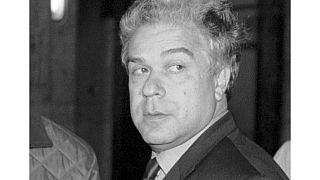 -
Copyright

Luca Bruno/AP
Nine Italian fugitives including five former members of the Red Brigades were due in a Paris court on Wednesday for an extradition hearing.
Seven of the detainees, who are in their 60s and 70s, were arrested in their homes in France on Wednesday, April 28, in connection with terror offences committed decades ago in Italy.
Two more turned themselves in the next day and one person is still being sought by French police.
All 10 were convicted in Italy of crimes dating back to the 1970s and 80s. The Red Brigades was a left-wing militant group active during the so-called Years of Lead, when Italy was bloodied by repeated acts of terror by the extreme right and the extreme left.
When the Red Brigades fell dormant, many of its members and supporters fled the country and took refuge in neighbouring France before they could be brought to trial.
Who are the fugitives in the Red Brigades extradition case?
One of those facing extradition is Giorgio Petrostefani, 77, a militant from the far-left group Lotta Continua (The Struggle Continues), who was convicted of the 1972 killing of Milan's then-police chief, Luigi Calabresi.
Calabresi had been leading the interrogation of Giuseppe Pinelli, a suspected anarchist, about the 1969 bombing of a Milan bank that killed 17 people, when he was shot dead while walking to his car. Petrostefani faces up to 22 years in prison in connection with the crime.
Also arrested was Marina Petrella, 66, who was sentenced to life in prison in Italy on being convicted of crimes including the murder of a Carabinieri paramilitary police general in Rome on New Year's Eve 1980 and the abduction of a judge in the Italian capital a few weeks earlier.
Several other members of the group were also convicted for their roles in the murders of Italian law enforcement officers. Narciso Manenti, 63, from the Armed Cells Against Territorial Power, was convicted of the 1979 killing of a Carabinieri police officer and sentenced to life in prison. Italian police said he married a French citizen in 1985.
'Years' to go before Italian leftists' fates will be decided
The arrests in April were seen as a much-needed step to address a long-standing dispute between Rome and Paris over the fates of the fugitive terror group members.
Under a 1980s policy known as the Mitterrand doctrine, named after former Socialist President Francois Mitterrand, France refused to extradite Italian far-left activists who had fled to France unless there was evidence that they had committed "crimes of blood".
Italy has sought the extradition of around 200 convicted activists believed to be in France over the years. After protracted negotiations, France agreed this year to seek the arrests of 10 people convicted of particularly grave crimes.
When the arrests were announced, Italian Prime Minister Mario Draghi expressed his "satisfaction at France's decision to launch the legal proceedings requested by Italy".
The government added: "Those [arrested are] responsible for very serious terrorist crimes, which have left a wound that is still open. The memory of those barbaric acts is alive in the conscience of Italians."
Despite this, the Wednesday hearing is a first step in what could be a two- or three-year process to determine whether to send them to Italy. The Paris court must decide whether to approve the extradition of each person in turn.
Mario Calabresi, a prominent Italian journalist and son of the murdered Milan police chief, tweeted last week that the arrests established "a fundamental principle: there mustn't exist free-zones for those who kills."
But he added: "I can't feel satisfaction in seeing an old and sick person in prison after so much time."