Techniques may change, but human qualities remain key during earthquake rescue operations
Comments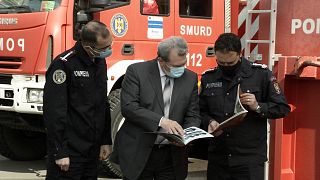 -
In central Bucharest, a brigade of firefighters is busy training on how to intervene in the case of an earthquake.
Joining the exercise is retired General Aurel Udor, a former commander of the unit. He intervened in the deadly 1977 earthquake in the Romanian capital, when nearly 1,600 people died and some 33,000 buildings in the city were destroyed or damaged.
He says that while technical resources have improved, the human demands on rescuers remain unchanged.
"Firstly, the firefighter has to have a lot of self-control because the emotions he's going through in the moment can affect him deeply," says General Udor. "But the reason why he is there is to save human lives and, in that sense, every single move he makes has to be such that he doesn't endanger the survivors by pulling a beam or part of a wall and so on.
"We didn't have many means back then in1977 ... the technical resources were scarce. And so, you had to use your bare hands, a shovel or an axe to bring down a wall so you can get through and save the person in danger.
"Without doubt, you will find victims and even victim parts. This creates a very particular feeling. In that situation, the firefighter has to get all his inner resources together to face such an emotion."