Bulgarian PM Borissov set for tough coalition talks after splintered election
Comments
By Euronews with AP, AFP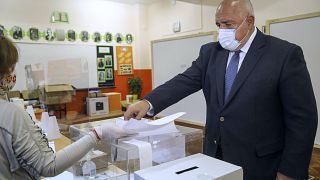 -
Copyright

GERB Party via AP
Bulgarian Prime Minister Boyko Borissov's centre-right GERB party was leading results of the country's parliamentary election on Monday with an estimated 26% of the vote, the central electoral commission said.
But the three-time premier lost ground to protest parties amid accusations of endemic corruption. In comparison, his party had secured 33.5% of seats at the 2017 election.
Bulgarians voted Sunday in a parliamentary election widely seen as a referendum on Borissov after months of anti-government protests and amid a surge in coronavirus infections.
With 93% of ballots counted, populist party There is Such a People (ITN) led by TV entertainer Slavi Trifonov came in second with 17.9%. The Socialist Party that had so far been the largest opposition party was in third place with 15%.
Parties that took to the streets last summer also did well, with liberal anti-corruption group Democratic Bulgaria receiving 9.7% support and and "Stand up! Mafia out" (left) expected to enter parliament for the first time with 4.8% of the vote.
The ethnic Turkish MRF party, once a kingmaker in a number of previous governments, garnered only 9.9%.
VMRO nationalist party, which was part of the current government coalition, did not reach the 4% threshold to enter parliament.
'Difficult situation'
The fragmented results suggested that Borissov would face complex coalition talks to secure his fourth term -- and possibly even another election in the fall in case of prolonged political deadlock.
Petar Bankov, a postdoctoral researcher at the University of Glasgow, told Euronews the splintered parliament put Borissov "in a difficult situation," noting that the current coalition with VMRO could not be reconducted.
"It's not impossible though," Bankov said of Borissov's chances to lead the next government, noting that the highly experienced politician had "always been able to find solutions to forge coalitions" in the past.
Another option would be for Trifonov to try his luck at forming a coalition.
"Trifonov has declared he was open to working with Stand up! Mafia out!," Bankov said but noted the two parties alone didn't have enough seats alone to form a government. "So they would need other parties too."
An alliance with Democratic Bulgaria would be a difficult task, Bankov said, given the sociology of its middle-class electorate, contrasting with ITN's voters who tend to be emigrants from more humble backgrounds, but also younger people.
"Democratic Bulgaria has not denied the possibility of working with ITN, but such cooperation between the two would be a hard pill to swallow for Democratic Bulgaria voters who hold very unfavourable views of Trifonov," Bankov said.
"It would be difficult to not involve either GERB or the Socialist Party in a potential government coalition. So even if Trifonov gets the opportunity to form a government, the support from Stand Up! Thugs Out! and Democratic Bulgaria would not be enough."
In this context, new elections in the fall coinciding with the presidential election appeared to be a very likely option, the expert told Euronews.
'Europe watches us'
Reacting to initial results, Borissov pitched himself as a leader representing stability.
"You won't make it on your own... let's unite," he said in a live broadcast on Facebook Sunday night.
He also suggested a cabinet of experts "to get out of the pandemic."
"Europe watches us. If there is no political stability here you can be certain that nothing will work out -- neither the EU funds, nor the plan for recovery, or the Green deal," Borissov said.
Bankov noted that prolonged political instability in Bulgaria could pose a challenge to the implementation of the EU recovery plan designed to support Member States in the face of the coronavirus pandemic.
"If a government cannot be established, then most probably Bulgaria would not be able to take advantage of the recovery fund because the plan needs to be approved not only by the parliament but also by the government," the expert told Euronews.
Bankov also said that the absence of the nationalist party in parliament could potentially lead the future government to moderate its stance on North Macedonia's EU accession talks. The current coalition had vetoed the opening of negotiations last year.
Turnout higher than expected
While many feared a very low turnout due to coronavirus anxiety and the absence of postal or proxy voting, participation was higher than expected.
"The vote was marked by a mobilisation of urban voters and young people," said Boriana Dimitrova, director of the Alpha Research Institute on Bulgarian television.
Polling stations had also been set up in hospitals and mobile ballot boxes were made available to families in quarantine.
'Work, work, work'
Borissov has led the populist GERB party since its founding in 2006 and has ruled Bulgaria with an iron grip for most of the last 11 years.
"I have always taken into account what the people decide ... Let the elections be honest," Borissov was quoted as saying after he cast his ballot without reporters present due to pandemic restrictions.
Borissov has avoided contact with journalists since the protests started in July, instead relying on social media to broadcast his almost daily campaign stops at construction sites while promoting his party's slogan: "Work, work, work."
Support for Borrissov has eroded since thousands took to the streets and accused the government of being influenced by oligarchs, failing to eliminate graft and poverty and failing to overhaul the judicial system.
President Rumen Radev, a vocal critic of Borissov, urged Bulgarians to turn Sunday's election into the first step toward a return to laws and rules.
"I voted against the collapse of statehood, lawlessness and corruption and for a free, just and prosperous Bulgaria," he said Sunday after voting.
Some 6.7 million eligible voters were electing 240 lawmakers.
Bulgaria, which joined NATO in 2004 and the European Union in 2007, has been repeatedly criticised for corruption and deficiencies in the rule of law and media freedom.
But Borissov on Sunday trumpeted the country's ties with the West.
"The immense support we received from our counterparts in Europe shows the importance of a stable European government in Bulgaria," he said.