Nuclear weapons ban welcomed, but no nuclear power has signed up
Comments
By Euronews with AFP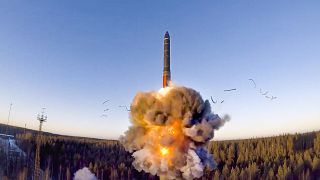 Copyright

AP/Russian Defense Ministry Press Service

-
An international treaty banning nuclear weapons came into force on Friday - but was not signed by any country that possesses or hosts nuclear weapons.
Hailed by humanitarian groups such as the International Committee of the Red Cross as a "victory for humanity", the The Treaty on the Prohibition of Nuclear Weapons has been signed by 86 states and ratified by 51.
It is more of a symbolic step towards ridding the world of nuclear weapons however, with the nine nuclear-armed countries and all members of NATO not signing up.
"The Treaty represents an important step towards a world free of nuclear weapons and demonstrates the strong support for multilateral nuclear disarmament initiatives", the UN Secretary General, Antonio Guterres, stressed in a statement.
This is the "first multilateral nuclear disarmament treaty concluded in more than 20 years", he added, calling on "all states to work together to (...) advance collective security and safety".
The treaty bans the use, development, production, testing, stationing, stockpiling and threat of use of nuclear weapons.
It is the "first legally binding instrument to explicitly prohibit these weapons, whose use has an indiscriminate impact, affects a large number of people in a short period of time and causes very long-term damage to the environment," the Pope also said this week.
"I strongly encourage all States and individuals to work with determination to promote the conditions necessary for a world without nuclear weapons, helping to advance the peace and multilateral cooperation that humanity so badly needs today," he added.
On 24 October, a 50th country ratified the treaty approved by some 100 states, allowing it to be implemented 90 days later.
Even without the signature of the main holders of the atomic weapon, the pro-abolition activists hope that it will be more than symbolic, stigmatize its holders and push them to change their mentality.
The United States and Russia hold 90% of the world's nuclear weapons, with China, France, the UK, India, Pakistan, Israel and North Korea holding the rest.
Most countries maintain their weapons serve as a form of deterrent and say they are committed to the Non-Proliferation Treaty, which is intended to stop the spread of the weapons to other countries.
The Treaty banning nuclear weapons was established at the initiative of the International Campaign to Abolish Nuclear Weapons (ICAN), an NGO awarded the Nobel Peace Prize in 2017.
Japan, the only country to have suffered nuclear fire, has ruled out signing it for the time being and questioned its effectiveness since the atomic powers are not adhering to it.