US and Russia extend nuclear weapons pact just before expiration
Comments
By Euronews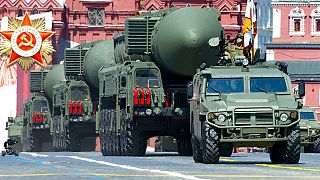 -
US President Joe Biden has formally agreed to extend a 2011 nuclear weapons treaty with Russia. It's another turn-around from the Trump Administration that had imposed conditions on renewing the pact, including getting China to also sign up.
The agreement prolongs by five years the two countries' last remaining arms treaty, which limits their stockpiles of nuclear weapons. It comes two days before the pact was set to expire.
The New Strategic Arms Reduction Treaty (New START Treaty), imposes limits on Russian and US intercontinental missiles and bombers, but does not cover new types of weapons.
"Extending the New START treaty for five years ensures we have verifiable limits on Russian ICBMs [intercontinental ballistic missiles], SLBMs [submarine-launched ballistic missiles] and heavy bombers through February 4th of 2026, avoiding a potentially unconstrained nuclear arms race," Ned Price, spokesperson for the US Departement of State, told reporters.
The treaty was originally signed in 2010 by US President Barack Obama and his Russian counterpart, Dmitry Medvedev.
Its later ratification was part of a series of commitments between the two former Cold War adversaries.
Since then, the Trump administration has pulled out of two other such deals, as part of a broad withdrawal from international accords.
Both sides, however, last week announced plans to extend the agreement, even as the Biden Administration stepped up criticism of Russia over several issues including its involvement in a massive hack of US government agencies and the jailing of opposition leader Alexei Navalny.