Julian Assange: Lawyers to ask judge for WikiLeaks founder's release from prison
Comments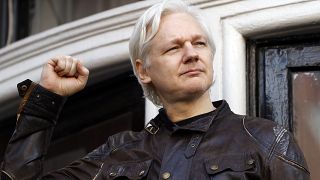 -
Copyright

Frank Augstein/AP
Lawyers representing Julian Assange are set to ask for their client's release on bail after winning the first hurdle of his extradition case.
The WikiLeaks founder has been in Belmarsh Prison in London for the past 18 months after being evicted from the Ecuadorian Embassy, where he sought asylum for seven years.
On Monday, District Judge Vanessa Baraitser ruled the 49-year-old should not be extradited to the United States to face charges of espionage due to mental health concerns - and now his lawyers are set to ask for his release.
The hearing will be held on Wednesday, where his team will reportedly argue that Assange will not skip bail, while pointing out the levels of COVID-19 in Belmarsh.
In the meantime, the US will be preparing it's appeal against the decision to block extradition.
Baraitser upheld many of the extradition arguments from lawyers representing the US, but ultimately found in favour of the Australian because of concerns that he would take his own life in an American solitary confinement prison.
The 49-year-old is said to have experienced suicidal ideation while in Belmarsh and has been diagnosed with autism spectrum disorder and depression.
Baraitser said she accepted these diagnoses, adding that Assange appeared to be a "depressed and sometimes despairing man" who would be at real risk if sent to to the US. She also noted that Assange had the "intellect and determination" to circumvent suicide protection measures.
The US has long wanted to extradite the Wikileaks founder to face 17 charges of espionage and one of computer misuse in relation to publishing secret military documents of wrongdoing during the wars in Afghanistan and Iraq. Such charges carry a total of up to 175 years in prison.
In her upholding of the US lawyers' arguments, including those of the protections referring to freedom of speech and the press, she maintained that Assange's actions had gone beyond that of a journalist.
She also maintained he would be subject to a fair trial in the US - something the defence team argued would be unlikely.
Monday's decision marks the passing of the latest hurdle in the Australian's decade-long quest for freedom.
In 2012, Assange moved into the Ecuadorian Embassy in London to skip bail on another extradition request regarding a rape charge in Sweden. He was evicted and taken to Belmarsh in April 2019 - nearly seven years later - and is where he remains today. Sweden dropped the rape case in November 2019.
It is believed, if extradited to the US and convicted, Assange would be placed in solitary confinement in the notorious ADX Supermax prison in Colorado - home to the likes of Unabomber Ted Kaczynski and Mexican drug lord Joaquin "El Chapo" Guzman.
Tim Dawson, a member of the national executive council for the National Union of Journalists (NUJ) told Euronews on Monday that Assange's treatment has also led to wider concerns about freedom of the press.
"The charges he was facing essentially related to activities that were broadly speaking journalistic and our concern was that if he were successfully prosecuted it would set a precedent that would endanger journalists all over the world," he said.
"So the fact that he won't know face those charges unless the appeal is successful, is enormously heartening and very good news."
To listen to the full interview please click on the icon player above.