'He's absolutely stuck': UK PM skewered ahead of Brexit dinner date
Comments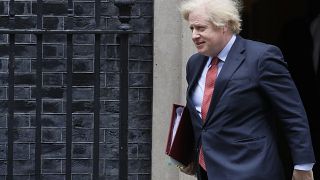 Copyright

Kirsty Wigglesworth/AP Photo

-
UK Prime Minister Boris Johnson answered questions from fellow MPs on Wednesday ahead of a meeting later in the day with EU chief Ursula von der Leyen.
The get-together over dinner in Brussels is aimed at breaking the long-running deadlock over agreeing a post-Brexit trade deal. 
Johnson told MPs "a good deal is still there to be done".
But Sir Keir Starmer, leader of the main opposition party, Labour, criticised the prime minister for not delivering on his "oven-ready deal", which he promised during the run-up to last year's general election.
"He told the British people that the chances of no-deal were absolutely zero," said Starmer, who participated in the session remotely after coming into contact with someone who later developed COVID-19.
"He is absolutely stuck. This is the truth of it," added Starmer. "He's absolutely stuck and dithering between the deal he knows we need and the deal he knows his backbenchers won't approve."
Johnson remained positive about the outcome for the UK ahead of Wednesday's meeting with Von der Leyen. 
"I have absolutely no doubt that from January 1, this country is going to prosper," he told the House of Commons.
"We will be taking back control, of our money and our borders and our laws and we will seize all the opportunities that Brexit brings," said Johnson.
Scotland upset by EU trade agreements
Meanwhile, tensions ran high with Scottish MPs.
Johnson was asked why Northern Ireland will enjoy access to the EU's single market after Brexit while Scotland was "denied" that chance.
Ian Blackford, leader of the Scottish National Party (SNP), said it was "unfair and damaging to deny Scotland's access to the EU single market," saying the PM was "ready to sell-out Scotland's interests".
Johnson responded by saying that Scotland will "take back control of colossal quantities of fish".
These disagreements triggered questions from SNP MPs about the prospect of a Scottish referendum on independence. MP Peter Wishart drew the PM's attention to fifteen polls which voted in favour of Scottish independence from the UK.
Johnson closed off this conversation by saying that the 2014 vote for independence, where Scotland voted to remain in the UK for independence "was a once in a generation event." But SNP leaders continue to demand another referendum.
Vaccine rollout celebrated
Despite tensions about Brexit in the Commons on Wednesday, MP's were united in celebrating the official rolling out of the coronavirus vaccine.
The first person to receive the Pfizer-BioNtech vaccine outside of clinical trials was 91 year-old Margaret Keenan in Coventry on Tuesday.
"This is a fantastic moment for all of us in this house," said the PM, who witnessed the first doses of the vaccine being administered at St Thomas' Hospital in London on Tuesday.