G20 leaders call for worldwide coordinated response to COVID-19 pandemic
Comments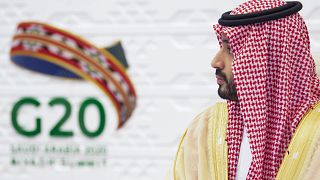 -
Copyright

AFP PHOTO / SAUDI ROYAL PALACE / BANDAR AL-JALOUD
G20 leaders reaffirmed their commitment to providing "equitable" access to COVID-19 "therapeutics and vaccines" for all, as the annual meeting came to a close on Sunday.
The coronavirus pandemic took centre stage in the talks. Leaders attended virtually for safety measures, though the event was officially hosted by Saudi Arabia.
The COVID-19 pandemic had an "unprecedented impact in terms of lives lost, livelihoods, and economies affected", said a joint statement released at the end of the two-day event.
"We will continue to spare no effort to protect lives, provide support with a special focus on the most vulnerable, and put our economies back on a path to restoring growth, and protecting and creating jobs for all".
EU calls for more funding and cooperation
EU Commission president Ursula Von der Leyen said she was "glad" that "G20 leaders agreed to make COVID-19 vaccines available and affordable for all, but stressed that "more funding was needed", as she called on G20 Leaders to pledge $4.5 billion for the ACT-Accelerator "by the end of the year".
EU Commission president Charles Michel warned that this pandemic may not be the last, as he called for an "international Treaty on Pandemics" to help improve the global community's response, adding however that the WHO remains the "cornerstone of global coordination against health emergencies."
German Chancellor Angela Merkel, however, said on Sunday she was "worried" about the slow pace of the discussions aiming to provide a COVID-19 vaccine to the poorest nations.
Speaking during the G20 conference, Russian president Vladimir Putin said his country "supports the key decision of this summit, the project directed at ensuring access to effective and safe (COVID) vaccines to all.
"Without a doubt", he added, "immunisation drugs should be the property of all of humanity. Our country of Russia is ready to provide countries in need with vaccines developed by our scientists".
Putin's thoughts were echoed by the Italian Prime Minister, Giuseppe Conte, but he widened the subject, calling for a broader coordinated response to manage the pandemic.
"We need targeted investments aimed at the struggling healthcare systems worldwide while supporting environmental and social resilience and avoiding further economic disruption," he explained, adding "It's a daunting task, but Italy is ready to play its part".
Talks also focused on climate change
The G20 leaders pledged to "strengthen" their actions to protect the marine and terrestrial environment ahead of the Conference of the Parties (COP15).
They also announced the launch of a "Global Coral Reef R&D Accelerator Platform to conserve coral reefs", as well as a "Global Initiative on Reducing Land Degradation and Enhancing Conservation of Terrestrial Habitats to prevent, halt, and reverse land degradation".
In a press release that followed the event, the EU "urged all G20 members to work towards the full and effective implementation of the Paris Agreement".
US President Donald Trump however defended his withdrawal from the treaty, saying "it was not designed to save the environment", but to "kill the American economy".
"I refuse to surrender millions of American jobs and send trillions of American dollars to the world's worst polluters and environmental offenders, and that's what would have happened," he said during the summit on Sunday.
Virus still sweeping across the world
Meanwhile, coronavirus shows no signs of abating as major cities in the US and Europe bring back lockdowns and curfews. The World Health Organization (WHO) says more cases of COVID-19 have been reported in the past four weeks than in the first six months of the pandemic.
A day before the summit, UN Secretary-General Antonio Guterres said that while $10 billion (€8.43 billion) has been invested in efforts to develop vaccines, diagnostics and therapeutics, another $28 billion (€23.62 billion) is needed for mass manufacturing, procurement and delivery of new COVID-19 vaccines around the world.
He called on more G20 nations to join COVAX, an international initiative to distribute COVID-19 vaccines to countries worldwide.
The United States has declined to join under Donald Trump, who said COVAX was ``influenced by the "corrupt WHO and China".
There have been raised voices over Saudi Arabia hosting the conference given accusations over its human rights record, but leaders' comments so far have shown the COVID-19 pandemic remains the overriding priority.