Protests turn violent after Donald Trump supporters descend on Washington in election protest
Comments
By Euronews with AP, AFP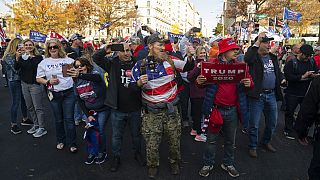 Copyright

Evan Vucci/Copyright 2020 The Associated Press. All rights reserved

-
Donald Trump's supporters staged a rally in Washington D.C. on Saturday more than ten days since the country's election and having yet to concede to Joe Biden, who won the November 3 poll by flipping a number of states from Republican to Democrat.
Thousands of protesters converged on the city's Freedom Plaza, many chanting "USA", "Four more years" and "Stop the Steal", in spite of a lack of evidence of voter fraud or other problems that could reverse the result. They cheered as Trump passed through the protest in his presidential motorcade.
Later, nighttime clashes with counter-demonstrators sparked fistfights, at least one stabbing and at least 20 arrests.
Several other cities on Saturday also saw gatherings of Trump supporters unwilling to accept Democrat Joe Biden's Electoral College and popular vote victory as legitimate.
Relatively peaceful protest turns violent
The "Million MAGA March" — after the president's "Make America Great Again" slogan — was heavily promoted on social media. There had been concerns that it could spark conflict with anti-Trump demonstrators who have gathered near the White House in Black Lives Matter Plaza for weeks.
Videos posted online showed fistfights, projectiles and clubs as the two groups clashed. The tensions extended to Sunday morning. Police said two officers were injured and several firearms recovered, adding that a variety of charges have been filed against those arrested.
The marchers included members of the Proud Boys, a neo-fascist group known for street brawling with ideological opponents at political rallies.
After repeating his evidence-free claim of widespread voter fraud, Donald Trump fired a volley of Tweets in the early hours attacking his opponents, left-wing demonstrators and the mainstream media.
Earlier in the day, the protests in Washington were relatively peaceful despite several confrontations between pro and anti-Trump demonstrators.
"President Trump deserves to see who is behind him, to feel the love we have for him," Kris Napolitana, 50, from neighboring Baltimore told AFP.
Pam Ross, who drove over eight hours from Ohio, said: "They are trying to propel Joe Biden to power as quickly as possible because they know that the theft of the election will eventually be proven."
There were more protests in states such as Florida, Michigan — where results that showed Biden winning the state by more than 140,000 votes — Arizona and Oregon.
A flurry of legal claims by the Trump team in several states has made little headway. More lawsuits were thrown out of court on Friday and his team dropped a claim in Arizona.
A broad coalition of top government and industry officials has declared that the November 3 voting and the following count unfolded smoothly with no more than the usual minor hiccups. A Department for Homeland Security cybersecurity unit declared the vote "the most secure in American history," repudiating Trump's efforts to undermine the integrity of the contest.
No concession
Trump spoke on Friday for the first time since his defeat to Biden, which he has refused to acknowledge.
During a press conference on the U.S.'s response to a surge in coronavirus cases in recent days, the president said: "This administration will not be going to a lockdown. Hopefully whatever happens in the future, who knows, which administration it will be, I guess time will tell."
Only a handful of Republicans have accepted Biden's victory, despite the former vice-president's wins in the crucial swing states of Pennsylvania and Georgia taking him to 306 electoral college votes, far more than Trump's 232 and comfortably over the 270 that is needed to be elected president.
The Trump campaign has lodged a number of lawsuits, most of which have already been dismissed by judges, and alleged widespread voter fraud without presenting any evidence. Mike Pence, the current vice president, said Friday that the administration "would fight for an outcome [that] wins us four more years."
The U.S. is now in uncharted political territory. Although there was a legal battle over the presidency in 2000 between Al Gore and George W. Bush - which was eventually decided by the Supreme Court in Bush's favour - that dispute was over fewer than 500 votes in a single state, Florida.
By comparison, Biden's lead in the states where Trump is demanding recounts or alleging fraud is tens of thousands of votes.
The issues that Trump's campaign and its allies have pointed to are typical in every election: problems with signatures, secrecy envelopes and postal marks on mail-in ballots, as well as the potential for a small number of ballots miscast or lost. Given the wide margins by which Biden leads Trump in those key battleground states, none of those issues would have any impact on the outcome of the election.
Transition fears
Former President Barack Obama has hit out at senior Republicans for playing along with Donald Trump's baseless claims of fraud, saying they should "know better" and accusing them of going down a "dangerous path" of helping to undermine democracy.
The General Services Administration (GSA), an umbrella federal agency, has held off on recognizing Biden as the president-elect, denying him access to the money, offices and machinery routinely afforded to the incoming team.
Biden has also been denied the classified briefings that previous presidents shared with presidents-elect, sparking fears that the next administration may be ill-prepared to deal with national security issues when it takes office.