Hungarian students blockade university in protest against Orban reforms
Comments
By Euronews with AFP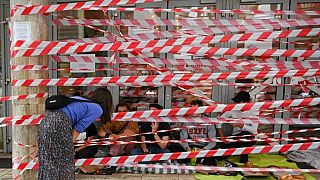 -
Copyright

ATTILA KISBENEDEK / AFP
Students in Hungary have been blockading the main entrance of a university since Tuesday morning over a government reform they fear will undermine its academic autonomy.
The heads of the University of Theatre and Film Arts (SZFE) quit on Monday over recent management changes brought in by Viktor Orban's government.
Rectors and department leaders at the 155-year-old state-run establishment resigned when the law, passed earlier this year, switched the ownership of the university from the state to a private foundation.
One of the most prominent teachers to resign her post is Ildikó Enyedi, a well-known filmmaker and a winner of the Berlin International Film Festival in 2017 with her film "On Body and Soul".
Protesting students and faculty believe the government wants to gain control over the university, reports Hungarian news website merce.hu.
Students at SZFE have drawn up a list of 13 demands before they will allow the university to function, which include academic autonomy, the resignation of the current board, and that the state continues to fund the university.
The foundation is run by a board headed by conservative theatre director Attila Vidnyanszky who is seen as close to Prime Minister Orban.
Hundreds of students have joined protests against the reforms, which put Vidnyanszky, the director of Hungary's National Theatre, in charge.
Students hung banners that read "We do not keep quiet" and "Free SZFE" as they taped up the main entrance the building in Budapest on Tuesday morning as part of a sit-in that has lasted at least three nights.
The speed of the changes to the ownership and structure of the university was rapid, with the university's management only learning about it in the press.
A similar transformation had taken place at Corvinus University, which is now also headed by the foundation. Over the summer, six more universities were restructured in this way.
Freedom of the press
Similar protests have taken place regarding the freedom of the press in Hungary recently.
The editors and scores of journalists at Hungary's leading independent journalism website Index.hu resigned at the end of July over the dismissal of their editor-in-chief.
The 80 journalists who resigned alleged in a statement the dismissal "is a clear interference in the composition of our staff, and we cannot regard it any other way but as an overt attempt to apply pressure".
"The editorial board deemed that the conditions for independent operation are no longer in place and have initiated the termination of their employment."
Under Orban's rule, critics say public media has become a relay of government policy, with those close to the government buying up large parts of the private media sector.
These transformations contributed to the triggering, at the end of 2018, of an exceptional procedure for risk of "serious violation" of the values of the European Union (EU).