Dutch writer Marieke Lucas Rijneveld wins International Booker Prize
Comments
By Euronews with AP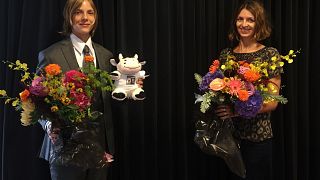 Copyright

International Booker Prize

-
Dutch poet and writer Marieke Lucas Rijneveld has become the youngest person ever to win the International Booker Prize.
Rijneveld's novel, The Discomfort of Evening, is about a devout Christian family that lives in a Dutch rural community.
At 29, Rijneveld is the youngest recipient of the award, with the 55,000 euro prize split between Rijneveld and translator, Michele Hutchison.
The novel was described as "a tender and visceral evocation of a childhood caught between shame and salvation" by Ted Hodgkinson, the chair of the judging panel.
The International Booker Prize, which is separate to the Booker Prize, is awarded annually to a book that has been translated into English.
This year the judges considered 124 books, translated from 30 languages.
By kind courtesy of publishers Faber, here is an extract from the novel.
----
I was ten and stopped taking off my coat. That morning, Mum had covered us one by one in udder ointment to protect us from the cold. It came out of a yellow Bogena tin and was normally used to prevent dairy cows' teats from getting cracks, calluses and cauliflower-like lumps. The tin's lid was so greasy you could only screw it off with a tea-towel. It smelled of stewed udder, the thick slices I'd sometimes find cooking in a pan of stock on our stove, sprinkled with salt and pepper. They filled me with horror, just like the reeking ointment on my skin. Mum pressed her fat fingers into our faces like the round cheeses she patted to check whether the rind was ripening. Our pale cheeks shone in the light of the kitchen bulb, which was encrusted with fly shit. For years we'd been planning to get a lampshade, a pretty one with flowers, but whenever we saw one in the village, Mum could never make up her mind. She'd been doing this for three years now. That morning, two days before Christmas, I felt her slippery thumbs in my eye sockets and for a moment I was afraid she'd press too hard, that my eyeballs would plop into my skull like marbles, and she'd say,
'That's what happens when your eyes are always roaming and you never keep them still like a true believer, gazing up at God as though the heavens might break open at any moment.' But the heavens here only broke open for a snowstorm – nothing to keep staring at like an idiot.
In the middle of the breakfast table there was a woven bread-basket lined with a napkin decorated with Christmas angels. They were holding trumpets and twigs of mistletoe protectively in front of their willies. Even if you held the napkin up to the light of the bulb you couldn't see what they looked like – my guess was rolled-up slices of luncheon meat. Mum had arranged the bread neatly on the napkin: white, wholemeal with poppy seeds, and currant loaf. She'd used a sieve to carefully sprinkle icing sugar onto the crispy back of the loaf, like the first light snow that had fallen onto the backs of the blazed cows in the meadow before we drove them inside. The bread-bag's plastic clip was kept on top of the biscuit tin: we'd lose it otherwise and Mum didn't like the look of a knot in a plastic bag.
'Meat or cheese first before you go for the sweet stuff,' she'd always say. This was the rule and it would make us big and strong, as big as the giant Goliath and as strong as Samson in the Bible. We always had to drink a large glass of fresh milk as well; it had usually been out of the tank for a couple of hours and was lukewarm, and sometimes there was a yellowish layer of cream that stuck to the top of your mouth if you drank too slowly. The best thing was to gulp down the whole glass of milk with your eyes closed, something Mum called 'irreverent' although there's nothing in the Bible about drinking milk slowly, or about eating a cow's body. I took a slice of white bread from the basket and put it on my plate upside down so that it looked just like a pale toddler's bum, even more convincing when partly spread with chocolate spread, which never failed to amuse me and my brothers, and they'd always say, 'Are you arse-licking again?'