Belarus: Tens of thousands protest in Minsk as Lukashenko rejects election rerun
Comments
By Euronews with AFP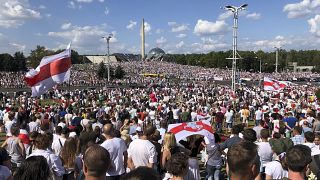 -
Copyright

Sergei Grits/AP Photo
Tens of thousands of protesters in Belarus gathered at a March for Freedom in the country's capital on Sunday amid widespread demonstrations over the disputed reelection of authoritarian President Alexander Lukashenko.
Droves of people turned up for the march, waving flags and chanting. Cars passing by on the streets honked at people gathered in what some present said appeared to be one of the largest demonstrations since the beginning of the protest movement.
"Today is historic for our country. There are a lot of people in the streets and I am proud of my country," said 21-year-old Ivan, who attended the march in Minsk.
"I do not think that Lukashenko has a long time left. Because there has never been such big support against him. This is history. And I don't think that he will be able to cope with it," he added.
Nearby, at a separate pro-government rally, Lukashenko addressed thousands of supporters and asked them to protect the country, rejecting calls for an election rerun.
It comes a day after Lukashenko spoke with Russian President Vladimir Putin as unrest continued in the wake of the presidential election.
Lukashenko was re-elected for a sixth time on August 9, in a vote the opposition, protesters, and independent observers have said was rigged.
His reelection was met with widespread protests, the biggest the country has seen in many years, which were met with violent repression by Belarusian authorities.
Ivan said he still has friends who are suffering in prison.
Twenty-four-year-old Katya, who was also present at the freedom march on Sunday said protesters would not respond with violence and were not duped by the government.
"When he stopped the Internet, it was like he thought that it would stop us, but we are a nation with bright people... you can't stop us like that. We just find a way around it and we will continue to be smarter," she said.
President claims that foreign powers are interfering
Lukashenko has claimed foreign powers are interfering in the country, and warned that Russia was also in danger. He has now spoken to his Russian counterpart, with the Kremlin announcing the two had discussed the situation.
"Both sides expressed confidence that all existing problems will be settled soon. The main thing is to prevent destructive forces from using these problems to cause damage to mutually beneficial relations of the two countries within the Union State," said a statement on the Kremlin website.
The president of Belarus tried to put on a show of strength Sunday, holding a rally with tens of thousands of supporters, just as the much larger opposition rally was taking place only a few kilometres further.
The 65-year-old president claimed Sunday that Western powers were gathering military units in countries along Belarus' western borders and denounced suggestions by some Western nations that Belarus should repeat the Aug. 9 presidential vote.
NATO spokeswoman Oana Lungescu dismissed the president's claim about troops gathering, tweeting that there is no NATO buildup in the region.
"NATO's multinational presence in the eastern part of the Alliance is not a threat to any country," Lungescu said. "It's strictly defensive, proportionate & designed to prevent conflict & preserve peace."
Meanwhile, Lukashenko has rejected the possibility of foreign mediation, proposed in particular by Poland and two Baltic countries.
"We don't need any foreign government, we don't need any mediator," Lukashenko told a government meeting on Saturday, quoted by the state agency Belta. On Wednesday, Latvia, Lithuania and Poland had proposed a mediation plan to set up a "national council" to resolve the ongoing political crisis.
Disputed election
State agency Belta reported on Monday Lukashenko won 80.23% of the vote, while his main opponent Sviatlana Tsikhanouskaya, a former teacher, received just 9.9%.
She has now fled to Lithuania, from where she has called for mass peaceful protests in all major cities of Belarus, as she accused the authorities of creating a "bloodbath".
Her husband, a former presidential candidate, was imprisoned during the election campaign.
There have been accusations that peaceful protesters have been tortured, after thousands of Belarusians were rounded up by police and detained in prisons. Many who have now been released claiming they were beaten and held in appalling conditions.
Amnesty International says there is mounting evidence of the widespread torture of protesters.
Killed protester was "shot" by police
The partner of the protester who died on Monday during protests in Minsk has accused the police of shooting him, dismissing the official account that her partner was killed when an explosive device he was about to throw at police blew up in his hand.
Elena German told The Associated Press that she was able to visit the morgue and see the body of Alexander Taraikovsky on Friday, saying: "There is a seam in the chest area — the hole was sewn up, but there is a black bruise; it's small but we noticed. His hands and feet are completely intact, there are not even bruises...Obviously, it was a shot right in the chest."
Belarus' Interior Ministry has declined to comment on the situation, beyond its initial claim that a protester died because of a hand-held explosive.
German said she intends to seek a full investigation. She has called on a Belarusian human rights organisation for help, and wants international experts to take part in a probe.
"I am feeling outraged. I'm angry. That is why I want to achieve justice,"she said.
About 500 people came to pay last respects to Taraikovsky, who lay in an open casket. As the coffin was carried out, many dropped to one knee, weeping and exclaiming "Long live Belarus."
Following the violence, crowds of protesters defiantly continued to gather in cities, peacefully protesting against the administration.
In Minsk on Saturday people carried flowers balloons as they marched along the streets, showing pictures of people had been beaten in detention.
Lukashenko has been in power since 1994, and is the only President Belarus has had. He has been labelled by some as the last dictator in Europe.