White House talks over Kosovo-Serbia in doubt after war crime charges
Comments
By Euronews with AP & AFP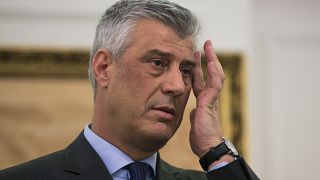 Kosovo's Prime Minister Avdullah Hoti cancelled a trip to the White House on Thursday after the country's president, Hashim Thaci, was indicted for war crimes and crimes against humanity that stem from the war for independence against Serbia in the late 1990s.
Hoti was due to meet with the leader of Serbia, President Aleksandar Vucic, in Washington in talks that aim to normalise the relationship between the two neighbours, which fought a bloody conflict in 1998 and 1999 that left more than 10,000 people dead and 1,600 unaccounted for.
Kosovo declared independence in 2008 in a move that is still not recognised by Serbia.
Thaci is accused alongside nine others of a range of offences, including murder, during his time as a commander in the Kosovo Liberation Army, or KLA. Another Kosovan politician, Kadi Veseli, a former speaker of parliament, has also been indicted by the Hague-based court.
A statement from a prosecutor of the Kosovo Specialist Chambers issued Wednesday said Thaci and the others suspects "are criminally responsible for nearly 100 murders" of political opponents and Kosovar Albanian, Serb and Roma victims.
The EU's 'moment'
Hoti met Thursday in Brussels with European Council President Charles Michel to talk about visa rules, the coronavirus impact and other issues.
Kosovo is one of six Western Balkan nations that is seeking to join the European Union, subject to meeting the bloc's conditions for human rights and legal requirements.
The White House has not yet confirmed whether Vucic will attend the White House for talks, given the absence of a leader on the Kosovan side, but independent analyst Agron Bajrami told AP that the indictments threw the entire Kosovo-Serbia dialogue into doubt.
"It will be very difficult for him (Thaci) to continue acting as a president, if not for anything else but for the fact that he cannot be part of the dialogue now that this has occurred," said Bajrami.