'I saw fire everywhere': Pakistan plane disaster survivor speaks on crash that killed at least 97
Comments
By Euronews, AP, AFP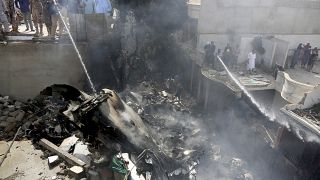 A Pakistan International Airlines plane crashed into a residential neighbourhood of Karachi, Pakistan, on Friday, May 22.
Authorities said on Saturday that 97 people died in the crash.
Two people from the aircraft survived the impact, according to officials, and a further 57 bodies have since been recovered from the wreckage.
It is not currently clear how many people on the ground were hurt or killed.
The aircraft was arriving in Karachi from Lahore, a city in the country's northeast, when it crashed in the Model Colony neighbourhood, situated several kilometres from Jinnah International Airport.
Model Colony is a poor area of the city, and is heavily congested.
Many of those onboard were believed to be travelling to Karachi ahead of the Muslim holiday Eid al-Fitr.
The Pakistan International Airlines (PIA) A320 crashed after a technical failure, Pakistan's Sindh province health authorities reported.
A recording authenticated by a PIA spokesperson heard a call from the pilot to the control tower in which he declared: "We have lost the engines".
"Technically and operationally, everything was in place," said company CEO Arshad Malik.
According to flight records published by Flightradar 24, the aircraft had aborted an earlier landing attempt.
It then lost contact with air traffic control at 525 feet.
This is corroborated by witnesses, who say they watched the plane try to make several landing attempts before the crash.
"There was screaming everywhere," said Mohammad Zubair, one of two survivors.
After the plane hit the ground, "I regained consciousness" and "I saw fire everywhere. No one was visible," recalls the 24-year-old.
"There were cries of children, adults and the elderly, cries everywhere. Everyone was trying to survive."
"I opened my seat belt, I saw the light and I tried to go in that direction. It worked. From there, I jumped" out of the aircraft, he recalled.
The other only survivor was Zafar Masood, a bank executive.
Eyewitness video taken at the crash scene showed plane debris scattered around.
An aircraft door lay on the ground in one video, having hit and dented a nearby vehicle. Other vehicles were seen to be set on fire, while thick black smoke billowed in the background.
Another video showed roofs of several buildings ripped off, while people were seen trying to venture toward the wall of smoke.
Pakistan's Prime Minister Imran Khan said he was "shocked and saddened" by the news.
He said an immediate investigation had been launched, and sent condolences to the families of those who had died.
In a later statement, Khan thanked world leaders for reaching out to expressed their condolences, and added: "The people of Pakistan value this support and solidarity in our hour of grief."
A spokesperson for the Pakistan armed forces wrote on Twitter that a provision had been sent for "full assistance" to civil authorities working to rescue victims from the site.