Coronavirus latest: Donald Trump says places of worship should reopen as he calls them 'essential'
Comments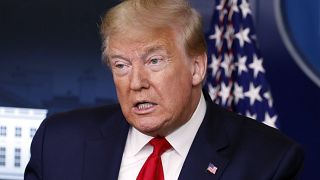 -
Copyright

Alex Brandon/Copyright 2020 The Associated Press. All rights reserved.
Key developments
UK records 351 additional deaths due to coronavirus, bringing total to 36,393

Russia records highest daily spike in deaths in single day
Follow the latest updates below:
05.22.2020
22:35
Trump deems places of worship 'essential' 
US President Donald Trump has called on state governors to reopen places of worship over the weekend as he deemed them "essential". 

Speaking at a press conference on Friday, he said: "Today I'm identifying houses of worship — churches, synagogues and mosques — as essential places that provide essential services." 

Health agencies have generally advised people to avoid large gatherings amid the pandemic, but Trump stressed the importance of places of worship in the community and compared them with other places that hadn't been shut down. 

He added: "Some governors have deemed liquor stores and abortion clinics as essential" but not churches, he said [...] It's not right. So I'm correcting this injustice and calling houses of worship essential."
05.22.2020
21:59
More than 100,000 cases of COVID-19 confirmed in Africa 
The World Health Organisation said the African continent had surpassed 100,000 cases of coronavirus on Friday, having spread to every single country. 
Despite passing the threshold, the WHO noted ]there appeared to be a lower mortality rate than Europe, which could be down to demography. 
Africa is the continent with the youngest population, with more than 60% under the age of 25. 
The strain of coronavirus currently spreading across the world is most deadly in the elderly. 
05.22.2020
20:02
Hospitalisations continue to go down in France
Around 17,383 people are hospitalised in France for COVID-19 and 1,701 people remain in intensive care.

There have been a total of 144,566 cases of coronavirus in France and 28,289, with an increase of 75 deaths in 24 hours.
05.22.2020
19:35
France 'regrets' UK decision on quarantine for international arrivals
France's interior minister said the country "regrets" the UK decision that international arrivals will have to enter a 14-day quarantine, AFP reports.

A joint statement between the UK and France had said on May 10 that "no quarantine measures would apply to travellers coming from France at this stage" adding that "any measures on either side would be taken in a concerted and reciprocal manner."

The UK later backtracked on this supposed exemption.
05.22.2020
18:59
A further 130 people die in 24 hours in Italy
Italy recorded 130 additional deaths in 24 hours, the Civil Protection service said in a statement, bringing the total to 32,616 deaths since the beginning of the pandemic.

The country also recorded another 652 positive cases of the virus.

The number of people hospitalised continues to decrease in Italy with just 595 still in intensive care units.

There are 8,957 people in hospital with symptoms, a decrease of 312 patients compared to yesterday, Italian officials said.

There have been a total of 228,658 cases of coronavirus since the beginning of the outbreak.
05.22.2020
18:41
International arrivals to the UK after June 8 will need to quarantine, home secretary says
People arriving to the UK from other countries after June 8 will need to self-isolate for 14 days, the country's home secretary has announced.
People breaking quarantine will have to pay a fixed fine of £1,000 (€1,118), or face a block from entering the country for overseas nationals.
Border force officials will be carrying out "spot-checks" at the UK border, and further checks from mid-June to ensure people are self-isolating for the full two weeks.
"We are taking [the measure] at a time it will be most effective," Home Secretary Priti Patel said as she announced the new restrictions on Friday.

Read more: 
https://www.euronews.com/2020/05/22/coronavirus-international-arrivals-into-the-uk-after-june-8-will-need-to-self-isolate-for
05.22.2020
18:13
Africa could benefit from a younger population in coronavirus fight, WHO says
The age profile of the population in many African countries is young and the low number of deaths compared due to coronavirus may reflect that.

Dr Mike Ryan from the WHO emergencies programme said the concern is that there are many vulnerable groups in Africa including refugees.

WHO's Dr Maria Van Kerkhove warned however that deaths due to coronavirus are typically not reported for several weeks after cases emerge.
05.22.2020
18:03
A further 351 people have died with coronavirus in the UK, bringing the country's total number of deaths to 36,393
05.22.2020
17:48
South America has become a new epicentre for coronavirus, says WHO
Brazil is the most affected country in South America with many cases in São Paulo and high attack rates particularly in the state of Amazonas, the World Health Organization said.

The WHO noted that although Brazil has approved hydroxychloroquine, the current clinical evidence does not support the widespread use of the anti-malaria drug.