COVID-19 latest: Countries have pledged €7.4 billion for tests, treatment and vaccine research
Comments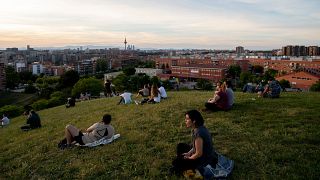 -
Coronavirus - latest summary
Confirmed cases in Europe pass 1.5 million while global deaths approach 250,000
05.04.2020
22:26
World leaders pledge billions for research into coronavirus vaccine
World leaders, international organisations and companies have pledged €7.4 billion to develop new tools to detect, treat and prevent the novel coronavirus.
Here's our full write-up on the event convened by the EU and several countries:
euronews
"All this money will help kick-start unprecedented global cooperation," said Ursula von der Leyen, President of the European Commission.
05.04.2020
23:02
That's it for tonight - do join us tomorrow from 0600 CEST for more live updates.
05.04.2020
22:39
Race for a vaccine: Challenges of producing enough doses for billions of people
The race to produce a vaccine is well underway but there are questions over safety and mass production:
05.04.2020
21:34
'No evidence' to back Pompeo claims that virus was 'man-made' - WHO
The World Health Organization says it has received no evidence or data from the U.S. government to back up claims by US Secretary of State Mike Pompeo and President Donald Trump that they have seen evidence that the coronavirus have originated at a laboratory in the Chinese city of Wuhan.
"From our perspective, this remains speculative," WHO emergencies chief Dr. Michael Ryan said. "But like any evidence-based organization, we would be very willing to receive any information that purports to the origin of the virus."
Ryan reiterated that the evidence and advice that the U.N. health agency has received suggest that the novel coronavirus is of natural origin. Pompeo and Trump say they have seen evidence suggesting that it could be from the Wuhan Institute of Virology lab.
"If that data and evidence is available, then it will be for the United States government to decide whether and when it can be shared," Ryan told reporters in Geneva. "But it's difficult for WHO to operate in an information vacuum in that specific regard."
On Sunday, Pompeo told ABC's "This Week" program that there was "a significant amount of evidence that this came from that laboratory in Wuhan." (AP)
05.04.2020
20:54
Russia hits new daily COVID-19 record as hospitals struggle to cope
Russia has recorded its highest daily tally of casualties since the beginning of lockdown and almost double the number announced last week.
More than half of the new infections were in Moscow.
euronews
Russia registered a record increase in COVID-19 cases on Sunday. But some say official data is still underestimating the scale of the outbreak.
05.04.2020
20:42
What is Kawasaki disease and its possible link with COVID-19 in children?
A rare syndrome affecting children that could be linked to COVID-19 has been reported in several European countries.
euronews
A warning has been issued over increasing cases of children displaying overlapping symptoms of COVID-19 and Kawasaki disease. Here we explain the possible link and the symptoms to look out for.
05.04.2020
20:23
What is the new app helping the UK trace cases of COVID-19?
The UK has begun the initial stage of rolling out its app to help track and trace the spread of coronavirus. Read more:
euronews
The UK has started testing a new app on the Isle of Wight in a bid to try and trace the spread of COVID-19.
05.04.2020
19:57
Euronews Tonight reports on the race to find a vaccine that can be rolled out to billions of people:
05.04.2020
19:31
Carnival Cruise Lines to begin sailing in August
The cruise company, owned by the same corporation that runs  Princess, Holland America Line and other brands, has said it is planning to begin sailing again at the beginning of August. 

The cruise industry has been hard hit by the coronavirus crisis following several high-profile cases of ships being forced to act as quarantines after positive cases were confirmed on board.