Coronavirus latest: Global cases pass 2.5 million as countries look to ease containment measures
Comments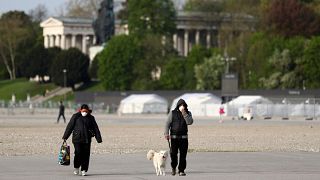 -
Coronavirus - latest summary
Global cases of coronavirus pass 2.5 million.

Italy records decrease in active coronavirus cases for second day in a row

Donald Trump announced he would temporarily suspend immigration to the US due to the pandemic.

Follow our live blog below for all the latest updates
04.21.2020
23:22
That's it for our live blog tonight. We'll be back at 6 am CET for more live coverage of the coronavirus pandemic.
04.21.2020
23:21
US Senate adopts new relief package to support small businesses

The US Senate unanimously adopted a nearly $500 billion (€460 billion) plan on Tuesday to support small businesses, hospitals and to strengthen coronavirus testing, AFP has reported.

The plan includes $320 billion of loans to companies with fewer than 500 employees. It also includes $75 billion in aid for hospitals, $25 billion for coronavirus screening, as well as $60 billion in loans for other sectors.

The plan is expected to be voted on by the House of Representatives and signed by US President Donald Trump.
04.21.2020
22:10
There are now more than 2.5 million cases of COVID-19 worldwide yet infections are down in Italy


Watch the full Euronews Tonight Report:
04.21.2020
21:53
Andorra has an unusual system for easing lockdown restrictions
Andorra, the landlocked nation wedged between France and Spain, has adopted a unique way of easing lockdown restrictions.
Those who live in even-numbered homes are allowed to go out on even dates, while those who reside in odd-numbered homes on all other days.
Houses without a number will go out on even dates if the name of occupants begins with A-M, and odd days if it starts with N-Z.
The easing of the lockdown began last Thursday and was for people to leave their homes for an hour to exercise.
Read more: https://www.euronews.com/2020/04/21/orderly-andorra-has-an-unusual-system-for-easing-lockdown-restrictions
04.21.2020
21:49
Conte will not accept 'compromise' on European economic response
"This is not a zero-sum negotiation. There will not be some winners and some losers. I am convinced when we talk about Europe that we will either all win or all lose," Italian Prime Minister Giuseppe Conte said.
Italy has been fighting for weeks in favour of a common European loan to help ease the economic consequences of the coronavirus crisis.
"The EU and the euro area cannot afford to repeat the same mistakes made during the 2008 financial crisis, when it was not possible to offer a joint response," Conte said. 
04.21.2020
21:30
Schools in the Netherlands to reopen May 11, events cancelled until September
The Dutch government is set to relax their coronavirus containment measures, allowing primary school children to go back to school starting May 11.

Children will be able to participate in sports practice starting April 29.

Young people from 13 to 18 years old will also allowed to exercise outside with each other under supervision, but with a distance of 1.5 metres between them, the Dutch government said.

Bars, restaurants, fitness clubs, museums and theatres will all be closed until at least May 19.

Large scale events such as festivals and professional sporting events will be banned until September 1.
04.21.2020
20:45
'Scientists in the UK to begin testing vaccine on humans this week'
The UK has announced it is ready to begin human trials for a potential vaccine for coronavirus, with tests beginning as early as this week.
Health minister Matt Hancock announced testing on humans would begin on Thursday and would join just a handful of other similar trials being carried out around the world.

There are currently more than 30 companies around the world racing to develop a vaccine for the illness, which has killed tens of thousands of people.

Read more: https://www.euronews.com/2020/04/21/coronavirus-scientists-in-the-uk-to-begin-testing-vaccine-on-humans-this-week
04.21.2020
20:34
Spain wants EU to unite behind €1.5 trillion COVID-19 recovery fund
Spain is calling on its neighbours to unite behind its proposal for a joint EU fund that would help the bloc's hardest-hit economies recover from the coronavirus crisis.
"In this crisis, either we all sink or we all float. Spain wants everybody to float, for sure," Spain's foreign affairs minister Arancha Gonzalez Laya told Euronews ahead of a key EU summit this week.
Spain is suggesting creating an economic recovery fund with up to €1.5 trillion, according to an internal Spanish government document.
The document, seen by The Associated Press, says the fund should draw from members states' grants in order not to raise public debt levels.
Read more: https://www.euronews.com/2020/04/21/coronavirus-spain-wants-eu-to-unite-behind-1-5-trillion-covid-19-recovery-fund
04.21.2020
19:58
France sees reduction in hospitalisations and intensive care 
France saw a reduction in hospitalisations and intensive care once again. There are 5,433 people in intensive care and more than 30,000 people are hospitalised.
Meanwhile, another 531 people died in France in 24 hours - 387 in hospitals and 144 in nursing homes, bringing the total death toll in the country to 20,796.
04.21.2020
19:32
Italy sees drop in positive coronavirus cases for second day in a row
There are now a total of 107,709 people who currently have coronavirus in Italy, 528 fewer than yesterday, the country's Civil Protection Authority said.

This is the second day in a row that there has been a decrease in active coronavirus cases.

The number of patients in intensive care also decreased by 102, bringing the total to 2,471 people.

The number of hospitalisations decreased by 772 but there are still more than 24,000 people hospitalised for coronavirus in Italy.

Italy has had a total of 183,957 confirmed cases of COVID-19 since the beginning of the epidemic and a total of 24,648 deaths.

Another 534 people died in 24 hours from Monday to Tuesday.