Coronavirus: What could happen if the football season is cancelled?
Comments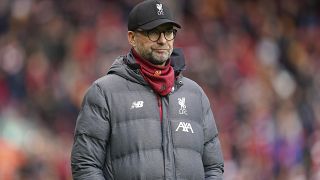 -
The message was clear from English football authorities on Friday - matches will only be resumed "when it was safe and appropriate to do so".
But what remains unclear is exactly when competitions will, if at all, restart.
Professional matches had been suspended until the beginning of May, but that date has now been pushed back indefinitely.
All fixtures in the Premier League, Football League, Women's Super League and Women's Championship, and all fixtures in Scotland, Wales and Northern Ireland, are currently postponed.
"In this unprecedented situation, we are working closely with our clubs, Government, The FA and EFL and can reassure everyone the health and welfare of players, staff and supporters are our priority," said Premier League Chief Executive Richard Masters.
The move follows other decisions made by Football governing authorities in France, Italy, and Spain, while UEFA has agreed to delay this summer's European Championships until 2021.
In a statement to Euronews, the Premier League said the "overriding priority is to aid the health and well-being of the nation and our communities, including players, coaches, managers, club staff and supporters".
English football authorities had agreed that "difficult decisions" will have to be made to mitigate the economic impact of the suspension of football across the country.
But the leagues have reiterated their wish for "all remaining domestic league and cup matches to be played" to maintain competition integrity.
And UEFA's decision to suspend Euro 2020 for 12 months does create space in the calendar to ensure that domestic and European leagues have more chance of being completed.
The Italian football federation (FIGC) have however admitted that the Serie A season might not finish, and said that they would be discussing several alternatives if games cannot be completed.
These options include:
• staging play-offs
• not having a champion for 2019-20
• declaring the current standings final
When Euronews asked the English Premier League if it was considering the options suggested by the Italian Football Federation, they directed to us to an earlier statement.
"Despite the challenges," it reads, "it is the Premier League's aim to reschedule the displaced fixtures, including those played by Academy sides, when it is safe to do so."
Any further measures are currently a matter of speculation.
Will the season be concluded?
One significant move in recent weeks saw the Football Association (FA) agree that the current football season should be "extended indefinitely".
Under current regulations, the English football season "shall terminate not later than 1 June" but the FA Board has allowed for this deadline to be lengthened.
This decision will certainly favour a number of clubs, not just in the UK, but across the continent.
Liverpool lead the Premier League by a huge 25 points and need just 3 more wins in their quest to end a 30-year drought. But this unexpected and unprepared for health crisis has thrown the season's conclusion into doubt.
Former Liverpool player Jamie Carragher tweeted that the next season of English football "can't start" until the current season is complete.
An independent Liverpool FC website This is Anfield has also stated that "the most logical step would be to push back future competitions to accommodate the conclusion of the current campaign".
The Premier League battles to avoid relegation and clinch European football are much tighter, with AFC Bournemouth currently in the relegation zone on goal difference.
In other European leagues, just two points separate Barcelona and Real Madrid at the top of the Spanish La Liga, while the margin between Juventus and Lazio in Serie A is even smaller.
Meanwhile, in Switzerland, the league title and relegation spot would both be decided on goal difference if the season were to conclude now.
Any decision to conclude the season with or without the usual consequences of titles, promotion, and relegation would likely be met with huge controversy.
Could divisional play-offs be an answer?
The title winner in Italy was previously decided by a play-off in 1964 when Bologna beat Inter Milan after the two sides finished level on points.
The benefit to the leagues would be that this would limit any interruption to future fixtures and seasons, but, again, goes against all the hopes that authorities have of completing the games as intended.
The reality is that there is no obvious model to follow.
Football competition across Europe was last severely affected during and immediately after the Second World War.
The 1939-40 English Football League season was abandoned after just three matches, with Blackpool one point clear at the top of the First Division.
As the country's focus shifted towards the war effort, regional league competitions were set up as an alternative and no title was awarded.
There have been more recent examples across Europe where trophies have been owner-less.
Juventus were stripped of their 2004-05 Serie A crown due to their involvement in the Calciopoli scandal (where fraudulent relationships between certain teams and certain referees were uncovered) and Olympique Marseille lost their 1992-93 French title over a bribery scandal.
But in both of these examples, the seasons had been concluded and no fixtures were abandoned.
Could the season be declared null and void?
On Thursday April 2, the Belgian Pro League became the first major competition in Europe to advocate cancellation due to the coronavirus pandemic.
Peter Croonen, President of the Pro League, added that "the country has other priorities than football" and cancelling the league was the only socially responsible decision.
The current standings would be declared final, and Club Brugge, currently 15 points ahead of KAA Gent in 1st place, would therefore be declared champions.
The winners and top positions in Belgian football are traditionally decided via playoffs. There was one match of the regular season remaining when the league was suspended, with relegation and play-off decisions still contestable.
The announcement in Belgium seemed to contravene directions from UEFA, who sent a letter to European football associations last week, urging them not to abandon competitions.
Europe's football governing body are hopeful that games could be restarted in July and August, and say that "any decision of abandoning domestic competitions is, at this stage, premature and not justified".
Halting leagues without approval from UEFA could see teams blocked from qualifying for the Champions League and Europa League, which are determined based on final positions in domestic standings.
But Belgium football authorities appear to have challenged UEFA and have called for a 'variable approach' to abandoning the 2019-20 season.
While the European directive points to an eventual resumption of football, Belgium will hold further meetings with UEFA this week.
Further afield in Chile, last season's Campeonato Nacional football season was suspended in mid-October due to widespread anti-government demonstrations, with six fixtures still to be played.
Following failed attempts to resume the season, the title was subsequently awarded to Club Deportivo Universidad Católica, who had been leading the league by a comfortable, but not unassailable, 13 points.
Moreover, no teams were relegated to the second tier, Primera B, at the end of the season.
Instead, the top division was expanded in 2020 from 16 to 18 teams, with the top two teams from Primera B promoted.
The idea of expansion would prove an altogether different headache for European football authorities, but there is certainly precedent and support from within Europe for ending the season now.
But very little conversation has pointed to wiping the 2019-20 season from the history books.
Further meetings will take place in the UK, as the Premier League looks to formulate a plan to deal with these unprecedented circumstances.
Any decision will focus not just on clubs and players, but also staff, sponsors and supporters.