Death toll rises in Italian prisons as inmates riot over COVID-19 rules
Comments
By Euronews and AFP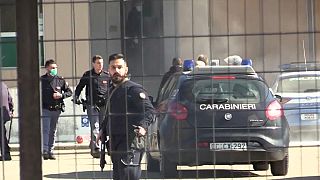 A total of 12 inmates have now died in prison riots across Italy triggered by emergency restrictions imposed amid the COVID-19 coronavirus outbreak.
The riots began on Sunday over rule changes that including the suspension of family visits in jails including Modena, near Bologna, as well as Naples Poggioreale, Foggia and Palermo.
In Modena's Santa Ana prison, fires were started and workers were taken hostage. Soldiers and Carabinieri had to surround the prison to prevent inmates escaping. Over the past three days, a total of nine prisoners have died.
On Tuesday, another three detainees were found dead in their cell in Rieti prison, 70 kilometres north of Rome, after taking drugs looted from the prison infirmary, the authorities said.
The rule changes have sparked unrest in a total of 20 prisons across Italy, and come as the entire counry has been placed on lockdown as COVID-19 spreads. 
On Tuesday, the government revealed that 168 people had died in a single day as 10,000 people are now confirmed to have contracted the virus.