Tennessee tornadoes kill at least 19 people and destroy 40 buildings
Comments
By AP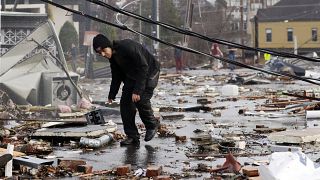 -
Copyright

Mark Humphrey/AP Photo
Tornadoes ripped across Tennessee on Tuesday, shredding at least 40 buildings and killing at least 19 people. One caused severe damage across downtown Nashville, destroying the stained glass in a historic church and leaving hundreds of people homeless.
Daybreak revealed a landscape littered with blown-down walls and roofs, snapped power lines and huge broken trees, leaving city streets in gridlock. Schools, courts, transit lines, an airport and the state Capitol were closed, and some damaged polling stations had to be moved only hours before Super Tuesday voting began.
"Last night was a reminder about how fragile life is," Nashville Mayor John Cooper said at a Tuesday morning news conference.
'It is heartbreaking'
Nashville residents walked around in dismay as emergency crews closed off roads. Roofs had been torn off apartment buildings, large trees uprooted and debris littered many sidewalks. Walls were peeled away, exposing living rooms and kitchens in damaged homes. Mangled power lines and broken trees came to rest on cars, streets and piles of rubble.
"It is heartbreaking. We have had loss of life all across the state," said Gov. Bill Lee. He ordered all non-essential state workers to stay home before going up in a helicopter to survey the damage.
The disaster affected voting in Tennessee, one of 14 Super Tuesday states. Some polling sites in Nashville's Davidson County were moved, and sites there as well as in Wilson counties were opening an hour late but still closing at the same time, Secretary of State Tre Hargett announced.
Davidson County elections administrator Jeff Roberts said voters from anywhere in the county can go to two so-called "supersites" to cast their ballots. "Anyone that wants to vote, we want to create an opportunity for you," he said. Because poll workers will be navigating through a damaged city to deliver results Tuesday night, he said the tallying may take longer than anticipated.